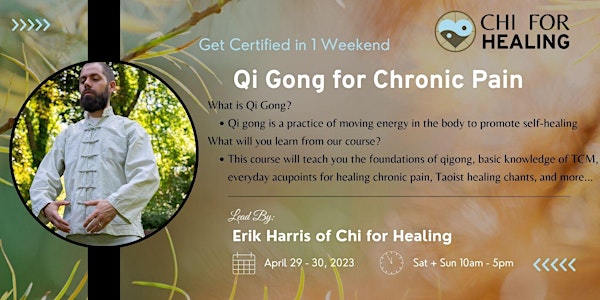 Qi Gong for Chronic Pain Certification Course
Qi gong is the practice of moving energy in the body to promote self-healing. Learn this ancient art to restore the body, mind, and spirit.
When and where
Location
The Red Barn in Durham 352 Main Street Durham, CT 06422
Refund Policy
Contact the organizer to request a refund.
About this event
1 day 7 hours

Mobile eTicket
April 29th and 30th 2023 10AM-5 PM
Chi for Healing Presents: Qi Gong for Chronic Pain Certification Course.
Learn the ancient healing art of Qi Gong that has been practiced for 5,000 years. This is a practice of moving energy in the body to promote self-healing.
Are you looking for a daily practice to heal your chronic pain issue?
Qigong may be the answer for you!
What is Qi Gong?
It is an ancient Chinese health care system that integrates physical postures, breathing techniques and focused intention.
Qi Gong helps to increase the Qi (life force energy), circulate it, use it to cleanse and heal the body, and store energy within the body.
The gentle, rhythmic movements of Qi Gong helps to:
• reduce stress & anxiety
• build stamina
• increase vitality of the body & organs
• enhance the immune system
It has also been found to improve cardiovascular, respiratory, circulatory, lymphatic and digestive functions.
One of the more important long-term effects is that Qi Gong reestablishes the body/mind/soul connection.
Appropriate for all ages and levels of experience/physical fitness.
Investment is $888 or $488 depending on your preference, there are two options:
For the weekend Training & Certification it is only $488
For a 6 month Supplemental Training program it will be $888
You will learn how to modify basic Qi Gong suited for those who deal with chronic pain and how to teach others to do the same. This course is designed to help people that may have physical limitations due to chronic pain or chronic illness. It also can be just for people who want to learn this ancient Chinese healing modality for themselves and their loved ones. After all it is a great way to strengthen tendons and ligaments while preventing strain or tension in daily life. The 6 month program will have access to live classes a 3 month check in and a closing certification ceremony.
Course includes
1. Explanation of the types of Qi (aka life-force energy)
2. Fundamentals of 5 Element Theory from Traditional Chinese Medicine
3 Introduction to the Meridians and Organ System Functions
4. Foundational Qigong Exercises 1-10
5. Instruction on how to modify exercises to suit the needs of the student
6. A Two Day Intensive Saturday 11-5 and Sunday from 10-4 Training
7. Followed by access to 2 weekly classes one on Tuesday evening and one on Wednesday morning as part of the private Gaia Centric Living Facebook group
8. Closing ceremony will be in October.
9. Once you have completed 100 hours of Qigong practice you will be able to receive your certification.
For any questions contact Erik@chiforhealing.com or call 860-593-8397