Actions and Detail Panel
QED: Ambika Bumb, Bikanta. "Lessons Learned: A Nanodiamond Startup"
Fri, December 9, 2016, 12:00 PM – 1:00 PM PST
Description
Ambika Bumb, founder of Bikanta, had to translate technology out of a government lab, fundraise through atypical paths, and – like almost all founders – tackle roles she hadn't been trained for. Her hard work paid off. Bikanta, which applies nanodiamonds to advanced imaging technologies, was one of the first biotechs to be funded by Y Combinator and won the Silicon Valley Boomer Venture and CapCon Competitions. Join us to learn how Ambika overcame the many challenges she has faced so far.
About the Speaker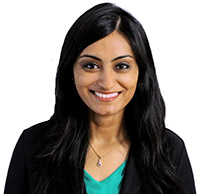 CEO of Bikanta Dr. Ambika Bumb's area of interest is nanomedicine, the application of nanotechnology for medical diagnostics and treatment. She graduated in 2005 from Georgia Tech with a B.Sc. in Biomedical Engineering and a Minor in Economics, while being recognized with the Helen E. Grenga Outstanding Woman Engineer and E. Jo Baker President's Scholar Awards. She then obtained her doctorate from Oxford while on the prestigious Marshall Scholarship and followed that up with two post-doctoral fellowships at the National Cancer Institute and National Heart, Lung and Blood Institute. She has received much recognition for excellence in engineering and was profiled early in her career in Nature as a successful young scientist on the fast-track. Her endeavors in the areas of nanomedicine and diagnostics have led to multiple patents, publications, and the launch of Bikanta, a company that is using nanodiamonds to allow academics and doctors to study and address disease at the cellular level. Nanodiamonds are next-generation imaging probes for cutting-edge research including applications with the recent Nobel Prize in Chemistry for super-resolved fluorescence microscopy and utility in portable cancer detection devices. Bikanta is one of the first biotechs to be funded by Y Combinator, winner of the Silicon Valley Boomer Venture and CapCon Competitions, a BayBio's FAST Awardee, and was named 1 of 4 Best Diagnostics Startups of 2015 by QB3. Complementary to her scientific and commercial interests, Ambika has also been involved in national science policy initiatives, particularly related to nanotechnology.