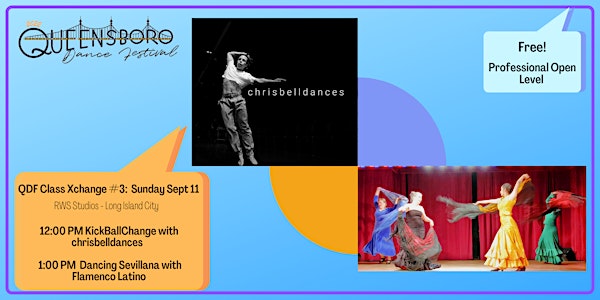 QDF Class XChange #3 (Final!): KickBallChange + Sevillana Dance Classes!
Location
RWS Studios
37-12 35th Street
Queens, NY 11101
Our series of back-to-back classes to try, all professional open level welcome!
About this event
Join us in-person for dance classes at RWS Studios in Queens (37-12 35th St, Queens, NY 11101), taught by the 2022 Queensboro Dance Festival choreographers.
Proficient dancers trained in a different technique are welcome to take class. Limited spots for safety; please RSVP to be on the attendee list. If RSVPs fill up online, you are welcome to walk-in in case of no shows-- follow us on IG for updates or e-mail queensborodancefestival@gmail.com day of.
12:00pm - 1:00pm: KickBallChange w/ chrisbelldances. Come enjoy this pure movement class where we will stretch, do simple work across the floor and learn a combination all to fun pop music. chrisbelldances.com
1:00pm - 2:00pm: Dancing Sevillanas, a partnering dance with Flamenco Latino. The Sevillanas is a 6-beat folk dance from Seville, Spain that has been flamenco-ized and included in current flamenco repertoire of all major Flamenco dance companies. In this class we will learn the components of the First Sevillanas. We'll learn the Basic Sevillanas step, how to cross with your partner; La Pasada, and lastly the alternating pasada. After we have learned the steps we will try to do them opposite a partner. It is a fun, happy dance, often done at the Feria de Sevilla, an annual event around Easter time. No special shoes necessary, comfortable dance shoe is fine. Women can wear long A-shaped skirt if they like. Men comfortable dance attire. Aurora will demonstrate castanet use. Students can bring castanets if they have, but it is not required. flamencolatino.com
All attendees must follow any venue COVID policies in place at the time. Masks and vaccination required.