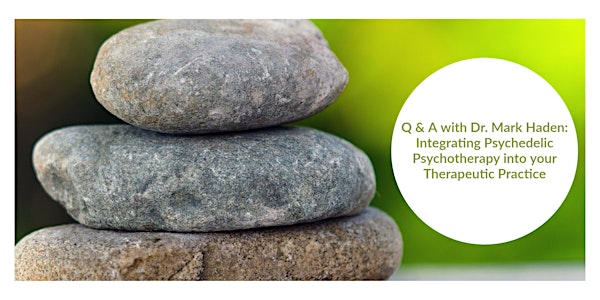 Q & A with Mark Haden: Psychedelic Psychotherapy & Healing Trauma
Q & A Session with Mark Haden: Integrating Psychedelic Psychotherapy into your Therapeutic Practice
Refund Policy
Contact the organizer to request a refund.
Eventbrite's fee is nonrefundable.
About this event
DATE: Friday February 26, 2021
TIME: 7pm - 8:30pm PST (Vancouver Canada)
ONLINE EVENT (registered participants will be sent room link prior to the event) . And please note that this session will be recorded.
We are extremely excited to announce that Mark Haden, Executive Director of MAPS Canada, and Adjunct Professor at the University of British Columbia School of Population and Public Health, will join us for an exclusive Q & A session for mental health therapists, and others who are interested in integrating psychedelic psychotherapy into their therapeutic practice.
This session has been created in response to overwhelming requests from our past Trauma-Training workshop participants for more information on this topic. * Please register early; space is limited.
This is an ONLINE event and participants will receive the room link 24 hours prior to the start of the event.
In addition to the Q & A, Mark Haden will also provide updates on:
The Phase 3 Clinical Trials using MDMA for the treatment of PTSD, which are nearing completion;
The Special Access Program for MDMA;
The recent Health Canada Exemptions for Psilocybin.
For detailed information regarding integrating psychedelic psychotherapy into your therapeutic practice, Mark Haden has just published the "The Manual for Psychedelic Guides" for physicians, mental health therapists and others . The Manual provides excellent information on Trauma Resolution skills in psychedelic psychotherapy. (more information, below).
All proceeds from this event will go to MAPS Canada to help support further research: https://mapscanada.org/
**Due to tremendous interest and the limited time for this session, please feel free to email your questions in advance to: traumatrainingcanada@gmail.com . We will group similar questions to allow for as many questions to be answered during the session as possible.
Further information and links to download the Manual for Psychedelic Guides:
The recent release of the Manual for Psychedelic Guides describes, in detail, the process of supporting someone who is using a psychedelic for therapeutic or spiritual purposes. This manual is authored by Mark Haden (Executive Director of MAPS Canada) with significant contributions from many other who are involved with this field.
The Manual for Psychedelic Guides describes the process of supporting someone using psychedelics for therapeutic or spiritual purposes.
The manual is authored by Mark Haden, Executive Director of MAPS Canada, with contributions from other leaders in the field of psychedelics.
A must read for anyone who would like to guide someone through a psychedelic experience. Psychiatrists, psychologists, therapists and shamans will benefit from this important manual.
All proceeds from this event and the sale of this manual go to MAPS Canada to help support psychedelic science.
It is available in both paper back and Kindle versions:
In Canada (Amazon.ca) at:
https://www.amazon.ca/Manual-Psychedelic-Guides-Mark-Haden-ebook/dp/B08MB98F26/ref=sr_1_3?dchild=1&keywords=mark+haden&qid=1604337826&sr=8-3
In the United States (Amazon.com) at:
https://www.amazon.com/Manual-Psychedelic-Guides-Mark-Haden-ebook/dp/B08MB98F26/ref=sr_1_1?dchild=1&keywords=mark+haden&qid=1604337924&sr=8-1
Reviews for the Manual:
Rick Doblin, Ph.D. Founder of MAPS (Multidisciplinary Association for Psychedelic Studies):
"As we move into the era of legalized psychedelic healing by prescription, and an increasing number of locations where psychedelics are decriminalized or to able to be used in religious/spiritual contexts, a Guide Manual which offers a detailed analysis of the psychedelic psychotherapeutic process is crucial. Mark Haden has done an excellent job of making this important knowledge available in this comprehensive manual. This should be read by all therapists, physicians and guides who are involved with psychedelic medicines."
Paul Stamets: Mycologist, Author, Researcher:
Mark Haden's book "Manual for Psychedelic Guides" is an essential resource for maximizing benefit while minimizing potential for harm in the surging field of psychedelic therapy.
As the therapeutic benefits of psychedelics continue to be validated by scientific studies, this book comes at a critical time. Unprecedented, Haden's manual is a map for navigating through psychedelically influenced consciousness. Therapists, regulators and even end-users can be better prepared to benefit from these profoundly intense internal voyages. Knowing that a therapist is skilled and informed will give confidence to patients that they are in good hands. Therapists in particular can benefit by avoiding the minefields of potential mis-steps which Mark Haden expertly describes.
This manual will be known as a milestone as psychedelics come out of the closet into the light of mainstream therapy.
Highly recommended. I love this book!
Dennis McKenna PhD, Author, Researcher
Those who may feel called to guide patients in psychedelic therapy must an achieve an exceptional level of wisdom, intelligence, skill, insight, and compassion. Proper guidance is at the crux of psychedelic therapy if these medicines are to be used for maximum benefit; and those who embark on the path of this sacred calling must commit to an arduous discipline; a discipline that requires them to become not only the best therapists that they can be, but to become the best people they can be.
This Manual for Psychedelic Guides written by my friend, Mark Haden, himself a therapist and the Executive Director of MAPS Canada, is the place to start the journey. It is not itself the journey, but is a map of the path that must be followed, and in that sense, it is both invaluable and indispensable. In it you will find all your questions about psychedelic guidance answered, as well as many questions you never even thought to ask. It's all here in the pages of this brief and crisply written manual. Start here; it is your first step on a journey that never ends.
Martin Ball Ph.D., Author:
"Concise, comprehensive, and easily referenced, this manual is a true gem that deserves widespread dissemination among those working in the psychedelic therapy field. With multiple forms and modalities of psychedelic therapy spreading across the globe, having common guidelines and best-practices clearly articulated, such as in this manual, is vital for insuring safe and effective sessions for guides and participants, alike."
Gabor Mate: Physician, Author:
Mark Haden provides a much-needed, comprehensive, cogent and detailed manual, aimed at those who would like help guide safe and effective psychedelic experiences--a primer particularly for therapists and other professionals interested in such work.
Event Organizer:
Trish Walsh
Trish is a Registered Therapeutic Counsellor, Instructor, life coach, and Trauma-informed Training workshop facilitator, located in Vancouver, British Columbia. Over the last decade Trish has been providing trauma-informed trainings to university students, mental health professionals and the general public. Her work over the last twenty years has focused on knowledge translation: specifically, synthesizing research findings in medicine and mental health care to decision makers within Canada's Federal and Provincial Governments; and to physicians, mental health professionals, allied health care providers, along with corporations, community groups and the general public. From 2008 to 2016 she was the Executive Director for the InnerChange Foundation which is a Canadian Foundation for research and education in the areas of addiction and mental health; and she has consulted for several organizations to bring health information to their staff, stakeholders, and the general public. She has a particular passion for conveying research information in an engaging and easy to understand way, aiding decision makers in their funding and public policy decisions, and helping individuals to learn practical strategies for better health, happiness, and personal success. For more info: www.trishwalsh.ca