Description

Bank of America Conference Center
4 World Financial Center
250 Vesey Street, New York
Wikipedia Google Maps Bing Maps Foursquare
(Entrance to the convention center is on the second floor in the "North Tower")
---
Date: Friday 5th April 2013, 8:00am to 6:15pm.
Registration: http://www.python-in-finance.com/
Twitter: @FountainheadLab, #FHPyFi
Past attendees to Fountainhead events: Bloomberg, JPM Chase, Citigroup, Morgan Stanley, NASDAQ, ING, Blackrock, Wells Fargo, CME, FINRA, CFTC, ... , hedge funds, HFT shops, Big Data vendors, ... , and more. Check out the feedback from the New York event in March at the bottom of this page.
~~~ AGENDA ~~~
08:00-08:30: Registration and time to mingle.
~~~ PART 1: Quantitative and Computational Finance ~~~
08:30-09:15: Scalable, High-performance Python for Finance ~ Travis Oliphant, Continuum IO.
Quantitative finance has, is, and will remain on the cutting-edge of numerical techniques. Many tools have been developed over the years to allow high-level Python code run at C/C++ levels (or faster), and there are new tools emerging for Pythonic handling of scalable data processing, with a focus on memory bus and I/O optimization. With these techniques, you can build complex financial models in a high-level language without sacrificing performance. Travis is the author of Numpy and Scipy, and is CEO and co-founder of Continuum Analytics.
09:15-10:00: Python+GPU ~ Andreas Kloeckner, NYU Courant Institute.
GPUs have become the number crunching co-processor of choice for highly data parallel problems (and finance has lots of data parallel problems). Now these powerful computational accelerators are easily accessible through Python. Andreas is the author of PyCUDA and PyOpenCL.
10:00-10:30: Book prizes for best questions from the audience. Break, and time to mingle.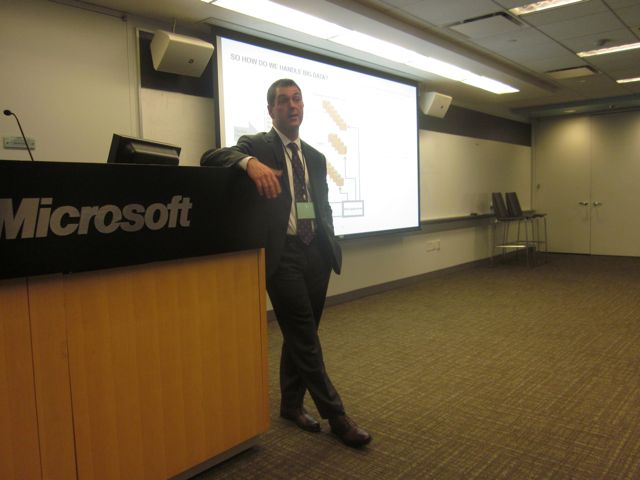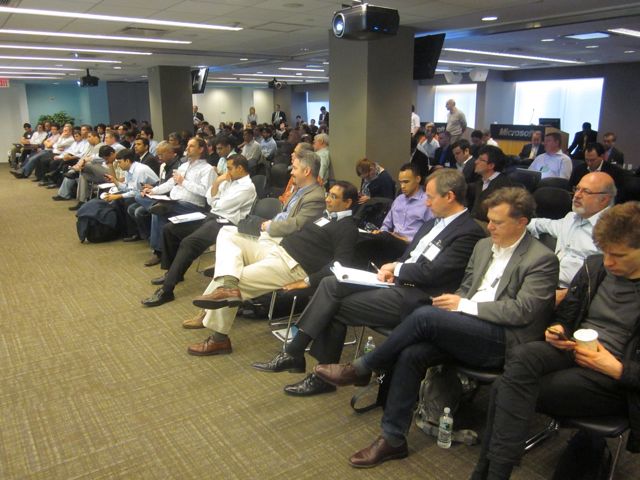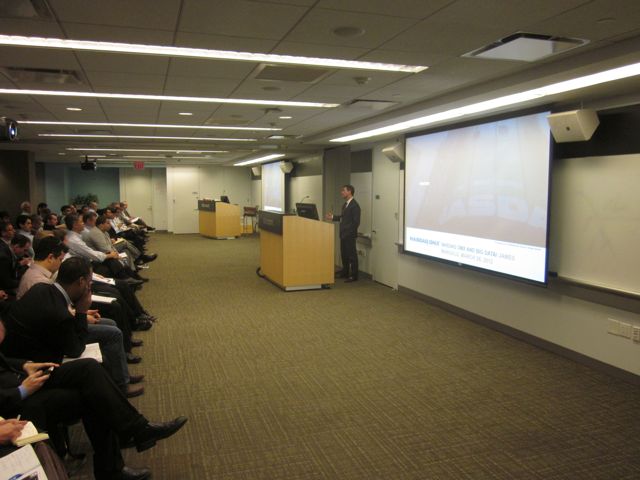 "Hadoop in Finance Day", New York, March 2012
~~~ PART 2: Big Data in Finance ~~~
10:30-11:15: Visualization with Python ~ Peter Wang, Continuum IO.
Visualization is perhaps one of the best ways for humans to comprehend and interact with Big Data. It's also an area of which finance has only just scratched the surface in terms of visualizing real-time data. In fact, in finance, it could be argued data in real-time is the true imperative, and the primary source of competitive advantage. Python is helping to explore what's possible. Peter is the author of Chaco, a Python based toolkit for data visualization.
11:15-12:00: Productive Data Tools for Quants ~ Wes McKinney, Pandas Project.
Data wrangling can often be the most time consuming part of a quant's analysis workflow. This talk will focus on core financial data manipulation tasks and how they can be effectively solved with Python tools such as pandas and NumPy. Wes is the author of pandas and a new book Python for Data Analysis.
12:00-12:30: Keynote Address ~ Claudia Perlich, Chief Scientist, m6d.
.
12:30-13:30: Book prizes.
Informal lunch.
Time to mingle.
~~~ Bonus lunch & learn sessions ~~~

F# in Finance ~ Jack Pappas, F# specialist.
F# has its roots in many computer languages, including Python. Moreover, functional languages and the functional style of programming have gained a strong following in finance of late. This talk gives an overview of F# and how it is finding application in finance.
13:30-14:30: The Future of Python in Finance ~ Panel Discussion, Andrew Sheppard moderator.
Viewpoints, opinions and Q&A with a panel of experts.
14:30-15:15: Python on Azure ~ Wenming Ye, Microsoft.
Microsoft has made Azure a surprisingly open platform, running Hadoop, MongoDB and many other open source applications finding wider application in finance. Python is alive, well, and doing very nicely on Azure, with new Visual Studio support and a growing developer community. This talk tells that story, highlighting what finance can gain from running Python in the Cloud. Wenming is a technology evangelist at Microsoft.
15:15-15:45: Book prizes. Break, and time to mingle.
~~~ PART 3: Data Analysis and Visualization of Financial Data ~~~
15:45-16:30: Python+Excel ~ Ben Lerner, DataNitro.
Excel is the de-facto front-end of choice in finance. From the trading desk to the risk department, Excel is ubiquitous; and for good reason, it's a data analysis tool that everyone knows how to use. This talk shows how to use Excel as a front-end to Big Data and for analytics with Python. Ben is a co-founder of DataNitro.
16:30-17:15: Python+R ~ Jared Lander, Revolution Analytics.
R is an open source statistical and math package that just goes from strength-to-strength, and is finding lots of users in finance. Also, it plays nice with Python. Jared is a statistical consultant based in New York City.
17:15-17:30: Prizes. Wrap up. ~ Andrew Sheppard, Fountainhead.
17:30 … : Time to mingle.
Note: The agenda, speakers, and venue are subject to change. Also, this is a public event and photographs and video may be taken; at the very least, every modern phone comes with photography and video built in.
Refund policy: 100% refund if more than 20 business days before the event. 50% refund if 20 to 6 business days before the event. No refund if within 5 businss days of the event.
~~~ About Fountainhead ~~~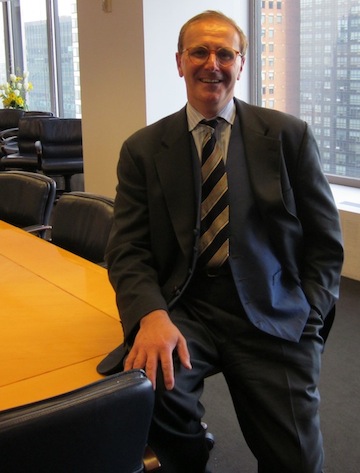 Fountainhead is a "Big Data" and "Big Compute" company that specializes in HPC & GPU for financial services and insurance.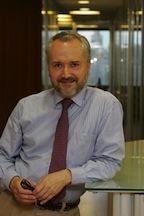 Andrew Sheppard
Didac Artes
You can check out Fountainhead by following these links (just use Google/Bing to search on the text string):
• Nvidia / "GPUs in the Big Apple"
• Forbes / "Supercomputing and High Performance See Growing GPU Adoption"
• O'Reilly / "GPU Supercomputing for Finance"
• North American Trading Architecture Summit / "Harnessing the power of GPU-architecture"
• SC11 / "Supercomputing 2011 conference"
• Meetup.com / "HPC & GPU Supercomputing Group of New York"
• AMD Fusion 2012 / "Hadoop+GPU"
~~~ Feedback from "Hadoop in Finance Day", Mon 26th March 2012 in New York ~~~
"The Hadoop-in-Finance conference was a great hit."
-- Tim Child, 3dMashup
"Thanks again for the having me speak at the conference. I learned a lot."
-- Andrei Kirilenko, Chief Economist, Commodities Futures Trading Commission (CFTC)
"Thanks again Andrew for putting this great event together!"
-- Brad Sarsfield, Microsoft
"Nice mix of talks."
-- Bill Olik, ING Bank
"Excellent mix."
-- Tom Groenfeldt, Forbes Magazine
"Good presentations."
-- Chip Yang, NYSE Euronext
"Good sessions and speakers."
-- Jalil Vaidya, Wells Fargo
"Excellent event."
-- Tony Cuomo, SGI (Silicon Graphics)
"Excellent meet. Provided information about current status and future of Hadoop."
-- Mihir Patel, NYU-Poly, Finance and Risk Engineering Department
"Great event! Good variety of speakers."
-- Johnny Drandrall, KPMG
"Thanks!"
-- Christian Blanke, SSARIS (State Street)
"Very content rich event! Nicely done!"
-- Jaime Fitzgerald, Fitzgerald Analytics
"I am glad to have been exposed to so much information about Big Data and I met some great people."
-- Sarah Nagy, Quant Consultant
"Great event Shep. The 'Hadoop in Finance' event was awesome! Thanks for putting that together. Thanks++"
-- Joe Cappelleri, ING Bank / Ionic LLC
"I wanted to thank you for inviting me to the conference today and for putting it together. It was interesting and useful (and well-run!)."
-- Adam Klein, Lambda Foundry
"... it was very useful and highly relevant."
-- Stuart Farr, Deltix Inc.
"Thanks for organizing the event!"
-- Shaun Connolly, Hortonworks
"This was a good session and it allowed me to give some of my internal customers a 'non-Tom Savarese' perspective. Which is good, as it seems to be in line with much of our thinking."
-- Tom Savarese, JPMorgan Chase
"Thanks. It was a great meeting."
-- Gail Ennis, Karmasphere
Organizer of Python in Finance