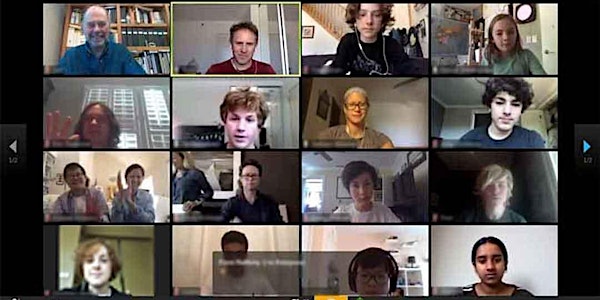 Python Club - online with Tony Pound
For tech-loving kids in high school, and ambitious middle schoolers. (Some programming experience recommended.)
About this event
Save money on this online learning option!
ACTIVITIES: Python is the essential language for gaming, internet, and scientific programming. In the monthly Python Club, students who have some programming experience will dive deeply into Python advanced topics and especially into their own projects, with close support from our famed coaches and fearless leader. Monthly workshops plus advanced topics, and day-to-day support come together to take your programming to the next level. Recommended for high schoolers and ambitious middle schoolers who already have some programming experience, Python or other.
YOU NEED: an internet connection and any Windows, Mac, or Linux computer that runs Zoom (either laptop or desktop). We'll show you how to install Python.
LOCATION: Online via Zoom, once per month from 3:30-5:00pm starting Sep 2 then every 3rd Wednesday. (So that's 9/2 then 9/16, 10/21, 11/18, 12/16/2020; 1/20, 2/17, 3/17, 4/21, 5/19/2021.) Polish your hacker skillz while still in your pajamas.
INSTRUCTOR: Tony Pound has been teaching computer science at The Branson School in Ross since August 2016 and with MVGATE since June 2017. He currently teaches classes in web design, Java, Python and iOS mobile application development. He holds a Bachelor of Sciences degree in Psychology and Computing from the University of Plymouth (UK) and a Master of Arts in Education from the University of Bath (UK). Tony previously worked for a leading cellphone company in England as a software developer and team leader from 1998 to 2005 prior to becoming a computer science teacher. He was chair of computer science at Priory Community School in North Somerset, England from 2006 to 2015.
Ten Wednesdays 02 Sep 2020 to 19 May 2021 in your home, on an easy schedule!