About this Event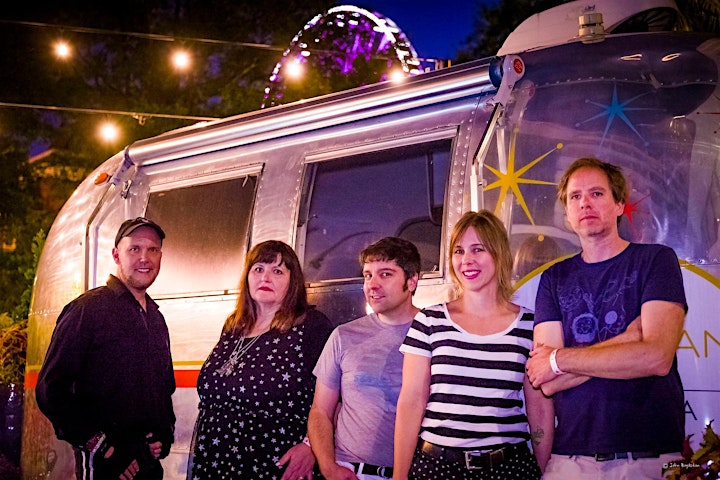 PYLON REENACTMENT SOCIETY (PRS) is fronted by former PYLON singer Vanessa Briscoe Hay, whose inimitable vocal textures and phrasing defined the band's sound for many listeners.PYLON is considered to be one of the most influential bands at the beginnings of what would become known as the "Athens, GA music scene." 30 years ago, PYLON, along with The B-52's and R.E.M., were heavily featured in the original documentary Athens, GA/ inside-out. PRS formed in 2014 for what Hay thought would a be one-off project to perform for the event Art Rocks Athens. They were invited back for the second ARA event in 2015 supporting Fred Schneider's solo project. Indie darlings Dressy Bessy caught wind of PRS and invited them on a short tour. Since then, PRS has turned into a tight touring unit having performed at festivals and venues on both coasts, the Midwest, the Southeast and Barcelona, Spain. Along the way they have begun to develop their own sound using PYLON as their inspiration. In addition to Hay, PRS is rounded out by Jason NeSmith (Casper &The Cookies) on guitar, Kay Stanton(Casper & The Cookies) on bass guitar and backing vocals, Joe Rowe(The Glands) on drums and Damon Denton(Big Atomic) on keyboard. PRS released a 6-song EP, PARTTIME PUNK SSESSION, on Atlanta taste maker Henry Owings's Chunklet Industries label to rave reviews. 2018 found PRS writing new material and releasing a single: "MESSENGER / CLIFF NOTES," that has caught the attention of independent DJs and collectors worldwide. PYLON REENACTMENT SOCIETY wowed the audience in Barcelona at Primavera Sound 2019 on the new Your Heineken Stage. One Italian reviewer touted PRS as one of the top 10 acts at PS19. 2020 promises to be a busy year. PRS are currently crafting more new material for a full length project. They were recently filmed for the follow-up documentary to Athens, GA/Inside-Out,(working title)Athens, GA...Thirty Years On that is expected to release in mid-2020. Both Hay and reissue producer Jason NeSmith have been working together on the sonic side of the upcoming PYLON reissues. But, that's another story….
WEB:
http://pylonreenactmentsociety.com/
YOUTUBE:
https://www.youtube.com/watch?v=x0BNoYEg_wo&feature=youtu.be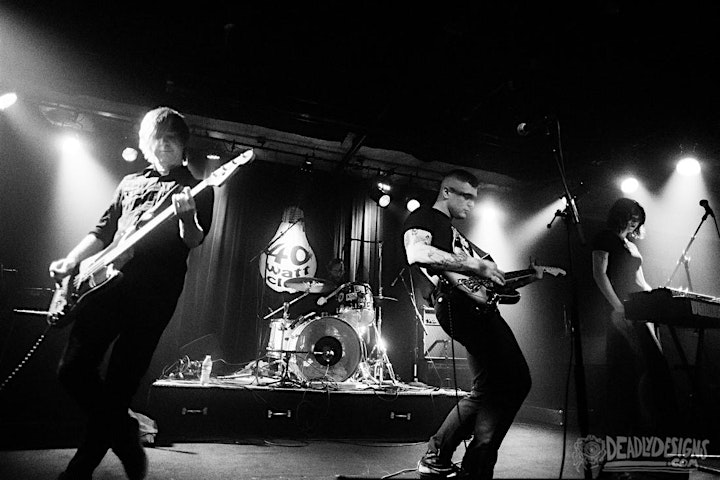 Vision Video is a new Athens band that is not afraid of the dark: the band pays homage to new wave and gothic-rock from the 1980's, without sounding contrived or derivative. They synthesize an even and masterful blend of gothic rock, shoegaze, pop, and punk rock that allows for an accessible and dancey sound, without loss of depth or originality. Bass Player Dan Geller, (formerly of I Am the World Trade Center, the Agenda) likes to likes to describe the band as "Goth Pop". Influences that come through are certainly heard from darker acts like the Cure, the Chameleons and Joy Division, smoothly blended with raw punk monoliths such as the Clash and the Replacements.
Dusty's lead vocals cooperate and intertwine in crooning range with those of Keyboardist Emily Fredock, creating fantastic melody and dissonant beauty between the two voices. Fredock, a classically trained pianist, layers soaring synths that add dark depth. Dan Geller constructs hooky baselines that stick in your mind hours after the show is done. Drummer Jason Fusco (also of Shehehe) backs as well with intense and raw vocals creating contrast, while playing ferocious drum beats that bring an outstanding vigor to the post-punk heavy sound.
The band's name came from the much loved local video rental chain that was frequented by the band in years past. "It was a cool place that was full of strange cult films and bizarre people, but it had a really excellent communal sense between the store employees and regular customers. It had something special in the ritual of the Friday night movie rental. There was something honest and simple in that process that is gone and never will come back. I think that worked well with the themes that our music explores." said Gannon.
Lyrically, the band's first upcoming LP is soaked thematically in dread, suicide, loss and manic depression. Gannon, having served in Afghanistan and later becoming a paramedic and firefighter, is certainly no stranger to death and humanity's worst. Gannon remarks, "I wrote most of these songs when I was really coming to terms with trying to live a "normal life" after some of my experiences in these insane worlds that I've lived in. I experienced a lot of grief, loss of relationships and plenty of self-loathing, but these are universal human experiences and you don't have to go to war or be a first-responder to know. I wanted to write music that met my needs of catharsis and self-exploration, but do it in a way that translates to anyone who has felt alone in their misery. This music is good for anyone who wants to invite their skeletons out of the closet for a dance party, so they can get to know them better, instead of living in fear of them."
Performers
Date and Time
Location
Refund Policy