Nashville couples, bring your wedding planning to life at The Ultimate Wedding Planning Experience®️ presented by Perfect Wedding Guide!
About this event
"If you're getting married, you HAVE to go."
We know that wedding planning has been difficult lately and we're here to make it fun again! Let your wedding stress melt away as you mingle with local wedding pros and see the latest in wedding trends!
Perfect Wedding Guide is bringing The Ultimate Wedding Planning Experience®️to the gorgeous space at Margaritaville Nashville on March 27, 2022!
Join us at the Wedding Show/Expo because the vendors, cake samples, entertainment, and wedding deals will sweep you off your feet.
Grab your tickets now so that you save $$ on the #1 wedding show of the season!
This wedding show is fun and productive for the wedding party, parents, friends, and family - so bring your entourage along for the fun!
For years: brides, grooms, and guests have been walking out of this wedding show with huge smiles, de-stressed, and inspired. Now it's your turn!
⭐️ "It's like Pinterest, but productive."
⭐️ "I'm so glad we came to this Wedding Show. Thank you!!"
⭐️ "Even my partner, who isn't a wedding-person, had a great time."
⭐️ "Loved the fashion show! It was fantastic!!"
⭐️ Thank You, Sponsors!⭐️
Top 5 Reasons to Attend Nashville's Ultimate Wedding Planning Experience. 
1. Make Wedding Planning Easier
Don't wait until you're too far in the trenches of wedding planning to get advice. If you're just getting started, there are probably questions you don't even know you have! Come to the show to learn fast and have fun while you do it. 
2. Get the Most Out of Engagement
Being engaged is fun! Some parts of wedding planning are more liked than others, but that doesn't mean you should miss any minute. Let's face it - this is the last wedding you will ever plan, so you might as well get the good memories out of it while you can!
3. Have Fun at The Event and Save Time!
The bottom line is that we are here for you to have an incredible time. That's why our sponsors put on fashion shows, bring their favorite treats for you to taste, and get to know your wedding style. You will know almost immediately if they are a good fit for your wedding vision, and then you're done!
4. Enter to Win Giveaways & Wedding Deals
Not only will you be entered to win amazing prizes, but you'll also be able to take advantage of any wedding specials our vendors are running during the show. Many companies offer discounts, upgrades, and even free services at the Perfect Wedding Show.
5. You Deserve the Ultimate Wedding Planning Experience®
That's right. Our event is so popular we had to trademark it! :) At the Perfect Wedding Show, we plan for months in advance to make sure the year's best wedding trends, deals, options, and wedding companies are on display for you.
We can't wait to see you at the show! 
*** By registering to attend a Perfect Wedding Guide event you are consenting to the terms of our privacy policy and to receive email communication, text messages, phone calls, voicemails, etc. from Perfect Wedding Guide, I Do Productions, LLC.,  and our affiliates. You will receive auto-dialed text alerts from Perfect Wedding Guide. No consent req'd for purchase. Msg & data rates may apply. Msg frequency varies. Reply STOP to stop, HELP for help.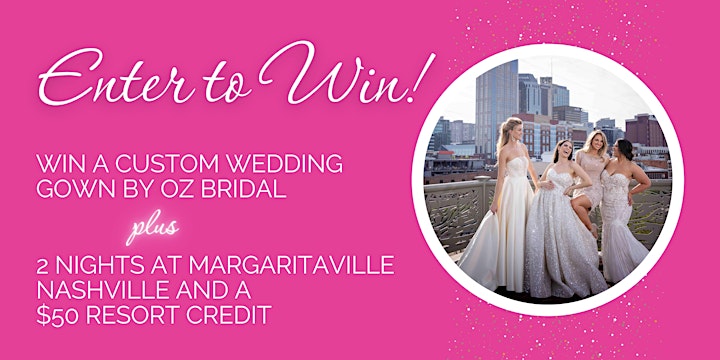 All couples attending the show will be registered for our amazing prizes and giveaways, including this Nashville weekend + custom wedding gown! Follow us @nashvilletnpwg for more giveaway announcements!
Organizer of PWG Wedding Show | March 27, 2022 | Margaritaville