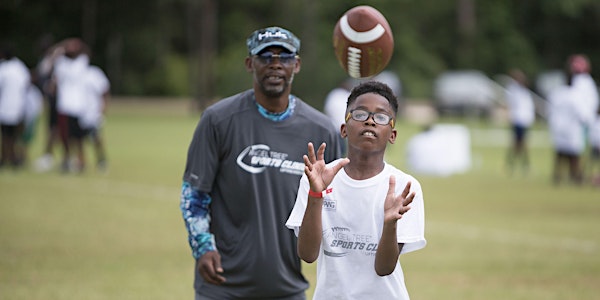 PWG FREE ATHLETIC YOUTH CAMP!
When and where
Location
Chickasabogue Park 760 Aldock Road Prichard, AL 36613
Description
SIGN UP TODAY for Football & Cheer Athletic Youth Camp
Join us for the FREE Football & Cheer Athletic Youth Camp at Chickasabogue Park sponsored by Palmer Williams Group. Join David Palmer and Sherman Williams, former NFL and University of Alabama football players for a great day of fun!
Who can participate?
The Football and Cheer camp is for boys & girls age 4-14, who have an incarcerated parent, or who live in communities that present significant risk factors. Kids with all level of cheer or football ability are invited to this unique opportunity to learn from the best - college sports and former professional athletes, many of whom have experienced similar struggles.
What will the Clinic be like?
Former NFL Players, college athletes, and cheerleaders will lead kids through a fun-filled day of drills & skills development exercises. Youth will gain new skills and learn about teamwork, leadership, and hard-work while forming incredible relationships with their peers. All participants and their adult chaperones/caregivers will also be treated to a hearty lunch and the signature "Lifting Kids Up Ceremony" at the end of the day.
How much does the Football & Cheer Camp cost?
The Clinic is FREE, Yes FREE! This includes lunch and t-shirt.
Do I need to register in advance?
YES! There is limited space. You must register in advance, either by registering online or downloading the paper application here and email or send a picture of the completed form to info@palmerwilliamsgroup.org.
Can my parent or caregiver come?
Absolutely! We will have planned adult activities for the parents. As always, parents are welcome to join you and cheer from the sidelines. If you would like to volunteer for the day, you are welcome to register in advance. For more information or to register check out https://www.eventbrite.com/e/volunteer-sign-up-6th-annual-pwg-athletic-youth-camp-tickets-60912198024
What is the Catch? What is the Goal of the Athletic Youth Camp?
There is no catch! The goal of the day is simply to bring together high Caliber, high character former college and pro footballers and cheerleaders with boys and girls age 4-14, for a day of fun, mentoring and encouragement!
I still have more questions, who can I ask?
Please email info@palmerwilliamsgroup.org or call 251.644.3125.
Sign-up today and reserve your spot in this amazing, impactful and totally fun event!