Description
Stop Mowing, Start Growing - Native Plants for Beginners
Let us help you to stop mowing and get going on your dream landscape!
Whether you are new native plants and what they can do for your property or looking for alternative landscaping ideas this event is for you! Native plants can;
Create a beautiful yard
Save time so you can enjoy other activities
Create habitat for birds & pollinators
Save money on fertilizer & pesticides
Improve Water Quality
Curb Erosion
Visit http://www.pwcgov.org/government/dept/publicworks/Pages/Native-Plant-Symposium.aspx or call 703-792-7070 for more details, to learn about the speakers, or to see the agenda.
The cost of the event is $15 which covers; coffee and donuts, lunch, and materials. To register for the event click tickets above.
Sponsored by;
Prince William County Watershed Management Branch
Prince William Environmental Excellence Foundation
Prince William Soil & Water Conservation District
Prince William Conservation Alliance
Virginia Cooperative Extension
Virginia Native Plant Society
Plant NOVA Natives
Keynote Speaker
J. Christopher Ludwig will be our keynote speaker. He is chief biologist with the Virginia Department of Conservation and Recreation's Division of Natural Heritage and coauthor & director of the Flora of Virginia Project. His Flora work has included;
Management of project-wide work flow
Editing of taxonomic descriptions
Incorporation of information on plant status and habitat
Serving as executive director of the Flora Project Foundation (2001–2014) and president of its board of directors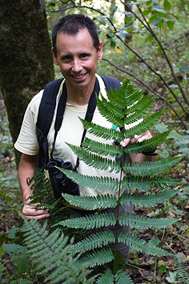 If you are a person with a disability and desire any assistive devices, services, or other accommodations to participate in this activity, please contact Virginia Cooperative Extension at 703-792-6285 during business hours of 8 a.m. to 5 p.m. to discuss accommodations five days prior to the event.
Virginia Cooperative Extension programs and employment are open to all, regardless of age, color, disability, gender, gender identity, gender expression, national origin, political affiliation, race, religion, sexual orientation, genetic information, veteran status, or any other basis protected by law. An equal opportunity/affirmative action employer. Issued in furtherance of Cooperative Extension work, Virginia Polytechnic Institute and State University, Virginia State University, and the U.S. Department of Agriculture cooperating. Edwin J. Jones, Director, Virginia Cooperative Extension, Virginia Tech, Blacksburg; M. Ray McKinnie, Administrator, 1890 Extension Program, Virginia State University, Petersburg.