PVD Lady Project Does: Cycling

Thursday, June 30, 2016 from 6:15 PM to 7:15 PM (EDT)
Event Details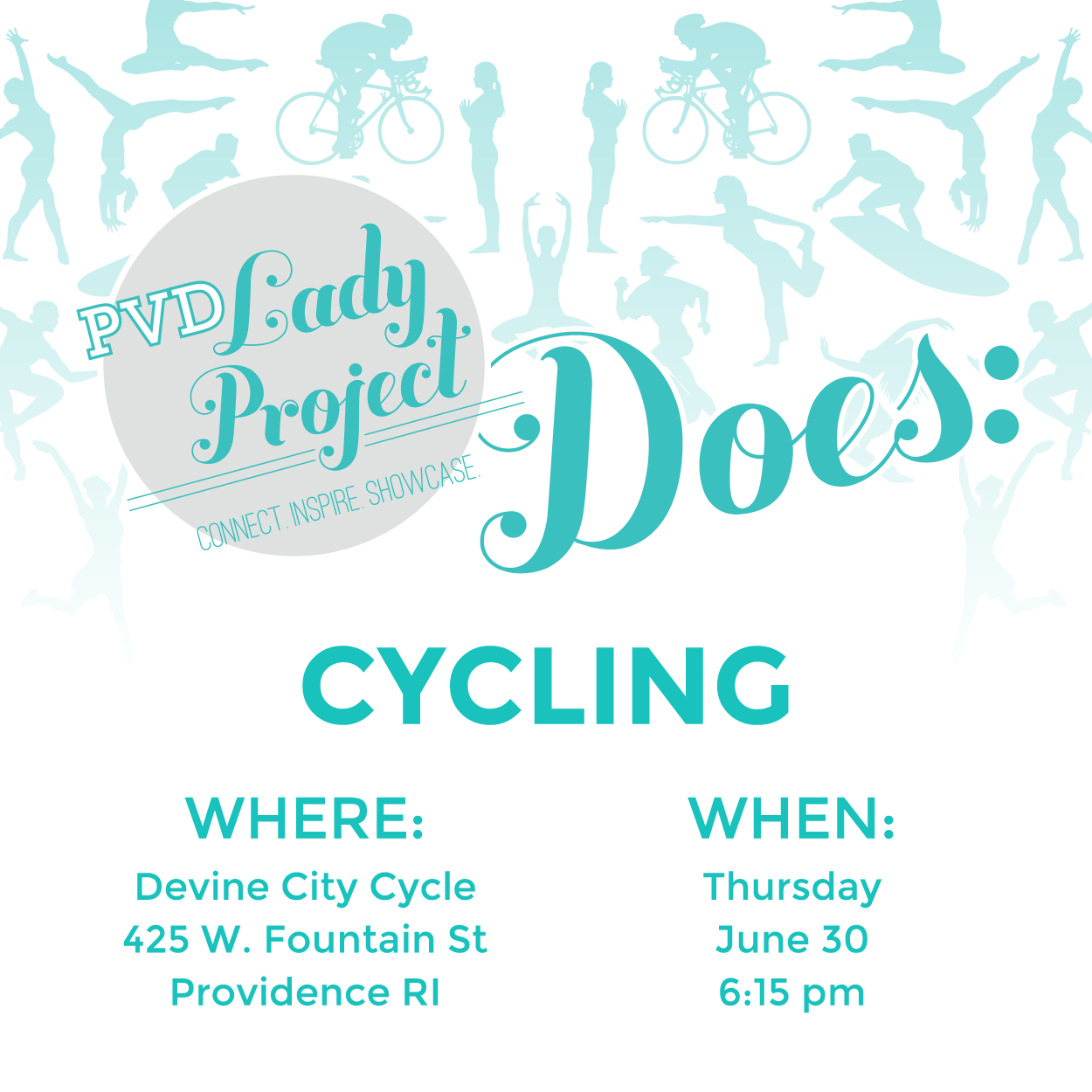 PVD Lady Project Does: Cycling
Thursday, June 30 at Devine City Cycle!
Join the PVD Lady Project for a cycling workout at the new Devine City Cycle on the West Side of Providence. Devine Cycle, with Alexis Devine, co-owner, is a high intensity personalized workout within a group setting. Alexis caters to individual goals and fitness levels while building on the collective strength and ambition of all participants. Her energy and style are one of a kind, using motivating beats and rhythmic tempos. You are guaranteed to sweat, burn calories, and tone muscle all at the same time. Mental strength will build as she asks her signature question, "What do you ride for?" and reminds you that, "Anything is possible."  Alexis pushes you to find an untapped strength within. Her class offers an experience like no other and will not disappoint.
Please bring water, a towel, and plan on wearing athletic sneakers to class.
About DCC:
Sisters Mona Devine Kronholm and Alexis Devine come together to open Providence's first fitness studio dedicated exclusively to indoor cycling. Devine City Cycle (DCC) houses twenty Keiser bikes on the West Side of Providence, offering a variety of classes taught by experienced, high-energy instructors.  
At DCC, we ask what do you ride for? because we believe everybody has a unique story that can be used to reach one's personal best. By meeting each rider at his or her individual fitness level, whether beginner or advanced, we hope to empower all participants to achieve their goals and overcome their greatest challenges both on and off the bike. Our classes are intended to strengthen mind and body, helping you to discover your best self in the process.
About Lady Project Active Events:
We hope to provide fun, active events where ladies can chat, connect and learn a thing or two about a new class or sport. Ideas for our next active spot? Let us know.  
The Lady Project is a 501(c)(3) non-profit organization that connects, inspires and showcases awesome women doing amazing things through membership, events and community engagement. The Lady Project is based in Providence, Rhode Island, where chapters in Providence, New Haven, Boston, Nashua, New York City, Washington DC, Seattle, Philadelphia, Boulder, San Diego and Dallas host monthly events where women can connect, get inspired and learn about what other awesome women are doing in their cities.
Your event ticket includes all and any local and state sales tax.
Questions or media inquiries? Email: hello@PVDladyproject.com
FAQs:
Q: Do I need to be a member to come to this event?
A: Nope! This event is open to all ladies. Some of our events are members only, though. Learn more about membership here.
When & Where

Devine City Cycle
425 West Fountain Street
Providence, RI 02903


Thursday, June 30, 2016 from 6:15 PM to 7:15 PM (EDT)
Add to my calendar
PVD Lady Project Does: Cycling