Description
Please join SEG on Wednesday, May 16 for PVD Green Drinks at Hope & Thyme!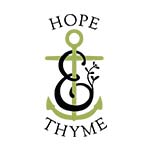 Hope & Thyme is an impact conscious food space on the West End that offers wholesome, consciously-packaged ingredients for home cooking and various items for sustainable living; as well as simple, healthy plant-focused prepared fare, coffee, and more; while maintaining an awareness of the impact to our environment, our community and neighbors, and our consumers.
Come and get together with a community of environmentally interested individuals for food, drink and networking, and hear Bryan Rinebolt talk about their mission, vision, and how YOU can get involved.
---
These monthly events are made possible in partnership with: Cleantech Open Northeast, EcoRI News, New England Clean Energy Council/Navigate, and Slater Technology Fund.