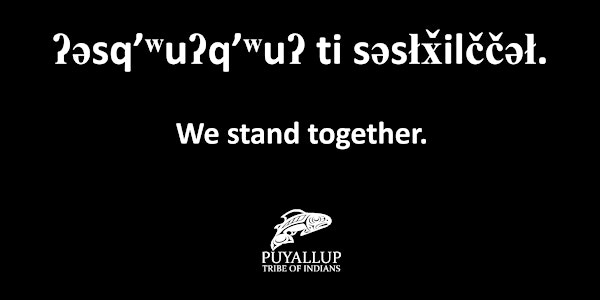 Puyallup Tribal Council Black Lives Matter Signing Ceremony
Puyallup Tribal Council will deliver and sign a Black Lives Matter statement.
When and where
Location
Emerald Queen Casino Ballroom Pacific Highway East Fife, WA
About this event
The Puyallup Tribal Council would like to express our support and condolences to the Black community and formally voice our support and solidarity during this time of crisis, but also at all times. We acknowledge the injustices and inhumane treatment inflicted upon the Black community, not only in government institutions, systems, and businesses, but in the hearts of many Americans.
Join this event virtually by watching our Facebook livestream. Alternatively, we have 30 spots available for Puyallup Tribal community members to in-person. For in-person participation, please register beforehand.
For COVID-19 safety precautions, in-person attendees will need to have their temperature taken, asked to use hand sanitizer and wear a mask prior to entering the EQC Ballroom. The seating is also set up for social distancing.