Description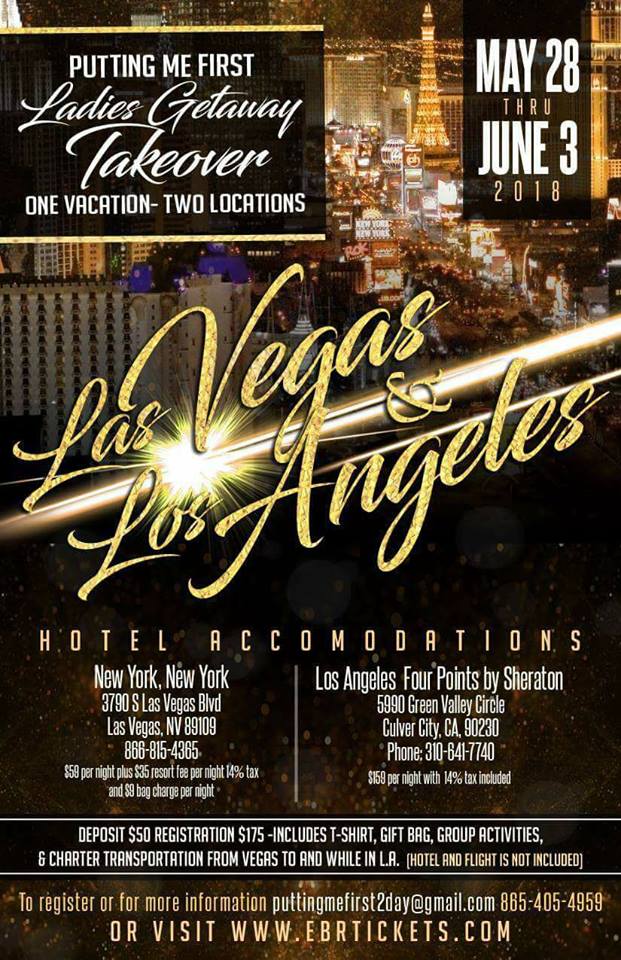 Ladies! When is the last time you took a full vacation to relax,
...
rest and have fun BY YOURSELF OR WITH YOUR FRIENDS?! It is time for you to take care of you! It's time for a Girl's Trip! Besides, bringing your friends on this trip decreases the price!

Register TODAY for Putting Me First: Las Vegas to Los Angeles Ladies Vacation Takeover! This is one vacation in two locations!

-DEPOSIT MUST BE PAID FIRST-$ -Registration: $175- Gift bag, Putting Me First T-shirt, Charter bus from Las Vegas to LA and while in LA is included in the registration rate, group activity(ies) (TBA)
-Hotel and Transportation: Not included

Our first stop is Las Vegas. We will be lodging at the New York New York Hotel and Casino. Those dates are, May 28 departing on May 31. We will then take a charter bus to Los Angeles on May 31 and lodge at the Four Points by Sheraton in Culver City, LA. We will depart from there June 3.

Info on lodging is as follows:
New York, New York:
866-815-4365 *Double Bed. Up to four person occupancy*

*Dates: May 28 departing May 31 from Las Vegas*

*YOU HAVE TO PAY FOR YOUR FIRST NIGHT OF THE ROOM TO HOLD THE WHOLE THREE DAYS! *Room is $59 per night. This rate EXCLUDES the $35 a day resort fee and the 14% tax. *Breakfast is NOT included
NY NY HOTEL LINK TO RESERVE YOUR ROOMS----> https://aws.passkey.com/event/49271709/owner/2113/home…

---------------------------------------------------------------
Four Points:
*Double Bed. Up to four person occupancy*
*Room Block is under Putting Me First
*Dates: May 31 departing June 3
*Room rate is $159 per night and EXCLUDES 14% tax
*Breakfast IS included* *
NO PAYMENT due at time of reservation. Debit or credit card will be used to reserve the room.
For full vacation information, please visit: www.ebrtickets.com

**You are responsible for booking and paying for your hotel and plane ticket. We will update you with different sales for flights when we come across them. FLIGHTS FOR NEXT YEAR AT THE DESIGNATED TIME OF THE TRIP WILL NOT BE AVAILABLE UNTIL MID OCTOBER THROUGH DECEMBER.

***A friendly tip is to pay for your room before you get there. If you have a roommate it would behoove you each month to put your money together and pay for you room***
More info will be posted as we receive it.

**This trip is for women 21 years old and older**
**DEADLINE FOR PAMENT IS MAY 1 , 2018**
Date and Time
Location
Refund Policy