Description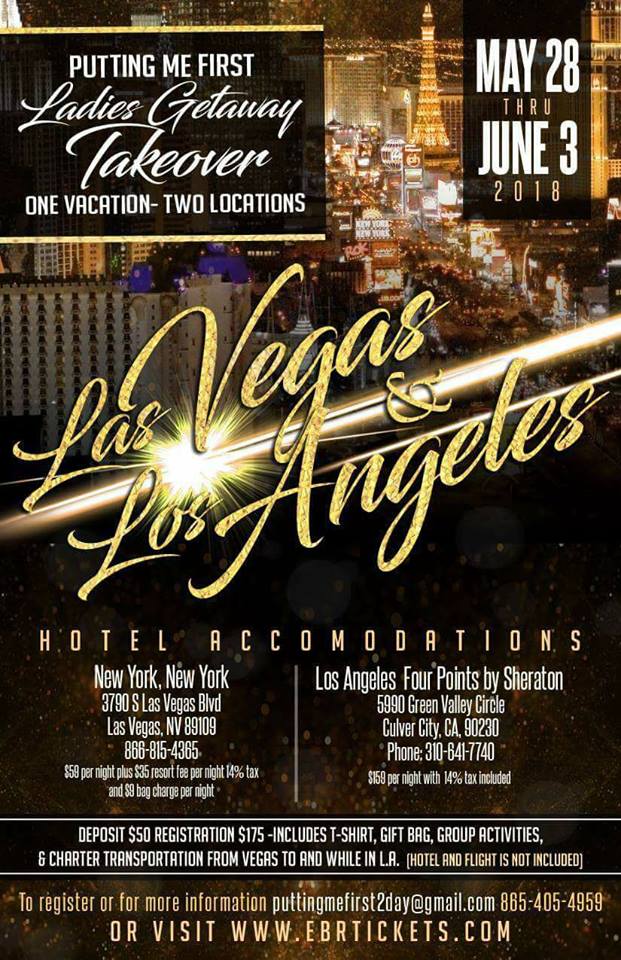 Putting Me First: The Ultimate Women's Getaway.
LADIES! WE ARE GOING TO LAS VEGAS & LA!!
One vacation, two locations.
On May 28 - June 3, 2018 (checking out of hotel on Sunday), Events by Regan will be hosting an event for ALL women who NEED a break to have fun, relax and rediscover the hidden you. You may have hidden your real self due to putting your family, friends, job and others lives first. It's now time to put YOU first. Because if you aren't mentally and emotionally right, no one else in your life will be right!
May 28 - May 31- Las Vegas-Depart on 5/31
May 31 -June 3 - Los Angeles-Depart on 6/3
A NONREFUNDABLE $50 deposit will be needed to reserve your spot. Available on www.ebrtickets.com
We only have 50 slots available for this trip. The deposit has to be made first then you can pay for your registration. We will also have a payment plan in $15 to $50 increments.
Fees are as follows:
$175 registration fee ($225 total with deposit) includes - Charter Transportation from Vegas to LA and while in LA for three days, gift bag, t-shirt, group activities.
Info on lodging is as follows:
Planet Hollywood
3667 Las Vegas Blvd.
Las Vegas, NV 89109
Group Information for booking:
Group Name: Putting Me First
Group Code: VM3PMF8
Reservations Department Call- in #:
(877) 244-9474

Online link: https://www.totalrewards.com/reserve/?propCode=PHV&action=FindRooms&groupcode=VM3PMF8
*You will have to pay your first night of the room to secure the rest of the nights*
*Double Bed. Up to four person occupancy*
*Dates: May 28 departing May 31
*YOU HAVE TO PAY FOR YOUR FIRST NIGHT OF THE ROOM TO HOLD THE WHOLE THREE DAYS!
The total. including tax and fees
for three days is $383.09
___________________________________________
LA HOTEL INFO:
Los Angeles
Four Points by Sheraton
Los Angeles Westside
5990 Green Valley Circle
Culver City, CA, 90230, United States
Phone: 310-641-7740
Room block is under Putting Me First
YOUR ROOM HAS TO BE RESERVED BY APRIL 1, 2018.
The room is $159 per night with 14% tax per night and the rate DOES INCLUDE BREAKFAST and DOES INCLUDE TAXES. YOU DO NOT HAVE TO PAY A DEPOSIT TO HOLD THE ROOM.
LA room total is $544.71 FOR THREE DAYS
TOTAL FOR ROOMS FOR THE ENTIRE TRIP WITH TAXES INCLUDED:$928 approx.
With or without room mate hotel cost is as follows:
*One person $928.00
*Two people $464.00 (per person)
*Three people $319 (per person)(EXTRA BREAKFAST TAX *ADDED PER PERSON PER THREE DAYS $30 IN LA)
*Four people $247 (per person)(EXTRA BREAKFAST TAX ADDED PER PERSON FOR THREE DAYS IN LA $60)
*Flight
You are responsible for booking and paying for your hotel and plane ticket. We will update you with different sales for flights when we come across them. It is encouraged that you take a one way into Vegas and a one way from LA. Frontier, Spirit or Southwest are typically the cheapest flights.
***A friendly tip is to pay for your room before you get there. If you have a roommate it would behoove you each month to put your money together and pay for you room***
Please join the Facebook group for up to the minute information.
https://www.facebook.com/groups/puttingmefirst/
For further questions please feel free to contact us at puttingmefirst2day@gmail.com
**ALL REGISTRATIONS AND DEPOSITS ARE NON REFUNDABLE*