Description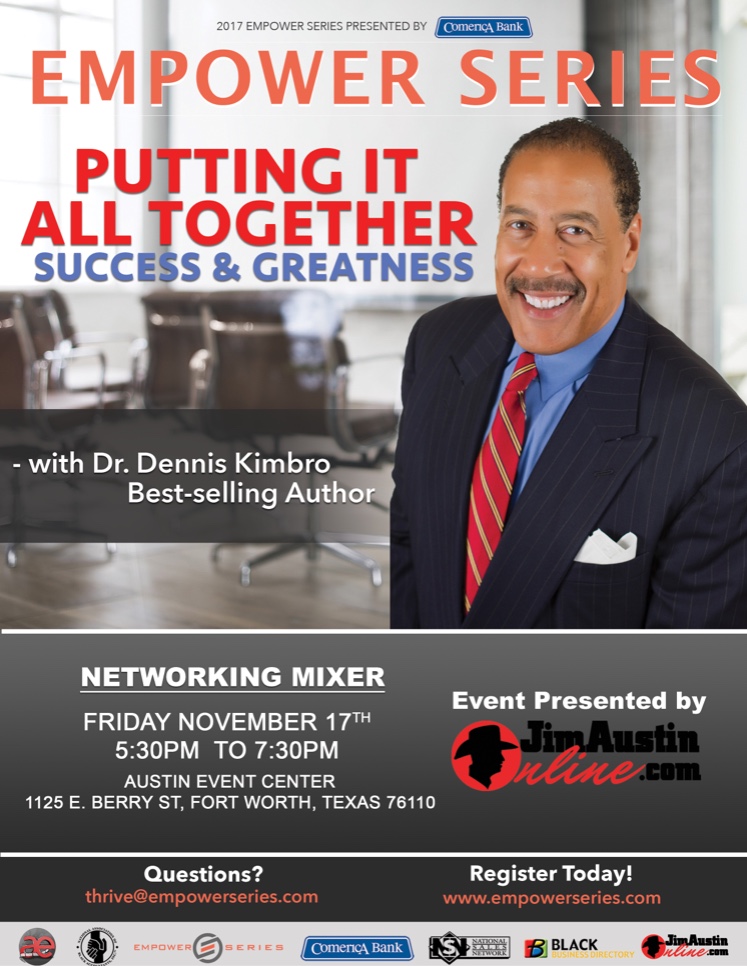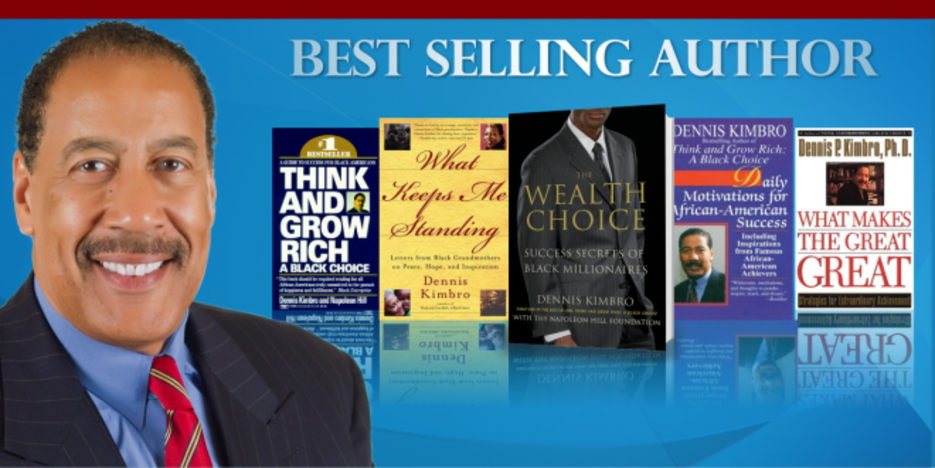 NETWORKING MIXER FEATURING BEST-SELLING AUTHOR DR. DENNIS KIMBRO
DATE: Friday, November 17, 2017
PROGRAM TIME: 5:30PM to 7:30PM

LOCATION: Austin Event Center, 1125 E. Berry Street, Fort Worth, Texas 76110
ADMISSION: Free
ABOUT OUR GUEST SPEAKER:
Dennis Kimbro is brave enough to ask questions. He's spent his entire career interviewing peak performers all over the world, and gleaning the best ideas, strategies and success principles from their words. He's heard the same things enough times to know that all people who succeed tend to follow the same path and that all people who have not succeeded yet tend to fall into the same pit over and over again.
Dennis Kimbro is a best-selling author of five books, writing partner and master trainer for the prestigious Napoleon Hill Foundation, and is on the faculty at Clark Atlanta University School of Business Administration. He is a recipient of the Dale Carnegie Personal Achievement award. Dr. Kimbro received his B.A. degree from the University of Oklahoma, and a M.A. and doctorate from Northwestern University where he studied wealth and poverty in underdeveloped countries.
In 2005, the National Black MBA Association presented him with the 2005 H. Naylor Fitzhugh award, recognizing him as one of the top professors in the nation. Dr. Kimbro studied the methodology of Napoleon Hill, author of the phenomenal international 1930s best seller Think and Grow Rich. Inspired, Dr. Kimbro decided to do what Hill had done. He developed a survey to use among peak performing Black Americans. Two years later, he learned from the Napoleon Hill Foundation that Mr. Hill himself had written nearly one hundred pages on the very same subject in the 1970s. Left incomplete, it turned out to be Mr. Hill's last manuscript. After a personal meeting with the late W. Clement Stone, then-president of the Napoleon Hill Foundation, Dr. Kimbro was commissioned to update and complete Hill's original manuscript. Think and Grow Rich: A Black Choice, the results of Dr. Kimbro and Hill's efforts, distills the secrets of success contained in the lives of peak performing Black men and women, and reveals how readers can use these keys to make their dreams come true. Dr. Kimbro is now a certified Napoleon Hill Science of Success trainer and leadership coach.
Dr. Kimbro has appeared on the Today Show, Larry King, CNN, and has been featured in Success magazine Wall Street Journal, New York Times, and USA Today on numerous occasions sharing the keys to success and achievement. His fifth book, The Wealth Choice: Success Secrets of Black Millionaires was released February 2013.
Dennis is married and the father of three daughters and has three grandchildren. He lives and teaches in Atlanta, Georgia.
PROGRAM COORDINATOR:
Dr. Kimbro's visit to the Fort Worth-Dallas Metroplex is a part of The EMPOWER Series. For additional info contact Clifton Johnson, 214-636-7516; Email: Thrive@empowerseries.com; Visit: www.empowerseries.com.
NOVEMBER 17, 2017 NETWORKING EVENT SPONSORS:
The Fort Worth, Texas, Networking Mixer for Dr. Kimbro is sponsored by:
JimAustinOnline.com; Radisson Hotel Fort Worth North-Fossil Creek; Smoke-Free Fort Worth; and Blue Zones Project.
**************************
ADVERTISE WITH JIM AUSTIN ONLINE
JimAustinOnline.com is a professional web-based media advertising, marketing and networking company.
For additional information or advertising opportunities:
Email - JimA@JimAustinOnline.com or Call (817) 923-9305.
Website: www.JimAustinOnline.com