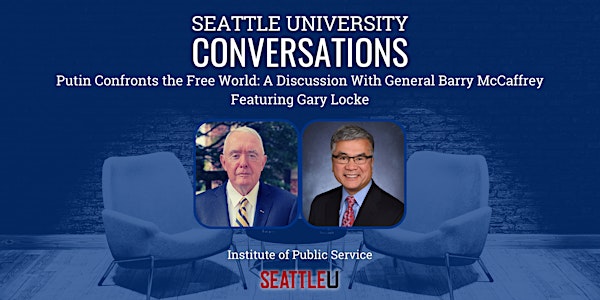 Putin Confronts the Free World: A Discussion with General Barry McCaffrey
Sales Have Ended
Registrations are closed
Sorry, ticket sales have ended!
Event Information
Location
Pigott Auditorium, Seattle University
901 12th Avenue
Seattle, WA 98122
Sales Have Ended
Registrations are closed
Sorry, ticket sales have ended!
A timely conversation with General Barry R. McCaffery, USA (Ret.) and Gary Locke, former ambassador to China and former Washington governor.
About this event
Seattle University's "Conversations" series continues with General Barry R. McCaffrey, USA (Ret.), a national security and terrorism analyst for NBC News and president of his consulting firm, BR McCaffery Associates and Gary Locke, former ambassador to China and former Washington governor. Barry McCaffrey served in the United States Army for 32 years and retired as a four-star General. They will be interviewed on stage by Larry Hubbell, professor, and Joni Balter, journalist, with questions from several students.
For five years after leaving the military, General McCaffrey served as the director of the White House Office of National Drug Control Policy (ONDCP). Upon leaving government service, he served at West Point as the Bradley Distinguished Professor of International Security Studies from 2001-2005; and an Adjunct Professor of International Security Studies from 2006-2010. He previously served as an Associate Professor in the Department of Social Sciences from 1973-1976 teaching American Government and Comparative Politics.
About General McCaffery
At retirement from the military, he was the most highly decorated serving General, having been awarded three Purple Heart medals (wounded in combat three times), two Distinguished Service Crosses (the nation's second highest award for valor) and two Silver Stars for valor.
General McCaffrey is a member of the Council on Foreign Relations. He is chairman emeritus of the Addiction Policy Forum Advisory Board. He has served on the Board of Directors of several corporations in the engineering design, technology, healthcare, and services sectors.
General McCaffrey attended Phillips Academy, Andover, Mass.; and graduated from West Point with a Bachelor of Science degree. He earned a master's degree in American Government from American University and attended the Harvard University National Security Program as well as the Business School Executive Education Program.
In 2020, The Alumni Council of Phillips Academy awarded General McCaffrey the Andover Alumni Award of Distinction, which honors individual members of the alumni body for making "significant positive impact on their communities, society, or the world." In 2015 he was selected for the Doughboy Award -- the highest honor the Chief of Infantry can bestow on any Infantryman -- for outstanding contribution to the United States Army Infantry. In May 2010, he was honored as a Distinguished Graduate by the West Point Association of Graduates at the United States Military Academy. In 2007 he was inducted into the US Army Ranger Hall of Fame at the US Army Infantry Center, Ft. Benning, GA. In 2004, Catholic University of America awarded him the James Cardinal Gibbons Medal (highest honor), to honor him for distinguished and meritorious service to the United States of America. In 1992 he was awarded the State Department Superior Honor Award for the principal negotiation team for the START II Nuclear Arms Control Treaty.
About Gary Locke
As Governor of Washington State (the first Chinese American to be elected governor in United States history and the first Asian American governor on the mainland), U.S. Secretary of Commerce, and U.S. Ambassador to China, Gary Locke has been a leader in the areas of education, employment, trade, health care, human rights, immigration reform, privacy, and the environment. Currently, Gary Locke serves as the interim president of Bellevue College, which is the largest open access institution of higher education in Washington State serving nearly 30,000 students annually.
Date and time
Location
Pigott Auditorium, Seattle University
901 12th Avenue
Seattle, WA 98122