Description
4th Annual Pushing Pedals for Charlie
Join us for a great family friendly bike ride where proceeds will go towards the fight against Cystic Fibrosis. We will start and end at the Flat Tire Lounge in Madrid and enjoy a great few miles of bike ride along the High Trestle Trail. All ages and abilities are welcome!
Complimentary breakfast snack provided by Hy Vee (cinnamon rolls, juice, water and chocolate milk)

Complimentary lunch provided by Thrivent Financial Heartland Associates of Ames (

pork loin sandwiches, southwestern potato salad, oriental coleslaw and water melon)

Silent Auction by Charlie's Angels

more sponsors and announcements to come!
Ride Distances
Madrid to the Trestle Bridge and back 6 miles (West side to the overlook)

Madrid to Woodward and back 10 miles

Madrid to Woodward to Slater and back to Madrid 25 miles

Madrid to Woodward to Ankeny and back to Madrid 50 miles
Background
Charlotte Hugunin AKA "Charlie" is a 3 year old who battles daily to breathe as she fights Cystic Fibrosis (CF). She is the daughter of Tim and Jenny Hugunin and sibling to Alexandra. CF is a life threatening genetic lung and digestive disease that causes heavy mucus in her lungs, pancreas, and other organs. Charlie does hours of airway clearance, nebulizer treatments, vitamins, and enzymes with each meal. About 30,000 people are living with CF. Donations are being accepted for the Cystic Fibrosis Foundation on behalf of Charlie's Angels. This money will fund valuable research for new medications and cure.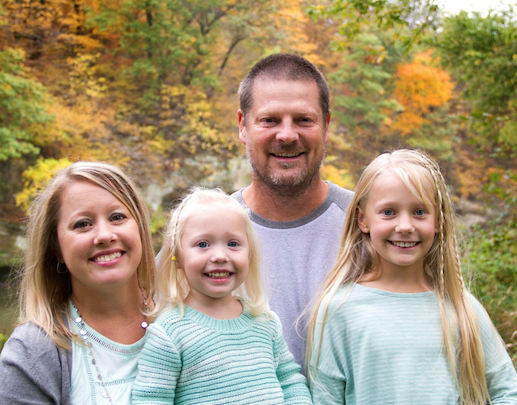 The Hugunins (Jenny, Charlie, Tim, Alex)