Description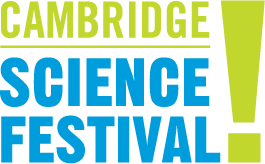 Part of the 2018 Cambridge Science Festival
Pursuit of Discovery: Lise Meitner & Nuclear Fission, a living history presentation
Written & Performed by Anna Frebel, PhD, Associate Professor of Physics, MIT & Author, Searching For the Oldest Stars
STEM on Stage presents the debut of REENACT:SCIENCE — a new series featuring science history retold by modern scientists.
As a new work-in-progress, Pursuit of Discovery explores how nuclear physicist Lise Meitner's pioneering revelation of nuclear fission a century ago still inspires astronomers to lift the last star stuff secrets of the early universe.
In December 1938, Lise Meitner discovered the process of nuclear fission. Having fled to Sweden to escape anti-Jewish persecution, the Austrian-German physics professor changed the course of science and, inadvertently, also that of the world. Through a living history portrayal by MIT astrophysicist Anna Frebel, the audience will participate in this discovery and its scientific implications. The scene then changes to 2018. Astrophysicists such as Anna Frebel use cosmic objects and modern knowledge on fission to finally complete, some 80 years later, our understanding of the production of all the heaviest elements in the periodic table.
Wednesday, April 18th
Cambridge Public Library (Main Branch - 449 Broadway, Cambridge, MA)
Doors open at 6:00pm
Program begins at 6:30pm
Performance is free with RSVP and recommended for adults and students, age 12 and older.
Anna Frebel is an Associate Professor of Physics at MIT. She received her PhD from the Australian National University and did postdoctoral work at the University of Texas (Austin) and the Harvard-Smithsonian Center for Astrophysics. For her research into the oldest stars in the universe and the early evolution of the chemical elements, she has received numerous scientific awards. In 2016, she was named one of ScienceNews Magazine's 10 scientists to watch. She is the author of the popular science book Searching for the Oldest Stars: Ancient Relics from the Early Universe. Frebel is a science advisor to STEM on Stage, a STEAM initiative to promote narrative science through living history theater and film.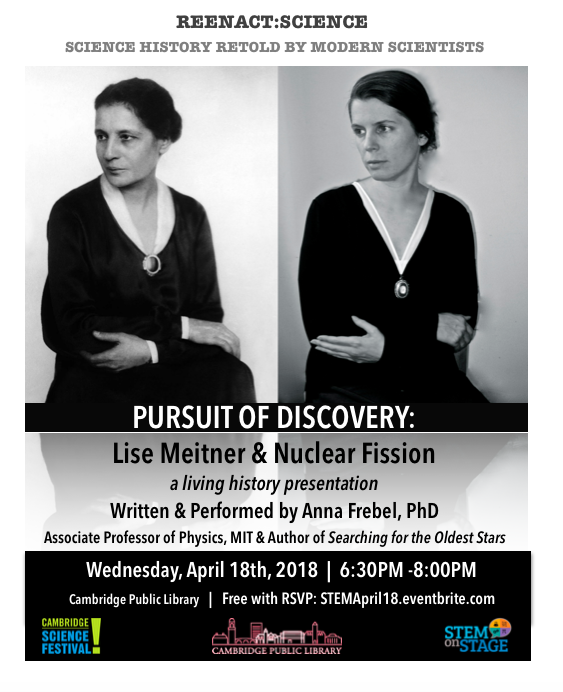 Contact:
Jen Myronuk, Producer, STEM on Stage
jen@stemonstage.org