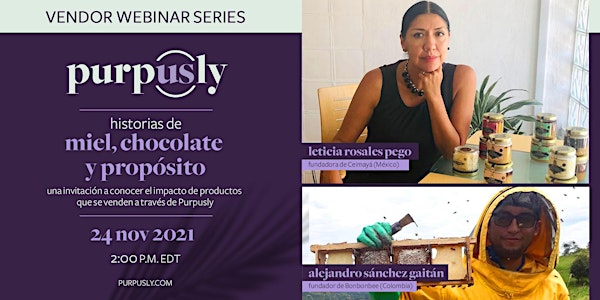 Purpusly Webinar Series: Historias de Miel, Chocolate y Propósito
Purpusly is a multi-channel commerce platform empowered by causes. Uniting us on purpose with connection in discovery to better the world.
About this event
Únanse a nosotros este miércoles 24 de noviembre del 2021 a las 2:00 p.m. EST para un seminario web de Purpusly con dos de nuestros creadores para conocer más de sus historias de impacto y de sus productos.
Sobre Purpusly:
Purpusly es una plataforma multicanal que trabaja de la mano con creadores para vender productos regalables que apoyan causas y empresas que participan en iniciativas de retribución, en comunidades de todo el mundo. Todo los meses, Purpusly organiza un seminario web informativo para marcas impulsadas por un propósito específico, para ayudarlas a ampliar su conocimiento en las estrategias de marketing, ventas y más, que las ayudarán a alcanzar sus objetivos de ventas y mostrar su marca frente a compradores conscientes que están listos para comprar regalos únicos y de calidad, como el que tu ofreces!
__________________________________________________
Leticia Verónica Rosales Pego, es economista, madre y empresaria. Es la creadora de la marca Ceimayá Artesanal Culinario y como en muchos casos, su historia empieza con una motivación personal: cuidar la salud y la de sus seres queridos a través de una alimentación saludable. Esta preocupación genuina y su formación como economista con un interés desde temprana edad en temas medioambientales, la llevan a crear una línea de productos que pudieran satisfacer sus dos grandes intereses, la alimentación saludable y los métodos de producción orgánica y sustentable asociados a ella.
Es así, como Leticia desarrolla una gama de mieles procedentes de flores endémicas de México, todas certificadas orgánicas, Kosher, crudas y de calidad Premium. A la fecha, la gama de mieles monoflorales marca Ceimayá Artesanal Culinario se encuentran en 125 sucursales de autoservicio en la República Mexicana y este año inició presencia en el mercado internacional con presencia en autoservicios y tiendas online de Estados Unidos.
-
Alejandro Sánchez Gaitán es el fundador de BonBonBee. Este producto nació con el propósito de crear una conciencia ecológica, social y medioambiental, promoviendo el conocimiento como método para crear un vínculo entre los consumidores conscientes y la preservación de las abejas.
La empresa cuenta con un modelo de restauración ambiental donde priman las abejas trashumantes las cuales intervienen positivamente donde sean ubicadas. De esta manera, producen con conciencia social, ecológica y ambiental.
Así es que desde BonBonBee desarrollan unos exquisitos chocolates rellenos de miel, cuya materia prima proviene de zonas de posconflicto afectadas por el narcotráfico y el conflicto armado. Además, utilizan en Colombia empaques con papeles germinables los cuales tienen como objetivo crear huertas caseras y también crear pequeños bancos de alimentos para las abejas con plantas aromáticas, todo esto en las viviendas de sus clientes, con el fin de comprometer a los consumidores a proteger las abejas incluso las que se encuentran en las ciudades.
________________________________________________
En este Seminario Web, compartiremos conocimiento sobre:
- Presentación de nuestros creadores
- Misión, valores, metas y propósito de sus empresas
- Productos en Purpusly
- Historia de Impacto
- Su experiencia como creadores en Purpusly
...y mucho más!
¡Ven a apoyarnos! ¡Esta es su oportunidad de escuchar información directa de dos de nuestros Creadores!
Si está interesado, también tendrá la oportunidad de obtener respuestas a sus preguntas durante nuestra sesión de preguntas y respuestas.
Obtenga más información sobre Purpusly o cómo puede convertirse en uno de nuestros proveedores exclusivos en https://sell.purpusly.com/
~ ESPERAMOS VERLOS ALLÍ ~
Every month, Purpusly hosts an informative webinar for purpose-driven brands, to help broaden your knowledge of marketing and sales strategies that will help you reach your goals and get your brand in front of conscious buyers that are ready to purchase unique, quality gifts, just like yours!
Learn more about Purpusly, and how you can become one of our exclusive vendors at https://sell.purpusly.com
If you are creating products that support causes, we would love to have you join us. Consider this your invitation to join our webinar at 2:00 PM EDT, November 24th, 2021.