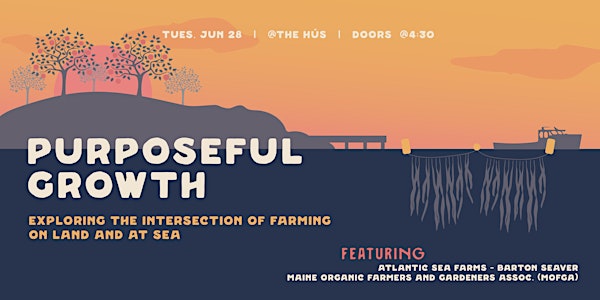 Purposeful Growth: Exploring the Intersection of Farming on Land and at Sea
Location
New England Ocean Cluster | The Hús
68 Commercial Street
#Building C - Floor 2
Portland, ME 04101
Join us for the evening as we dive into the question "what is the purpose of aquaculture"
About this event
Purposeful Growth: Exploring the Intersection of Farming on Land and at Sea
In a brainstorming session for this event, Barton Seaver posed the very simple question, "what is the purpose of aquaculture?" On the surface, the question may seem straightforward. Producing food very much comes to mind. But if we unpack the inquiry, it quickly becomes obvious there is a much deeper, multi-dimensional and interdisciplinary conversation to be had--and it's one that has been ongoing in Maine's agriculture sector for quite some time. From producing healthy food, to mitigating environmental challenges, to creating new economies, or inspiring a new and diverse generation of food producers, the functions of both land and ocean-based farming are many.
In this installment of Entrepreneurship in the Blue Economy (EITBE), we'll dive into this question with Sarah Alexander of the Maine Organic Farmers and Gardeners Association and Briana Warner of Atlantic Sea Farms in an engaging fireside chat guided by author, speaker, and chef, Barton Seaver.
Attendees will enjoy oysters from our good friends at Lady Shuckers, frosty beverages, and snacks as well as conversations with a lovely bunch of farming enthusiasts.
SCHEDULE:
4:30 – Doors Open – arrival, networking, drinks and oysters
5:30 – Conversation – short commentary from distinguished guests along with a Q & A
6:15 – Continued Networking – keep chatting and enjoying refreshments
7:00 – Conclusion – thanks for coming!
Please find out how to access the Hús here.
And our COVID-19 policies here. For this event, masks are optional and vaccination cards are not required.
------------------
This event is part of ENTREPRENEURSHIP IN THE BLUE ECONOMY​
Entrepreneurship in the Blue Economy (EITBE) is an event series created by the New England Ocean Cluster to share the stories of ocean-focused entrepreneurs and project leaders in Maine. Each session is free to attend and includes a curated panel of speakers who share their own intimate and organic perspectives on the topic du jour. Created in 2019, the program's intent is to convene an engaged audience to raise awareness, promote dialog, and facilitate connections amongst those interested in the region's blue economy.
For 2022, the EITBE series has become a part of Transforming the Blue Economy (TBE), a purpose-driven collaboration created by the World Ocean Observatory, a 501c.3 non-profit, and the New England Ocean Cluster. The project endeavors to advance and modernize New England's ocean-minded industries through education and community engagement; by bridging the gap between capacity and need; and by assisting in the creation of sustainable and innovative enterprises.