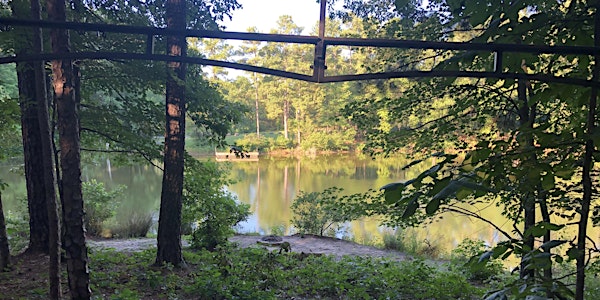 Purpose University HyperLaunch (RTP Outdoor Classroom)
Launch your purpose-driven start-up in 24 hours with Dr. Derrick Drakeford at Purpose University
When and where
Location
Twin Lakes Park 439 Chandler Road Durham, NC 27703
About this event
Launch your purpose-driven start-up in 24 hours with Dr. Derrick Drakeford at Purpose University
Derrick is the CEO of Drakeford, Scott, & Associates, LLC and launched his business 17 years ago in 1-day while on the unemployment line. Bring your [Fully Charged] laptop, or tablet and learn how to launch a purpose-driven start-up  in 24- hours and do what you were born to do.
The Purpose University Mobile App helps people to find clarity on their purpose and launch a purpose-driven business or nonprofit in 24 hours all from a mobile app or computer. Attend this event and get the inApp e-courses for free...
At this event receive expert one-on-one coaching and leave with your 1) business mission statement, 2) business website, 3) employer identification number, 4) business bank e-commerce system, and 5) lean business model with price points and sales system in place. You also get one-on-one coaching by experts to help you DO your purpose in life. 
                                                                           Agenda
What you will learn:
                              PUR: 502 Business Start-Up  and PUR:502 Nonprofit Start-Up
Step 1 Finding Your Purpose 
Readings: Finding Your Purpose in 15 Minutes, Inclusion the Art of Story-Listening
Learning Objectives:
(  ) Develop a Personal Purpose Proposition statement
(  ) Develop an entity mission statement
(  ) Complete post-course survey
Step 2 Your Vision and Website
Readings: Inclusion: the Art of Story-Listening
Learning Objectives
(  ) Create a new or existing Gmail account for your new entity
(  ) Build your free website using a template and add your mission statement
(  ) Add  your backstory and self-narrative that will connect to readers
(  ) Publish your 1-page website and do a little happy dance!
Step 3: Get Legal
Readings: Starting Your Business From the Unemployment Line, Fundraising for Nonprofits
Learning Objectives
(  ) Complete sf4 form online to obtain Employer Identification Number (EIN) at IRS.gov (sole proprietor or new nonprofit organization).  IRS 1 800-829-4933
Step 4: Banking
Coaching (0-15 Minutes)
Learning objectives
(  ) Open a business bank account

(  ) Connect new bank account to e-commerce (i.e. square, stripe, PayPal, Eventbrite, youcanbook.me, CreateSpace, Lulu, etc.)

(  ) Connect e-commerce weblink or embedded code to the new website as a service offering or product
Step 5: Business Model
Learning Objectives
(  ) Complete 1-page business model
(  ) Update price points, products, and services to website
(  ) Create an accountability calendar to plan and track consistent work hours
(  ) Complete Purpose University Final Participation Certificate Exam Survey
(  ) To sign-up for the Purpose University Graduates private networking group email: admissions@learnpurpose.org
Ongoing Learning Objectives
(  ) Plan a Purpose University online-coaching consultation at least once per month to serve as an accountability partner to provide great advice, networks, and follow-up homework
*Nonprofit Hyperlaunch Students will also receive:
a) Board of Directors Recruitment Letter, and b). State Articles of Incorporation Application Assistance (course does not include filing fees)
.check out the app by searching "Purpose University"  in (iThe App Store) or (Google Play) WRAL News Article on the Purpose University App: