Description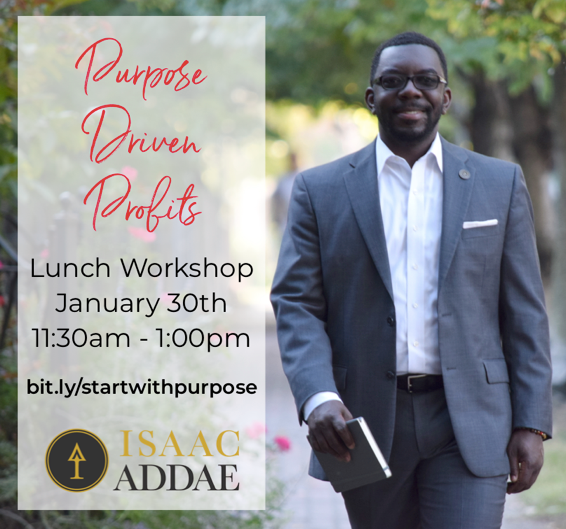 Are you an entrepreneur or working professional with dreams of starting a business? Do you often think about your life's purpose and how to best fulfill it? What if you could align your purpose with profitable business outcomes? This workshop series highlights Isaac's 4-part strategy for discovering how to gain profits from your purpose. Participants will learn:
* How to discover and harness your life's purpose.
* How to think entrepreneurially about your passion.
* How to develop problems into business opportunities.
* How to create entrepreneurial solutions grounded in purpose.
Make sure to reserve one of the 15 seats for this exclusive event (lunch will be provided). Each attendee will receive a gift bag and Part 1 of my Purpose Driven Profits workbook. Purchase your ticket by January 23rd to receive a discounted one-on-one strategy session where I'll help you apply the Purpose Driven Profits strategy.

Agenda:
11:30am - 12:00pm | Lunch & Networking
12:00pm - 1:00pm | Workshop Presentation