PURPOSE DRIVEN JOURNEY- SISTAS JOURNEY Women Empowerment Conference
Description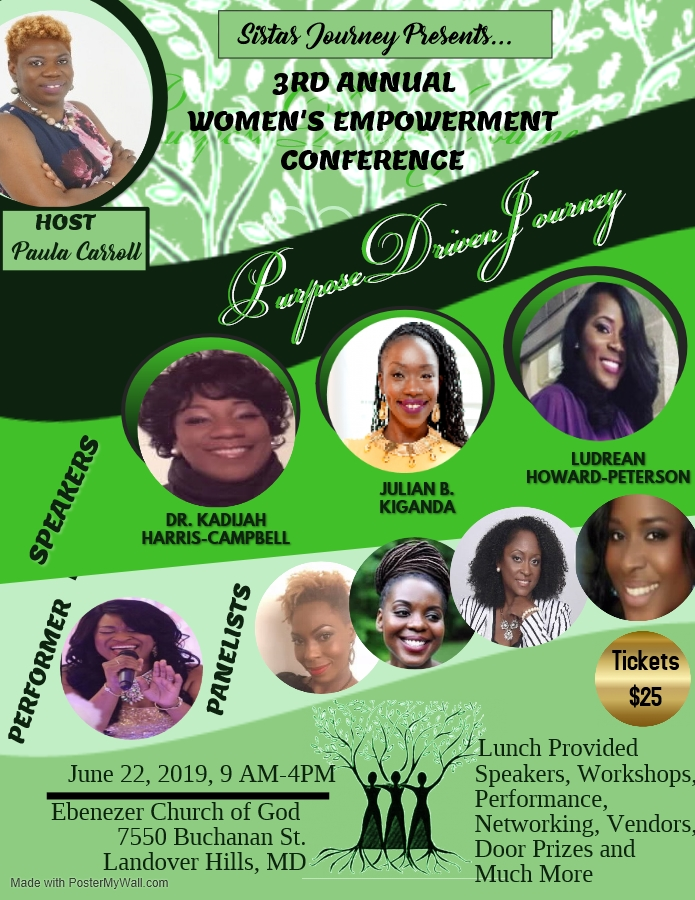 SISTAS JOURNEY Presents 3rd Annual Women Empowerment Conference
PURPOSE DRIVEN JOURNEY: Finding Purpose on the Journey
Where are you on your journey?
Are you trying to find purpose on the journey?
Did you know that despite your past your journey has purpose ?
No matter where you are on the journey there will be something at this conference for you and you will leave empowered to live a purpose driven journey.
This conference will be an opportunity to provide women with tools and knowledge on how to find purpose on the journey despite what they have been through. The conference will bring dynamic and purpose driven women to engage you in an impactful experience.
Speakers, workshops, entertainment, networking, and vendors. Lunch will be also be provided.
Vendor spaces and sponsorship opportunities are available. Send inquiries to sistasjourney@gmail.com.
Conference Main Speakers:

LuDrean Howard-Paterson - - CEO & Founder at Delivering on ideas & thoughts- (Do It), Author, and International Speaker
Dr. Kadijah Harris-Campbell – Prophetess, Pastor, Chaplain, Motivational Speaker, Author, and Christian Counselor,
Julian B. Kiganda - Transformational brand strategist, award-winning Graphic Designer, Author, and Speaker