Event Information
Location
Fitness 4 Less
6824 Laurel Bowie Road
Bowie, MD 20715
Let's kick off Lupus and Fibromyalgia Awareness Month with a dance fitness fundraiser - the Purple Party for Lupus & Fibro!
About this event
Let's kick off Lupus and Fibromyalgia Awareness Month with a dance fitness fundraiser - the Purple Party for Lupus & Fibro!
We have some of the best dance fitness instructors in the DMV ready to get the party started with their absolutely fire dance fitness routines!
You are guaranteed to enjoy April, Bella, Charita, Margo, Meghan, Neu Neu, Nikki, and the 3 Live Crew!! ALL of them are going to show up and show out!!! This is going to be an event that you do not want to miss!
It's time to go PURPLE!!!
Doors will open at 1:30 PM.
Admission: $15 in advance and $20 at the door.
Wear the color purple to support lupus and fibromyalgia awareness!
For the safety of our guests during this pandemic, Masks are REQUIRED! There will be hand sanitizer and both Social Butterflies Foundation (SBF) and Fitness 4 Less reserve the right to do a temperature check.
Limited Vendor Opportunities are available. If you are part of a direct sales company, please contact us before purchasing your vendor spot to ensure that we do not already have a representative from your company. If you reserve your vendor spot without contacting us, and your direct sales company is already represented, SBF will refund you. However, the Eventbrite fees will NOT be refunded by SBF . All Direct Sales Reps must email admin@socialbutterfliesfoundation.org prior to purchasing a vendor spot. Direct Sales vendor spots are first come first served. Paparazzi has been confirmed.
$40 Vendor Fee includes:
• A 6 ft. table (with chair) to showcase and sell your product(s). Your business promoted on the Facebook event page. You are also welcomed to promote your products and services. The vendor fee includes admission for the vendor. Any additional persons must purchase an event ticket.
Vendor set up begins at 12:30 PM. Doors open at 1:30 PM. Vendors will not be allowed to set up after 1:30 PM for any reason because it will be a disturbance. Refunds will not be issued for any reason. Vendors will receive more detailed information after registering. For more information or questions, please email admin@socialbutterfliesfoundation.org .
VENDOR IMPORTANT TERMS & CONDITIONS:
* All fees are NON-REFUNDABLE as they are used to promote the event.
* Vendors must provide their own company specific equipment to include table covering.
* Vendor spots are filled on a first come first serve basis.
* Only one consultant per direct sales company will be allowed.
* Vendor spots are confirmed when both payment is received and the vendor checks yes to accept the terms and conditions on the Eventbrite registration form. A confirmation email will be sent.
* Confirmed vendors should email their business logos in png or jpg format within 48 hrs of receiving the confirmation email.
* In case of severe inclement weather, we will notify you if the event has to be postponed.
* Set up Time: Vendors can begin set up at 12:30 PM. Break down is at 4:00 PM.
*There will be volunteers to help direct you to your vendor location, but we do not have the staffing nor equipment to help you load and unload your items. We strongly suggest that you bring assistance and your own wagons, carts, dollies, etc.
* Vendors are responsible for leaving the area in the same condition as they found it.
* We reserve the right to censor any booth.
LIMITATION OF LIABILITY:
In no event will SBF or any of its members, affiliates, officers, directors, employees, volunteers, or agents be liable to attendees or any other person or entity for any sickness, injury, loss, or damage of any kind whatsoever if it is determined that an attendee or person contracted the COVID-19 virus or any other disease at the Purple Party for Lupus & Fibro at Fitness 4 Less Gym. The forgoing exclusion applies without limitation to all liability for lost profits and any special, incidental, indirect, consequential, punitive or reliance damages, regardless of whether such liability is based on breach of contract, tort, strict liability, breach of warranties, failure of essential purpose or otherwise and even if SBF or Fitness 4 Less was advised of the possibility of such damages.
PARTICIPANT WAIVER:
• I hereby consent to participate in a dance fitness (e.g., Commit, Zumba®, MixxedFit®, etc.) class or event. I recognize that fitness programs require physical exertion that may be strenuous and may cause physical injury and I am fully aware of these risks.
• I understand that it is my responsibility to consult with a physician prior to and regarding my participation in this fitness class. I represent and warrant that I am physically fit, and I have no medical condition that would prevent my full participation in a dance fitness class or event.
• In consideration of being permitted to participate in this class, I agree to assume full responsibility for any risks, injuries, or damages, known or unknown, which I might incur.
• I knowingly, voluntarily, and expressly waive any claim for injury or damages that I may sustain as a result of participating in this program.
• I, my heirs, or legal representatives forever release waive, discharge and covenant not to sue for any injury or death caused by the instructors' negligence or other acts.
• I have read the above waiver of liability and fully understand its contents. I voluntarily agree to the terms and conditions stated above.
• I agree to hold harmless Social Butterflies Foundation, Fitness 4 Less, and the licensed instructors instructing during this event.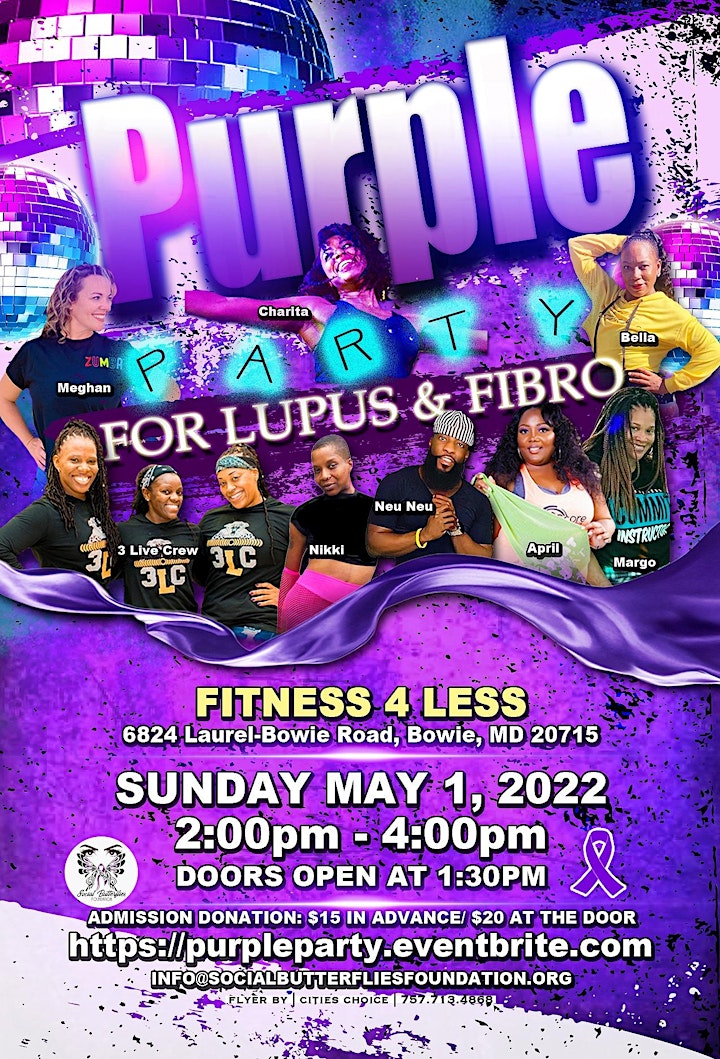 Date and time
Location
Fitness 4 Less
6824 Laurel Bowie Road
Bowie, MD 20715
Refund policy