Description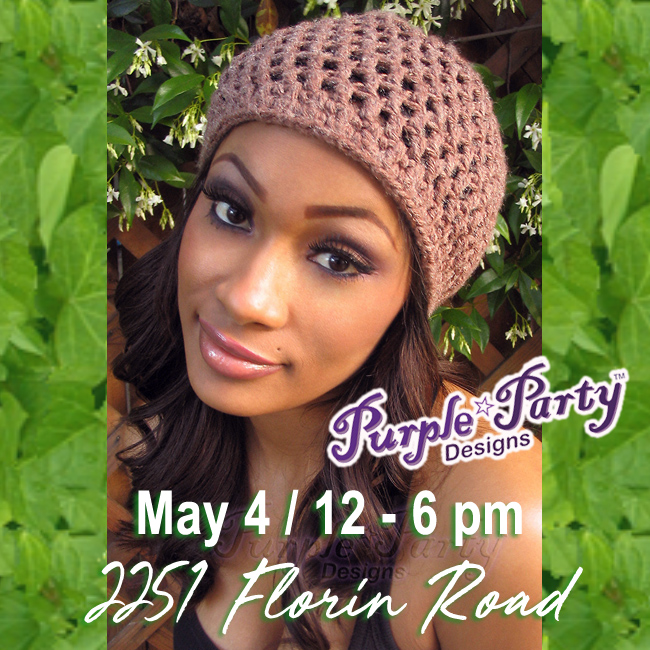 Purple Party Designs will be vending at 2251 Florin Road presenting original, handmade spring designs this May 4th. Prices range from $3 - $80 on many original designs. New items are added all the time so stop by and browse.
Don't see what you want? You can put in a custom request as you browse.
Free Gift bags on purchases over $15
Only $1 if you want to purchase a gift bag
Loc Hair Jewelry - different colors, designs, charms, shells, copper, brass, silver
Various Necklaces: Zodiac, Animals, Symbols, Handmade Glass pendents, shells, many styles
Rings, copper, green, silver, brown, pewter, purple
Anklets and bracelets: Handmade with copper, silver and natural stones ( Tiger Eye, jasper, amethyst, etc.)
Natural Stone Pendents - You choose the chain
Handmade crochet hair wraps, brimmed hats, rasta hats, beanies, mega beanies, spring mesh caps
Many styles of unique handmade earrings, copper, silver, brass, etc. made with natural stones and enameling
Much more, please come & browse.
-----------------------------
Come ready to shop, enjoy different lunch options and bring business cards if you would like to network. There will be 15+ vendors selling various products
If you are looking for something particular feel free to email your requests at: purplepartydesigns@gmail.com