Description
Join us at our first annual Poker Night fundraiser on March 08, 2019 starting at 6 PM benefiting Purple Heart Chapter 730. It will be a fun night!
$100.00 Buy-in includes 5K in chips
$75 Unlimited Re-buys in during the first hour.
Add on $75 - 5K in chips
Complimentary drinks for all players during tournament play.
1st Place = $1,000
2nd Place = $750
3rd Place - $500
4th Place - $250
5th Place - $100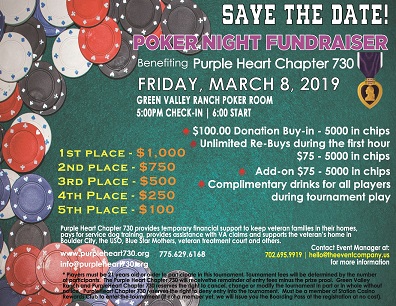 Please RSVP if you are planning to attend, to make sure that we have seats for all the players. Please pay at the event. Thank you and we are looking forward to have fun with all of you!