Description
Sunday, August 12th at 10:00am
In this class, Sarah Marshall, of Marshall's Haute Sauce, will walk you through all you need to know about water bath canning and the basics of pickling. You'll have hands-on experience canning Purple Basil Pickled Cherry Tomatoes (a recipe from her book, Preservation Pantry) and leave class with the skills you need to put up summer's bounty!
For class at Noon visit: Pickles101Noon.eventbrite.com
About the Instructor: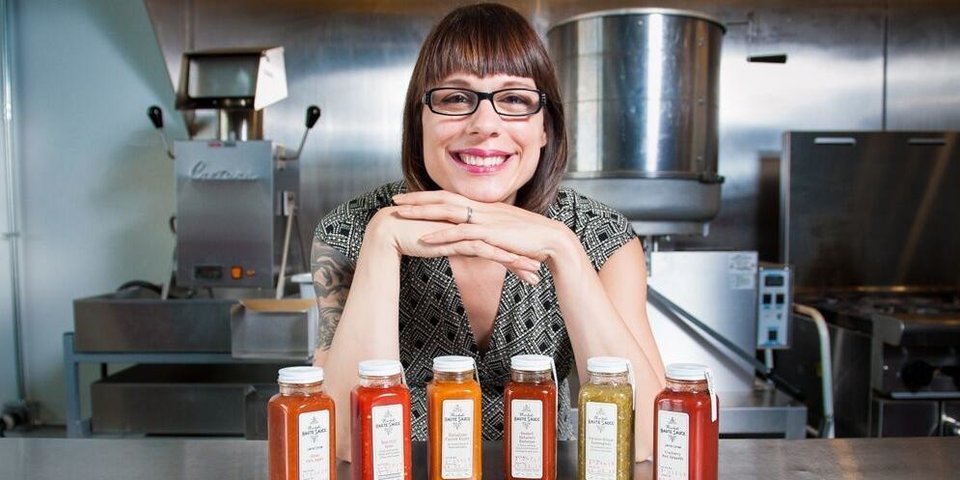 Sarah Marshall started Marshall's Haute Sauce from her home kitchen. Her love for canning and preserving local ingredients lead to a beautiful and tasty product line. She recruited her husband Dirk Marshall to chop and prep all the produce. The business quickly outgrew their home and they now run out of a commercial kitchen in South East Portland, they continue to make each bottle by hand.
Our Mission:
Marshall's Haute Sauce brings delicious fresh and local small batch products to those that will love them. We are designed for worry free farm-to-table utilization. We buy local whenever possible and get our produce at the farmers markets we work at. The farmers market is our community and we believe in local farmers and food production, together we will make amazing things. Our hot sauces have unique spice blends and flavor combinations, but still bring the heat. Each batch is hand stamped and a real labor of love. Our sauces are sealed and don't require refrigeration, until after they are open.
We value high end, custom fitting products that meet the needs of customers with food allergies. All sauces are gluten free, vegan (some contain honey), and vegetarian. We don't use any binders, additives, or other strange stuff. Our sauces are made of vegetables, vinegar, spices, and sometimes sugar or local honey. That's it!
We believe in small business owners, farmers, and producers and work with as many as we can find.
Photo credit: Aaron Lee Photography