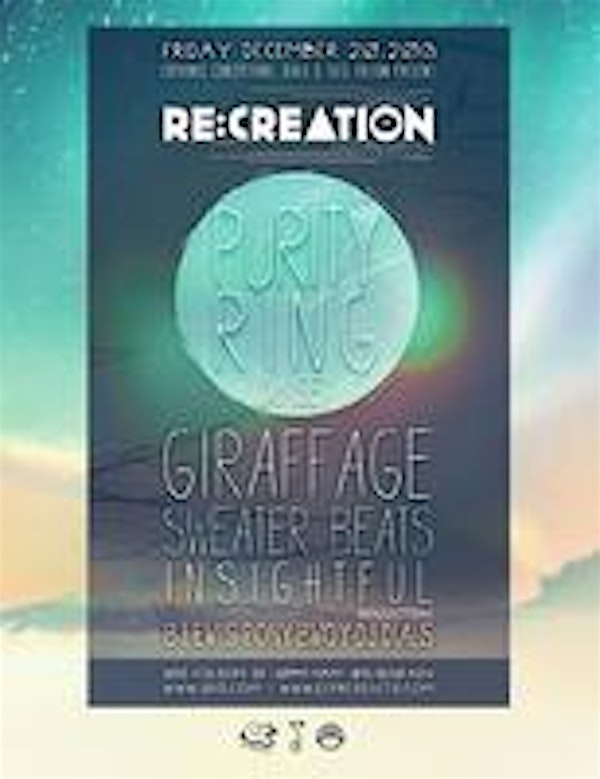 PURITY RING (DJ Set) + GIRAFFAGE (LIVE)
Date and time
December 20, 2013 · 10pm - December 21, 2013 · 4am PST
Location
1015 Folsom St San Francisco, 94103
Description
Euphonic Conceptions, DJ Dials, & 1015 Folsom present
PURITY RING(DJ Set)
Special Appearance at 1015
GIRAFFAGE(LIVE)
SWEATER BEATS
INSIGHTFUL // B. LEWIS
PONY BWOY // DJ DIALS
+ MORE!
FRIDAY DECEMBER 20TH / 10P-4A / 21+
VIDEOS
Purity Ring Boiler Room Montreal DJ Set
Giraffage & XXYYXX // Even Though
604,671 views on YouTube
Giraffage Boiler Room LIVE Show
Purity Ring - Lofticries
1,145,662 views on YouTube
Sweater Beats - Make A Move
783,139 views on YouTube
Purity Ring - Fineshrine
2,528,832 views on YouTube
purityringsongs.com
Purity Ring on Facebook
Purity Ring on Soundcloud
giraffage.com
Giraffage on Facebook
Giraffage on Soundcloud
GIRAFFAGE
San Francisco is a city brimming with hidden talent just waiting to be discovered. Charlie Yin's bedroom project Giraffage is one of these hidden gems. The music is impressive – lush and dreamy electronic landscapes are woven in with hip hop beats creating a symphony of blissful sounds that will put you in a dreamlike state.
With a robust early following and organic online buzz, Giraffage offers a fresh, sample-rich sound of dreamy pop beats, sensual synths and lush experimental electronica. Giraffage is an exciting new producer with an intuitive grasp of modern music manipulation, delivering beats that are dripping with vibes and accessible to all.
Starting his musical journey in high school as a drummer for an eclectic array of bands from metal to indie rock, Yin turned to guitar and then soon moved to electronic music production on illegally downloaded software. Inspired by such pioneers as Daft Punk and Boards of Canada, Giraffage is a true bedroom producer that started playing out only after gaining solid traction for his music online. Sending out his first album for free to various music blogs and online publications, Giraffage quickly found an ardent fan following for his hazy and seductive style.
Early supporters of Giraffage's screwed-down soundscapes, sample-based pop music and future R&B include such publications as Pitchfork, XLR8R, The Fader and Gorilla vs. Bear. After an extensive tour with the artist xxyyxx through Europe last year, 2013 has been a good year for Giraffage, with numerous upcoming performance dates including a Brooklyn Vegan showcase at SXSW and at Los Angeles' world-renowned Low End Theory club night.
Sweater Beats on Facebook
Sweater Beats on Soundcloud
SWEATER BEATS
"I make music to make your booty bounce."
Short and succinct, straight from his own Bio.
Sweater Beats is signed to label HW&W Recordings, alongside the likes of Ta-ku and Kaytranada and as such, is on another level.
He's one of many producers and beat heads simultaneously shaping and riding this big wave of internet music, pushing/blurring/breaking genre's left, right and centre to weave together sets that boil down to two basic ingredients: beats and bass.
Using his own originals, remixes and of course, a whole back catalog of tunes from all over the world, Sweater Beats will warm you up this winter and of course, make your booty bounce.
---
Tickets: After purchasing a ticket through Eventbrite, you will receive an email with your tickets attached as a PDF. Please PRINT out your tickets and bring them with you on the night of the event.

All events are 21+ | Please bring valid identification | NO REFUNDS

About the organizer