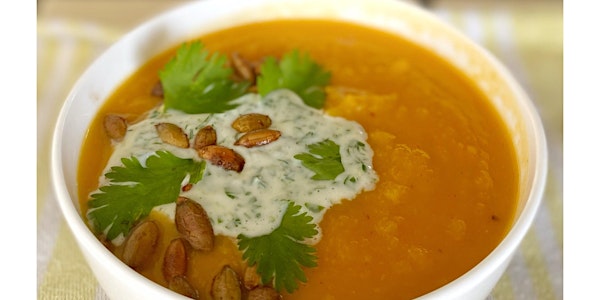 Pureed soups - Learn to cook without recipes class
Cook, puree, season. That's really it. Learn to make your own pureed soups!
Refund Policy
Contact the organizer to request a refund.
Eventbrite's fee is nonrefundable.
About this event
If you really want to learn to cook without recipes, pureed soups are a great dish to practice with. The concept is easy: cook a bulky vegetable in stock, then puree and season.
In this pureed soups cooking class we will play with the cooking technique and flavorings, so you not only have a lot of inspiration for future butternut squash soups, but other pureed soups as well.
Why this class on pureed soups?
Breaking down pureed soup to their bare essence, you will learn they're nothing more than cooked bulky vegetables, that are seasoned and pureed. Simple, isn't it? But if you look at recipes, there are many more routes you can take. We will discuss, compare and test those ways, so you can decide for yourself, which one works best for you, depending on the ingredient, your mood, the weather, your tools available, etc.
Learning to cook is all about figuring out what works best for you, both during cooking and how your meal will taste. And when you get that, you will only see recipes as an inspiration, not a strict guidelines anymore.
What can you expect?
What our Learn to cook without recipes classes make stand out from other cooking classes, is that we won't be following a recipe - everyone else is already doing that. Instead we will focus on 1 subject only. That could be a cooking technique, an ingredient, a dish or another theme.
On Monday, December 12th, you will learn all about pureed soups. We will break down the concept to it's bare bones and make 2 versions of the same soup, so you can taste the difference of the technique used and learn how this influences your outcome. Together we will season the soup, with the ingredients you have on hand, inspiring each other.
In this class we will practice making a butternut squash soup without a recipe. Pureed butternut squash soups can be made vegan, vegetarian, or with a meat stock. It's up to you!
What you'll learn
What the essence (anatomy) of making pureed soups is
Various ways to puree your soups, with or without electric tools
Ideas to season your butternut squash soup – with imput from all students
Ideas for garnishing
A lot of inspiration for a year full of pureed soups
What you'll need
A large pot (2 to 2.5 quart/liter)
1 butternut squash
stock (vegetable or chicken, it's up to you)
Other tasty and seasoning ingredients
Knife, cutting board
Blender, stick blender, food processor (preferably)
Full grocery and tools list will be provided after signing up
Follow us
A new online cooking class every Monday 5pm PT. Always live. Always interactive. Always fun. Hit the follow button to stay up to date.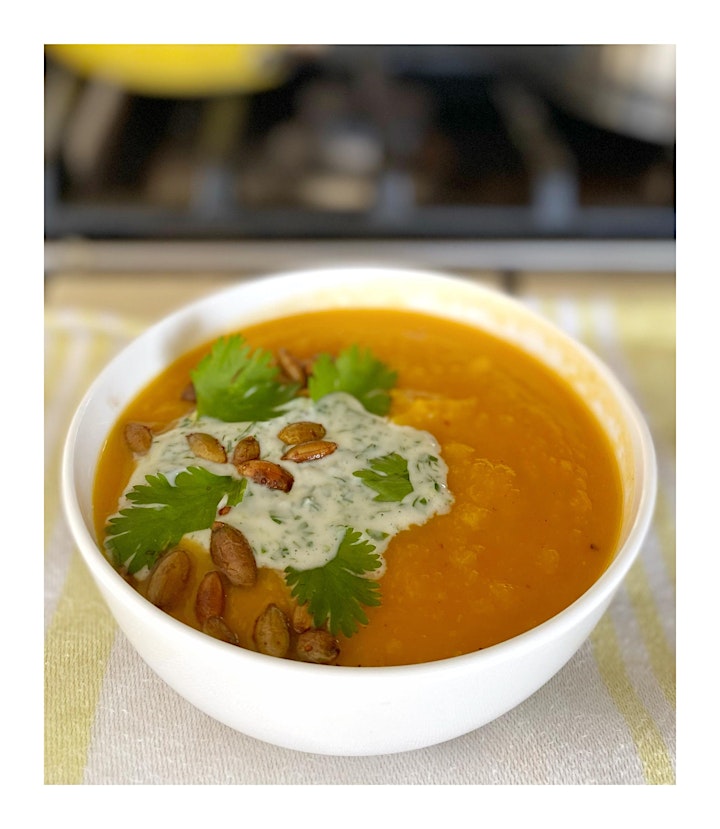 Above you see a bowl of lucious butternut squash soup. ``You will learn to make it, season and garnish it - with enough inspiration that you will never need to look up a recipe anymore.
Below is your chef, Edie Dourleijn, owner of creative cook co.