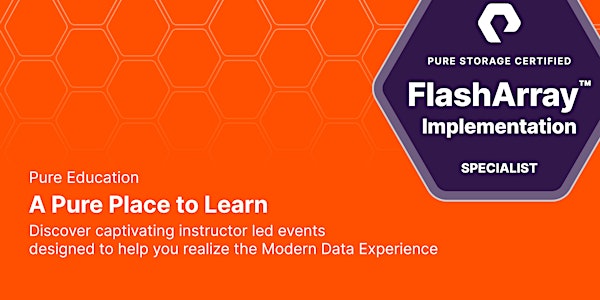 Pure Certified FlashArray™ Implementation Specialist Prep
This course will prepare you for the Pure Certified FlashArray Implementation Specialist certification exam.
About this event
The Pure FlashArray Implementation Specialist Prep leads IT professionals through the installation, configuration, and implementation of the FlashArray hardware. This course includes demonstrations and hands-on labs with live equipment so you can take a Pure FlashArray to a configured and properly implemented system.
COURSE OUTLINE
During this training you will learn:
FlashArray Installation
DirectFlash Shelf
Post-Installation Health Checks
FlashArray Capacity Addition and
Consolidation
FlashArray Non-Disruptive
Hardware Upgrades (NDU)
AUDIENCE
IT professionals who install and implement Pure FlashArray.
To register for this event, Pure Storage is utilizing Eventbrite's events and ticketing platform. Eventbrite is not affiliated with Pure Storage and use of their platform is subject to their terms and conditions, including their privacy policy, as provided here and here.