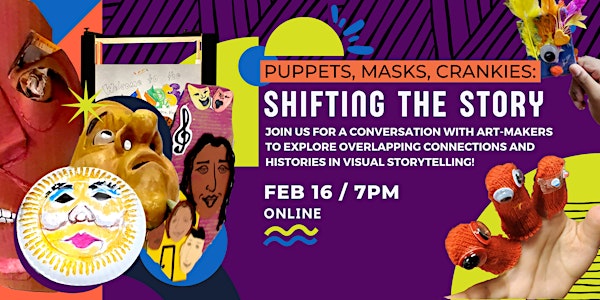 Puppets, Masks and Crankies: Shifting the Story
Join us for an evening of art & stories as we talk with remarkable artists who have opened the door for others in puppetry, masks & crankies
Date and time
Thursday, February 16 · 4 - 6pm PST
About this event
PUPPETS, MASKS & CRANKIES: Shifting the Story has been a Grit Fund and Alternate Roots funded project from Sheila Gaskins, Maura Dwyer and Tara Cariaso, exploring these timeless art disciplines for storytelling.
Featuring Art-Making Workshops and Panel discussions throughout 2022, the project has engaged young and old, students and adults, artists and educators in discussion of these 3 artforms and their associated history and inequity, in Baltimore and in the world at large. Armed with art making supples, we have provided a safe space for participants to imagine and create. Through partnerships across the city, the project has sought to expand the entryway to these creative arts, exposing participants to their power, and inviting Baltimore's youth to tell their own stories with puppets, masks and crankies.
Our culminating event for Puppets, Masks & Crankies: Shifting the Story will be a panel discussion featuring leading experts in the field of puppets, mask and crankie artists from across the US, artists who are expanding the definition of these traditional forms with their stories. Featuring Paulette Richards, Schroeder Cherry, Edna Bland, Valeska Populoh, Estela Garcia, Dirk Joseph and his daughter Azaria.
We will be streaming on StreamYard. The link to join will be broadcast on Youtube and sharable via copy/paste anywhere. The link is coming shortly!