PUPPET POWER 2016 :: CONNECTING GENERATIONS | A Conference on Applied Puppetry

Saturday, May 28, 2016 at 9:00 AM

-

Sunday, May 29, 2016 at 4:30 PM (MDT)
Event Details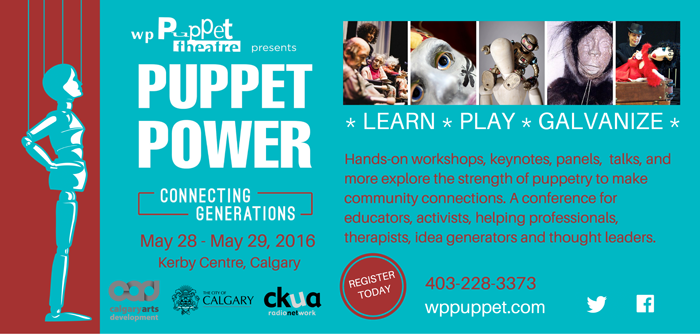 PUPPET POWER 2016 :: CONNECTING GENERATIONS
May 28-29, 2016 (The Kerby Centre, Calgary, AB, Canada)  
Puppet Power is a biennial conference that examines the power of applied puppetry.  Puppet Power 2016's theme, "connecting generations", examines the compelling strength of puppetry in advocating, educating and celebrating community connections across generations.  Learn, play, and galvanize with hands-on workshops, keynote speakers, panels, and more.  A conference for everyone from artists, activists, idea generators, and thought leaders to educators, therapists, and helping professionals.  Bursaries/Scholarships available for full weekend or day registration.  See our website for details.
Presenters include Karrie Marshall from Scotland, Eric Bass of Sandglass Theater, and Sharon Bayly from Vancouver. 
SATURDAY MAY 28 :: DAY I
9:00AM - 10:30PM
Keynotes, Hands-on Workshops, Panels, and Talks, Entertainment & More
> click to view Saturday's sessions
SUNDAY MAY 29 :: DAY II
9:30AM - 4:00PM
Keynotes, Hands-on Workshops, Panels,
Talks, Puppet Portfolios, Screenings & More 
> click to view Sunday's sessions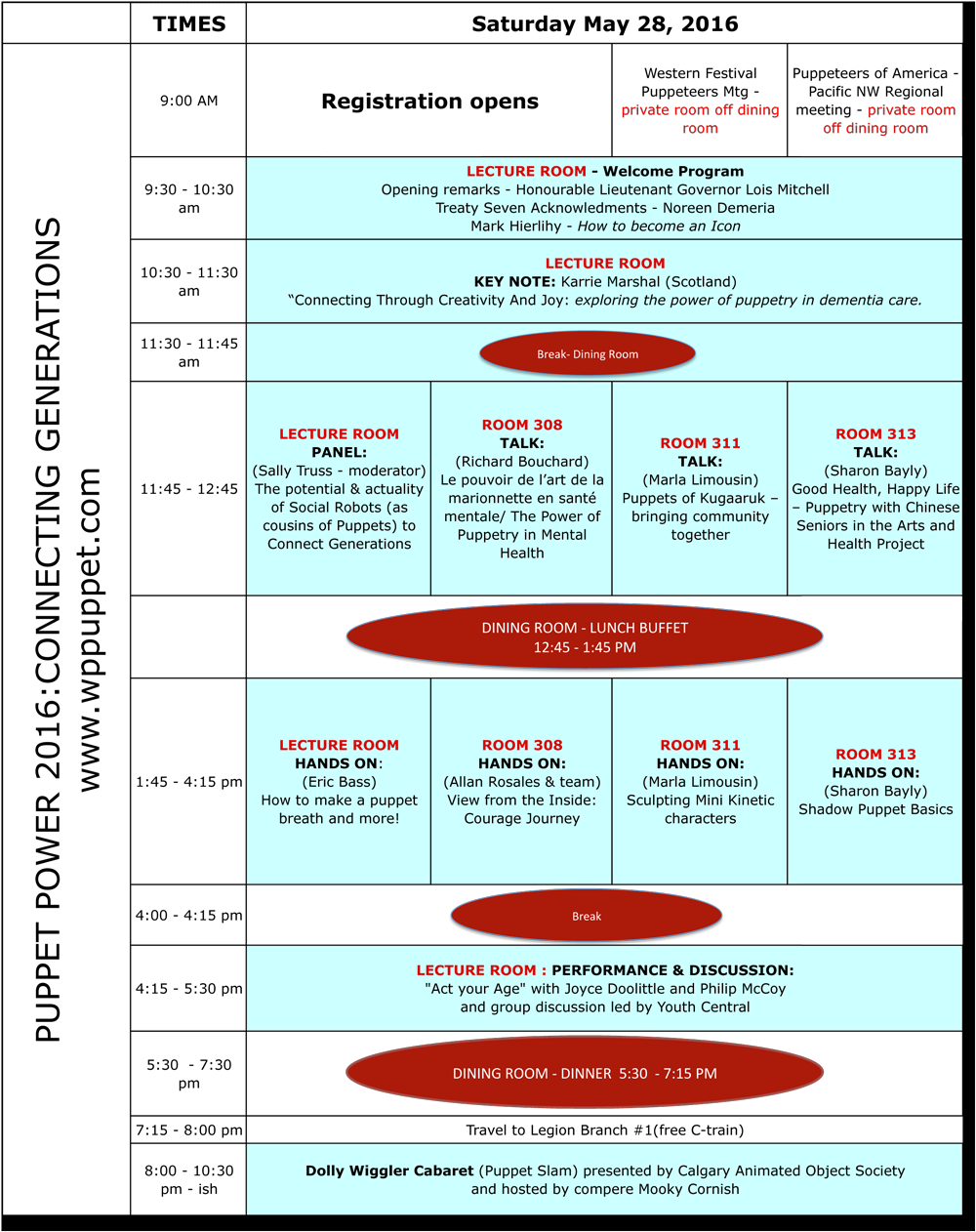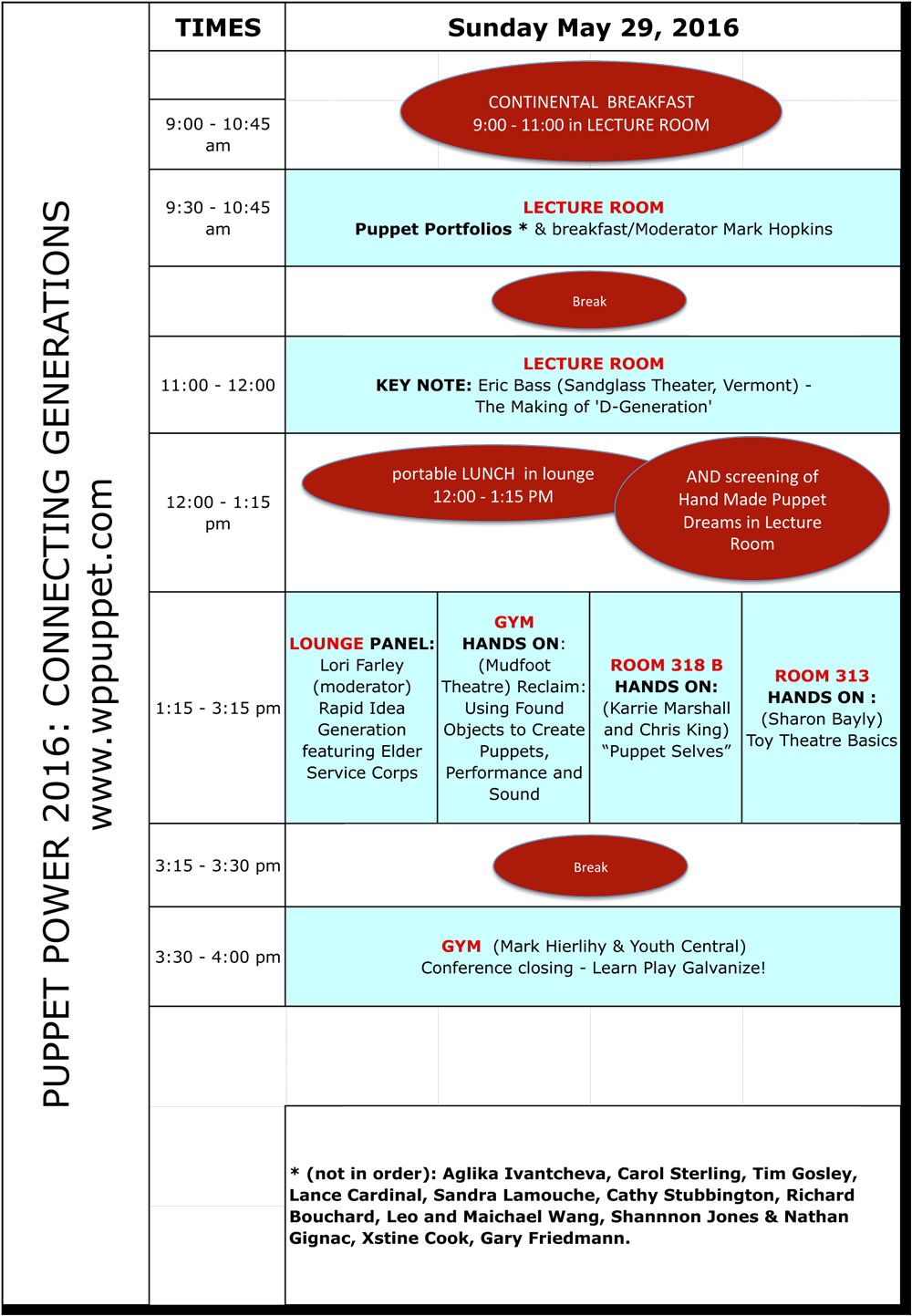 For the most up-to-date conference information, please check our WEBSITE
---
FAQs

Who should attend Puppet Power?
Education and health professionals, social change activists, artists, students and idea generators. 

How do I get to the conference?
Calgary Transit provides access to the Kerby Centre from all segments of the city via bus or C-train. "Downtown West" is the closest C-Train stop to the conference venue. > click for travel/location information

Is there parking available at the conference venue?
Free Parking is available on north side of C-Train tracks. 

Do you offer group discounts? 
Yes - please contact us for our conditions and pricing at admin@wppuppet.com 

Are bursaries available? 
Yes! Check our website: http://wppuppet.com/pp16-bursary/ 

What should I bring to get the most out of the conference? 
Your printed or digital (smartphone) Eventbrite ticket, paper and pen for note taking and business cards to exchange with other conference attendees. 

What is your refund policy?
We will give you a charitable tax receipt for the value of your payment.

How are you assisting in dietary concerns? 
Our snacks, lunch and dinner items will be clearly labeled for vegetarian, vegan, gluten and lactose free diets. Any additional variences will be the participant's responsibility. If it is neccessary to bring your own food, please let us know so we can inform the chef and help keep our costs down. 

Where is the closest hotel to the conference venue? 

The Marriott Delta Bow Valley Hotel is offering all Puppet Power 2016 registrants a special discount > see our website for details

I'm from out of town - can you give me some information about Calgary, Alberta?
Welcome - you're in for something really special! Canada's sunniest city and the world cleanest (according to Forbes), is home to 1.3 million people and is the gateway to the Rocky Mountains and Banff National Park. Check out these handy links and get in touch if you have any questions.
http://www.visitcalgary.com/ 
http://travelalberta.com/

FAQ didnt cover it - how can I contact the organizer with any questions?
Contact wppuppet@telus.net or 403.228.3373 
---
CONNECTING GENERATIONS is WP Puppet Theatre Society's seventh conference since its initiation in 2001. Past conferences have encompassed themes including, multiculturalism, diversity, literacy, therapy and activism, and have featured both local and international attendees ranging from students to hobbyists, to professionals specializing in, education, healthcare, social change, the arts, idea generation. Our mandate, realized in two days of keynotes, hands-on workshops, panels and performance, strategically apply the art of puppetry to:
Considering the issues of our time;
 
Generating ideas, providing training and increasing confidence in using puppets; 
 
Galvanizing the integration of puppetry into social messaging of all kinds.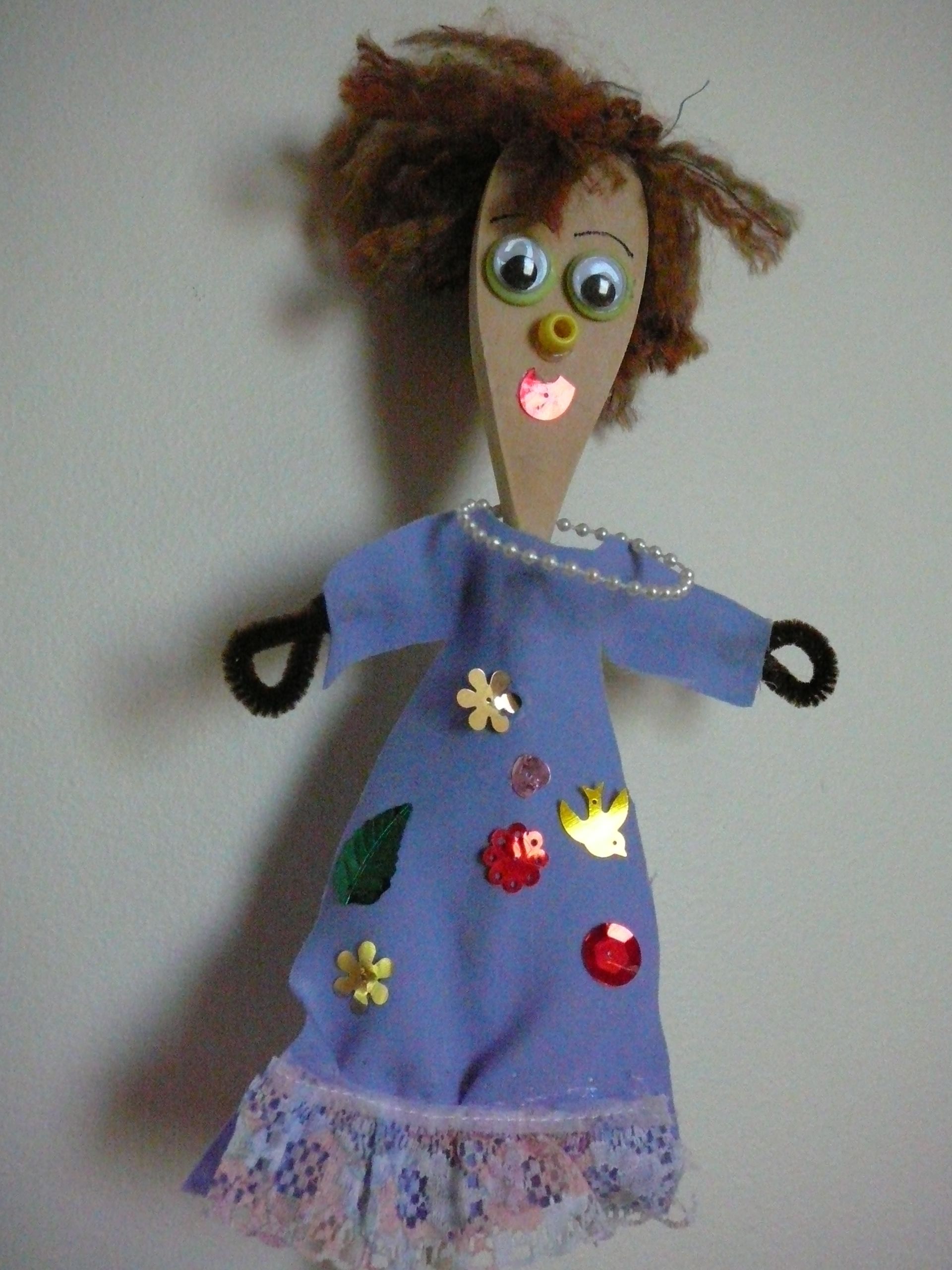 At a recent event, Joseph, aged 7, made a wooden spoon puppet representing his mother. He added a pearl necklace and recreated her favorite blue dress. Joseph comes from a busy family of six children. He wishes he could have more of his Mum's attention.
For families to thrive, for communities to be strong, for societies to succeed, we need to build bridges. These bridges need to form across generations, not just within generations. 
What if we could bring Joseph's family together?
To talk and laugh, to hear his grandparents' stories, engage his teenage siblings, create an opportunity for them to share their worries and joys, and build resiliency to face the challenges in their lives by strengthening his family's bonds. 

WP Puppet Theatre Society does this through PUPPET POWER.
We all know the usual story:
Millennials are talented, trained and unemployed. They seek jobs further and further afield.
 
Grandparents are sequestered in (hopefully) adequate care homes, somewhere.
 

Families are split across oceans and countries or divided by timetables or opinions.
There are many types of bridges and bridge builders. Puppets are among the best because they are fun! However, buried within that puppet fun is a whole lot of psychology, a long history of rebel rousing, large doses of creativity, and a catalyst for thought-provoking experience and conversation. 
Have questions about PUPPET POWER 2016 :: CONNECTING GENERATIONS | A Conference on Applied Puppetry?
Contact WP Puppet Theatre
When & Where

The Kerby Centre
1133 7 Avenue Southwest
Calgary, AB T2P 1B2
Canada

Saturday, May 28, 2016 at 9:00 AM

-

Sunday, May 29, 2016 at 4:30 PM (MDT)
Add to my calendar
Organizer
WP Puppet Theatre
WP Puppet Theatre seeks to spark curiousity and provide understanding about the world we live in, examine the issues of our time, consider solutions and inspire our audiences to become active, ethical and involved citizens. 
PUPPET POWER 2016 :: CONNECTING GENERATIONS | A Conference on Applied Puppetry