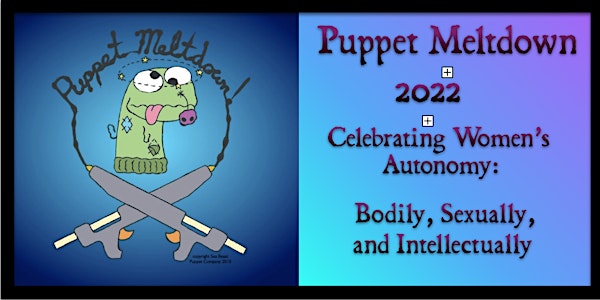 Puppet Meltdown 2022- Women's Autonomy: Bodily, Sexual, and Intellectually
Sea Beast Puppet Companies 2022 Puppet Slam is a celebration of everything female inside and out.
About this event
Submitted for the approval of our global audience, Puppet Meltdown is embracing personal autonomy and celebrating all things female.
Puppet slams are collections of short form puppetry, 8 min or less, created by multiple artists. We pride ourselves on presenting a diverse collection of work that covers a wide range of puppetry styles, subject matter and tone from puppetry professionals from all walks of life. This particular show will feature original works from the United States, Newfoundland, and Kenya.
This year's event will feature work from: Sara Frechette, Lorraine Linkhauer, Jill Frederickson, Johanna Smith, Dana Kogan, Caitlin Whelan, Ali Goldaper, Monica Lerch, Jean Marie Keevins, Brant Bollman, Kevin Hogan, Qate Bean, Rachel Jackson, Mary Kate Jenkins, Kat Pleviak, and Sea Beast Puppet Company.
We will be performing over Zoom and a link will be sent the day of the slam to the email you provide when buying your tickets.
We hope you can make it!
Cheers,
Sea Beast Puppet Company
Funding made possible in part by the Puppet Slam Network and Sea Beast Puppet Company. All proceeds go to support the slam and the artists whom so generously contribute to its content.