PUNK ROCK & PAINTBRUSHES NEW YORK CITY!
About this event
Punk Rock & Paintbrushes is heading to THE BIG APPLE NEW YORK CITY for a 2 day ART exhibit!
We are coming to share the creativity and art of DUEL DIAGNOSIS (DAVE NAVARRO X PADHiA) SOMA SNAKEOIL, WARREN FITZGERALD, CHALI2NA AND MEG ZANY.
The INCREDIBLE space at 89 Crosby Street in SOHO will host us for a 2 day show!
SATURDAY JULY 31 7-11PM we will be hosting our ART EXHIBIT with originals and prints by all artists and all artists present!
SUNDAY AUGUST 1 from 2-6 we will be hosting our VIP experience with artist speaking engagements, live music, Q&A with artists and much more. There are ONLY 40 tickets available! We also have our good friend, skateboarder, motivational speaker, author BRANDON NOVAK joining us to finish off our show!
Please note this art is R rated, crosses the line at times and you may question the world we live in upon observing this show.
The event is 18+ (under 18 may attend with a guardian) and free for all to enjoy... please RSVP here!
We cannot wait to see you New York City!!!!!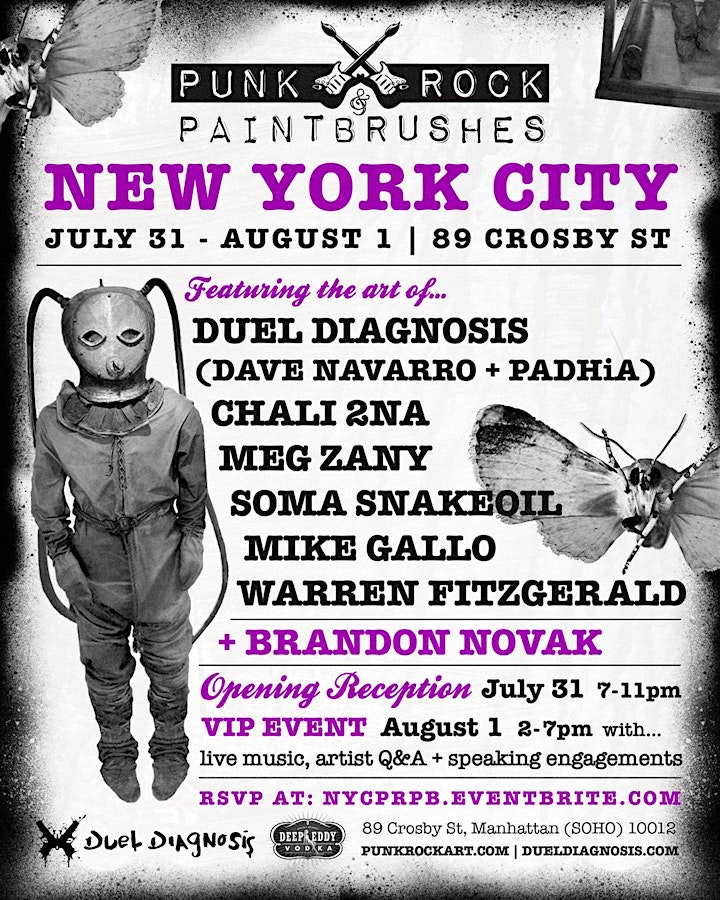 Organizer of PUNK ROCK & PAINTBRUSHES NEW YORK CITY
We are a rock 'n roll unique art management company & art show production brand producing various art shows across the globe.  We manage talented artists who share the love of music.  We strive to bring the art to our buyers and fans of artists from all walks of life.  Our art shows are produced across the earth to share our love of art with you.  All artists bleed for their art and each individual we work with is a talented and positive human we are proud to have as our ART family. Please join us and feed your soul through ART.