Description
Punk Rock Karaoke in Portland
doors 7pm- 21 & over - $18 Adv/ $22 DOS
Also Bombsquad!

Members-
- Steve Soto (Adolescents, Agent Orange, 22 Jacks): Bass
- Greg Hetson (Bad Religion, Circle Jerks): Guitar
- Stan Lee (Dickies): Guitar
-Darrin Pfeiffer (Goldfinger): Drums
-YOU! Vocals
The original deal since 1996. We play....YOU sing! Pick a song,we give you the lyrics.We call your name and voila! you are the singer in a punk rock band backed by the finest hand picked side men.
Simple...we have sign up sheet at venue. Pick your song,we give you lyrics.When your song is called,come up and join the band!
No,we can't play every punk song from 1867 to present day.
We hand pick our favorites from the 90s back to when dinosaurs pogoed along side with the punkers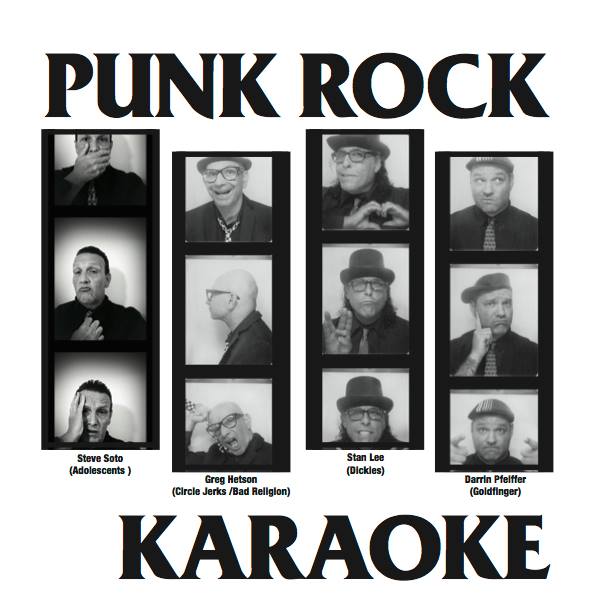 LEARN THE WORDS:
KNOW THE ARTISTS:
1. 12 X U WIRE
2. ALTERNATIVE ULSTER STIFF LITTLE FINGERS
3. AMOEBA THE ADOLESCENTS
4. ANARCHY IN THE UK SEX PISTOLS
5. ASTRO ZOMBIES MISFITS
6. BACK AGAINST THE WALL CIRCLE JERKS
7. BANNED IN DC BAD BRAINS
8. BIKEAGE DESCENDENTS
9. BLITZKRIEG BOP RAMONES
10. BLOODSTAINS AGENT ORANGE
11. BODIES SEX PISTOLS
12. BORN TO LOSE JOHNNY THUNDER
13. BORSTALL BREAKOUT SHAM 69
14. BULLET MISFITS
15. CALIFORNIA UBER ALLES DEAD KENNEDYS
16. CHERI BOMB RUNAWAYS
17. FUCK ARMAGEDDON BAD RELIGION
18. GIMMIE GIMMIE GIMMIE BLACK FLAG
19. I DON'T CARE ABOUT YOU FEAR
20. I GOT A RIGHT IGGY POP
21. I LOVE LIVING IN THE CITY FEAR
22. I'M SO BORED W/ USA CLASH
23. LET'S LYNCH THE LANDLORD DEAD KENNEDYS
24. LOS ANGELES X
25. Manny, Moe, and Jack The Dickies
26. MINOR THREAT MINOR THREAT
27. MOMMY'S LITTLE MONSTER SOCIAL DISTORTION
28. MONGOLOID DEVO
29. MYAGE DESCENDENTS
30. NERVOUS BREAKDOWN BLACK FLAG
31. NEW ROSE THE DAMNED
32. OH BONDAGE X-RAY SPECS
33. ORGASM ADDICT BUZZCOCKS
34. OUR LIPS ARE SEALED GO-GOS
35. PAY TO CUM BAD BRAINS
36. PRETTY VACANT SEX PISTOLS
37. READY STEADY GO GENERATION X
38. RED TAPE CIRCLE JERKS
39. SAILIN ON BAD BRAINS
40. SEARCH AND DESTROY IGGY POP
41. SHEENA IS A PUNK ROCKER RAMONES
42. SKULLS MISFITS
43. SONIC REDUCER DEAD BOYS
44. SUBURBAN HOME DESCENDENTS
45. SUSPECT DEVICE STIFF LITTLE FINGERS
46. TEENAGE KICKS UNDERTONES
47. UNCONTROLLABLE URGE DEVO
48. WE GOT THE BEAT GO-GOS
49. WE'RE DESPERATE X
50. WHAT DO I GET BUZZCOCKS
51. WHITE RIOT THE CLASH
52. WILD IN THE STREETS CIRCLE JERKS
53. IN THE CITY THE JAM
54. GIGANTOR THE DICKIES
55. GIVE IT BACK THE DICKIES
56. EVER FALLEN IN LOVE? BUZZCOCKS
57. JANIE JONES THE CLASH
58. LOVE SONG THE DAMNED