Punk Film Screenings! UK/DK & CRIME Documentary
About this event
Destroy Art Inc & UMA Gallery presents the first of exclusive film screenings in conjunction with the VIVA LA PUNX art exhibition!
Film 1: 'San Francisco's First & Only Rock-n-Roll Movie: Crime 1978' with Live Q&A from CRIME band member Hank Rank (Henry Rosenthal). Directed by Jon Bastian and produced by Henry Rosenthal. Film runtime 35 minutes. Q&A session 30 minutes.
Film 2: 'UK/DK - A Film about Punks and Skinheads' (1983) is a historical, comprehensive look at the skinhead/punk movement. This documentary featuring interviews, live concert footage, and a feature on how punk was transformed from a trend to a way of life. UK/DK is a . Some of the most notorious bands on the scene are featured, including The Exploited, The Vice Squad, The Adicts and many more. Runtime 55 minutes.
Event Location: UMA Gallery - 3630 Telegraph Ave, Oakland
Time: 7PM - 9.30PM
Limited Seating Capacity.
Indoor Mask Requirements Indoors.
Sanitary station and refreshments available on-site.
More info on destroyartinc.com & umagalleryoakland.com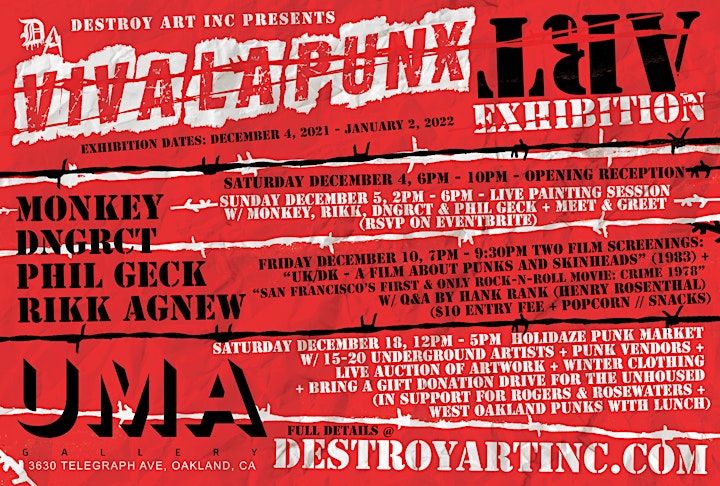 Organizer of Punk Film Screenings with Destroy Art at UMA Gallery
Destroy Art Inc is an international punk rock art management agency, led by an artist-curator team based in the California, USA.
We represent, support and empower the DIY punk and underground artist community through exhibition-making, collaborative art strategies, and custom designed manufacturing of prints, clothing and merchandise. Our artists are multi-generational and multi-formatted - no borders allowed!