Clause 40 Foundation Presents: Conversations on Emerging Scholarship in Criminal Law and Policy
About this event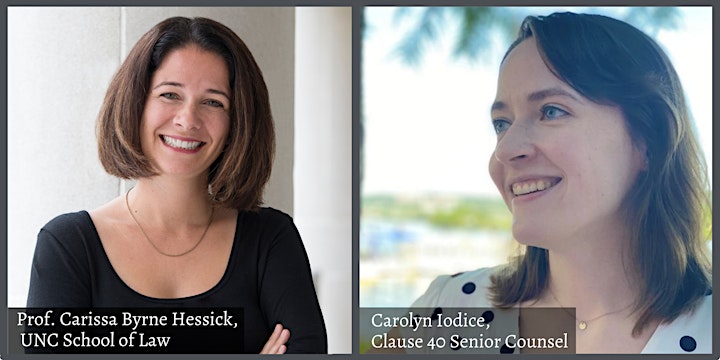 Join us for a conversation on October 14, 2021, at 12:30 pm ET with Professor Carissa Byrne Hessick, Ransdell Distinguished Professor of Law at the University of North Carolina School of Law and Director of the Prosecutors and Politics Project, and Carolyn Iodice, Senior Counsel at Clause 40 Foundation. Lunch will be provided!
Despite the popular understanding that everyone is innocent until proven guilty, the government engages in practices that punish large numbers of Americans—depriving them of their time, their property, and even their liberty—without the benefit of a jury trial or other essential procedural rights. These practices have enabled mass incarceration and eroded the framers' vision for a system of due process that limits the government's ability to punish its citizens indiscriminately.
Professor Carissa Byrne Hessick's new book, Punishment Without Trial: Why Plea Bargaining is A Bad Deal, explains how the system got to this point, how it unfairly burdens individuals and communities—and how we can fix it. Signed copies of her book will be available for purchase at this event.
Clause 40 Foundation is a nonpartisan, nonprofit 501(c)(3) organization whose mission is to honor, preserve, and promote the constitutionally guaranteed due process rights in the criminal legal system.
COVID-19 Health & Safety Protocols:
The organizers will be providing socially distanced seating for this event and seating will be limited. Individual packaged lunches will be available for you to enjoy at your seat during the event.
All attendees of the event are expected to be properly masked at all times except while eating or drinking (including when entering/exiting the building, at the registration table, at the food-pickup tables, during the program, and in the book purchasing line).
If you are not fully vaccinated, please do not attend this event. This limitation is for your safety as well as the safety of others.
You will be asked to submit a brief health questionnaire and will not be admitted if you are experiencing any signs of communicable illness.
Your attendance at this event is voluntary and at your own risk.
Organizer of Punishment Without Trial: Why Plea Bargaining Is A Bad Deal