Punany Tonight! Anacostia Arts Center - Text Tickets by phone 510-410-5055

Saturday, April 7, 2018 from 8:30 PM to 10:00 PM (EDT)
Event Details
Laugh and love out loud with The Punany Poets in Washington, DC!
Hello! Punany's Playhouse has called in two gifted scribes to write the perfect date night across your heart; Lesbian Laureate Mz. Nightlyfe and Lamar Anthony Hill, award winning playwright and poet. Together with Punany's Pearl we will guide you to the place were fantasies hide, where deep, spiritual energy keep you alive and wanting to love more. This is a feel-good night of theater with audience interaction and public displays of affection like kissing competitions and love confessions. It really is a good time. This romantic comedy show is classic Head Doctor in design. Both Men and Women are welcome to this awesome Punany Experience.
(Due to family illness, LOVE the poet will be unable to perform at this event. You will still receive the Secret of the Pearl E-Book, and we will be sure to let you know when LOVE the poet is back.)
In The Head Doctor Show we derive pleasure from the feel good effects of positive words and public displays of affection. This is a love show unlike any in contemporary entertainment. You will become an active insider in this experimental theatrical experience in cultural humility and open communication that builds communion. Just bring your open mind and we will lead you to a joyous celebration of romantic love to create the perfect date night with you. We say "with you" because this is an interactive experience that involves mental and physical participation.
​Inclusivity is key in the success of The Punany Poets community outreach programming. Our most popular production is The Head Doctor Show, created by Jessica Holter in 1995, which was first exposed to the World in an episode of the HBO Real Sex documentary show in the year 2000. Today, The Punany Poets run the Sex Education Theater Program for HIP INC, a Georgia Nonprofit Organization and travel various productions across the country and in the Caribbean.
​The Head Doctor Show is a contemplative pop-culture production built on the simple truth that all people want to be loved. Holter has created a culturally sensitive urban design on Theater Of The Oppressed by Augusto Boal. While some people would dismiss the former Hip Hop entertainment journalist from serious conversations about The Tree of Contemplative Practices, because her words spill with provocation over red lips. Some may find her breasts, a full frontal attack on inhibition, and her fishnets, a web of contradiction that does not welcome respect, yet, scholars have published works on her unadulterated genius. READ AN EXCERPT of 'Representin' the forbidden': The Punany Poets, black female sexuality, and HIV and performance by Monroe, Raquel LaMara, PhD, UNIVERSITY OF CALIFORNIA, LOS ANGELES 2006;3244035
When & Where

Anacostia Arts Center
1231 Good Hope Rd SE
Washington, DC 20020


Saturday, April 7, 2018 from 8:30 PM to 10:00 PM (EDT)
Add to my calendar
Organizer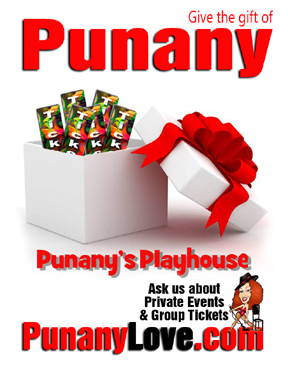 ABOUT HIP INC | WHAT YOUR DONATIONS HELP US CREATE
Statement of Activities:
HIP is an education based nonprofit arts collective, where creative minds come together to share and create art. We are producers of collaborative art. To artists, we are a home base; the perfect place to come and recharge for the path ahead of you. We offer classes, mentor-ship, self esteem building projects and on-the job stage and oratory training. To producers and collectors of innovative art, we are a gold mine peppered with music, theater, visual art, lyrics, literature and choreography. To supporters of community service we are a treasure chest of passionate skills and on the ready public aid art to keep your heart rich.

JOIN HIP INC NOW and become activate your passion for this business of love.