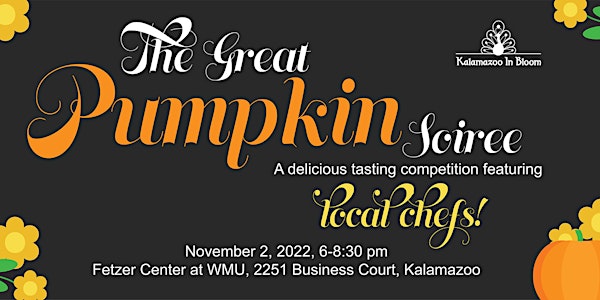 Pumpkin Soiree Sponsor
Help sponsor The Great Pumpkin Soiree, a fall fundraiser for flowers. Some levels come with a 2023 flower bed sponsorship in Bronson Park.
Location
Fetzer Center at Western Michigan University 2251 Business Ct Kalamazoo, MI 49008
About this event
This pumpkin-themed fundraiser features area chefs and restaurants that have prepared delicious delicacies made with pumpkin for our tasting pleasure. Guests vote for a People's Choice winner and see who special guest judges select as Overall Pumpkin Champion and other awards. Competing participants include Albion College, Capt Cook, Fetzer Center, FireKeepers Casino, Friendship Village, Heritage Community of Kalamazoo, KRESA Culinary Arts Program, and Van Buren Tech.
Proceeds help Kalamazoo in Bloom purchase thousands of locally grown plants and flowers to beautify public spaces in downtown Kalamazoo and Portage's City Center like Bronson Park, Library Lane, and more.
As an event sponsor, you will gain exposure to community members and special donors who will see your support for making our greater Kalamazoo area a great place to live, work, and play. And with a sponsorship of $2,000*, $600*, or $350, your exposure increases with a 2023 flower bed sponsorship in Bronson Park. The name of your business/organization is displayed on a flower bed sign all summer long! (*Sponsorship may be customized. Contact Monika Trahe.)
This online sponsorship is for credit card payments only. If you wish to pay by check, please contact Monika Trahe at 269-548-6232 or rsvp@kalamazooinbloom.org. Checks made payable to Kalamazoo in Bloom can be mailed to P.O. Box 20178, Kalamazoo, MI 49019-1178. Thank you!
About the organizer
Kalamazoo in Bloom's mission is to plant locally grown flowers and plants in public spaces to beautify our metropolitan communities.  Places we plant include Kalamazoo's Bronson Park, City Hall, County Courthouse, Transportation Center, and Arcadia Festival Place, as well as in Portage City Center including Library Lane, CIty Hall, and the Portage Creek Bicentennial Park trailhead.  We also provide flowers for Crane Park and Comstock parks.
Along with flowers, we install a zoo of animal topiaries in the flowerbeds.  Hundreds of volunteers gather each May for community planting days; bed adopters help care for the flowers throughout the summer, and bed sponsors contribute a minimum of $350 to help us purchase flowers.  
Visit us at www.kalamazooinbloom.org, Facebook, and Instagram.