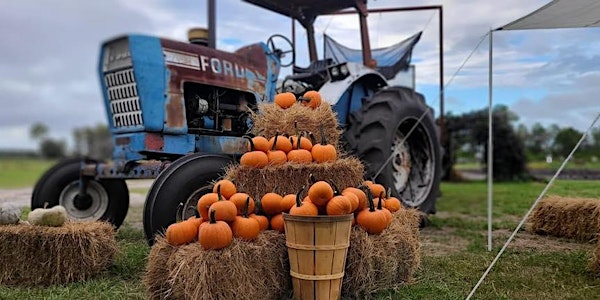 Pumpkin Festival at Wesley Wells Farm
Fall is right around the corner and we are kicking off our fall you-pick season with a Pumpkin Festival!
When and where
Location
Wesley Wells Farms 2680 Ada Arnold Road St. Augustine, FL 32092
About this event
Our second annual Pumpkin Festival is happening Saturday, September 24th from 9-5pm. This is an event you don't want to miss!
The fields will be open for you-pick pumpkins plus our stuff-the-bucket produce pick. Fill your bucket with a variety of fresh vegetables you can harvest straight out of the field yourself for one flat rate. Or shop our produce stand for pre-picked veggies, farm merch, and more!
Don't miss visiting the farm animals and be sure to check out our information boards posted throughout the farm with fun facts, jokes, and important growing info we want our community to know.
Ticket sales are now live!
Vendor list:
* Face Painting by Shauna
* Goat Milk Soap by Reggie - soap & shea scrubs
* The Kindred Kitchen - baked goods
* Sweet & Heat Datil - datil pepper sauce, mustard, & jelly
* Three Generations soap + candle
* Oochies Datil - datil syrup
* Blue Barn Honey
* Baked & Frosted - desserts
* Glass Garden Goddess - terrariums, macramé, wreaths
* Sola Southern Wood Flowers
* Chloe's Creations soy candles
* Spruce & Stain clothing
* Unicorns & Dinos Bowtique - embroidered shirts & decals, bows & earrings
* Yarn Baubles - crocheted items
* Lukas & Lucy Custom Bulletwear - jewelry
* Joyfully Thankful - plant-based skincare
* Twisted Hens Designs - t-shirts, tumblers, & hats
* Zelina Pups - pet boutique
* Silcox Charm - t-shirts, glass cups, coasters & more
* Dips N Such - dry dip mixes
* Pixie Hair - tinsel for your hair!
* Restoration68 Woodworking
* For the Garden - polymer clay sculptures for the garden
* Shenani Jen's Resin & woodworking
* Craft DMF - holiday decor
* Cowhide Chic - cow print stuff
* Twinkle Toes Nanny - Kid Zone + Craft
*Farm Bureau - membership tent
* SJSCO - community relations
* Yamo Food truck - Italian street food
* Ybor Food bus - Cuban sandwiches
* Po Boy Pauls - sandwiches & Italian ice
* Shubachi - Asian hibachi
* Sal's Cucina - pizza & pasta
* Bronx Street Food Truck - Greek & Dominican style street food
* Heart & Soulfood Food Truck - Southern & Caribbean style
* Ice Cream & Fresh-squeezed lemonade
* Family Grounds Coffee - coffee/drinks