Pump It Up For Platelets 5k 2019

Saturday, November 9, 2019 from 8:00 AM to 12:30 PM (PST)
Event Details
Have you ever gotten a call from your doctor to go straight to the emergency room? That's the reality for most people diagnosed with Immune Thrombocytopenia, better known at ITP.
ITP is an autoimmune disorder where the body mounts an attack against your platelets. Platelets are what cause your blood to clot if you get an open wound so without a normal platelet count you can be subject to random bruising and internal bleeding. ITP affects 10 times as many people as hemophilia yet no one knows about it.
Come join the 5k fun as we support our OC YMF President-Elect, Melissa Hilsabeck, in her efforts to raise awareness about ITP. There will be a 5k walk on November 9th in Irvine, CA followed by food, music, games and raffles such as wine and brewery tours, spa amenities, gift cards and many more!
Date: November 9th, 2019
Registration Begins: 7:30am
Walk Begins: 9:00am
$20 Adults  l  $10 Kids  I 
Same Day Registration: $25 Adults | $15 Kids
To complete your registration please visit 8th Annual Pump It Up For Platelets 5k website
Be sure to Read Melissa's Story or join her team!
*If you would like to volunteer, please contact Ashlyn Alexander at ashlynda.asce@gmail.com and OC YMF will contact ITP to sign up to volunteer as a group!*
If you have any questions please contact Melissa Hilsabeck at melissa.hilsabeck@kpff.com.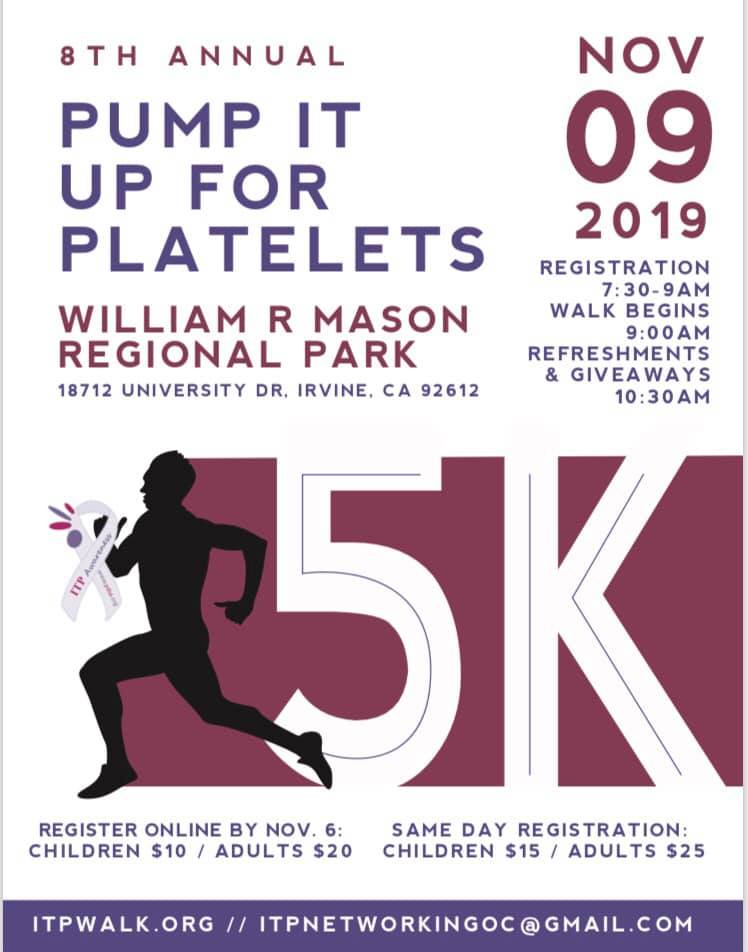 When & Where

William R. Mason Regional Park
18712 University Dr
Shelter #6
Irvine, CA 92612


Saturday, November 9, 2019 from 8:00 AM to 12:30 PM (PST)
Add to my calendar