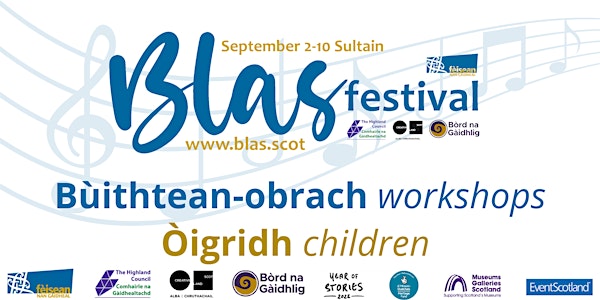 Puirt à Beul (English Session) | Blas Workshops: Children
A puirt a beul workshop for children aged 5-12 on Zoom with Kim Carnie in English (Gaelic Medium Session at 09:45)
About this event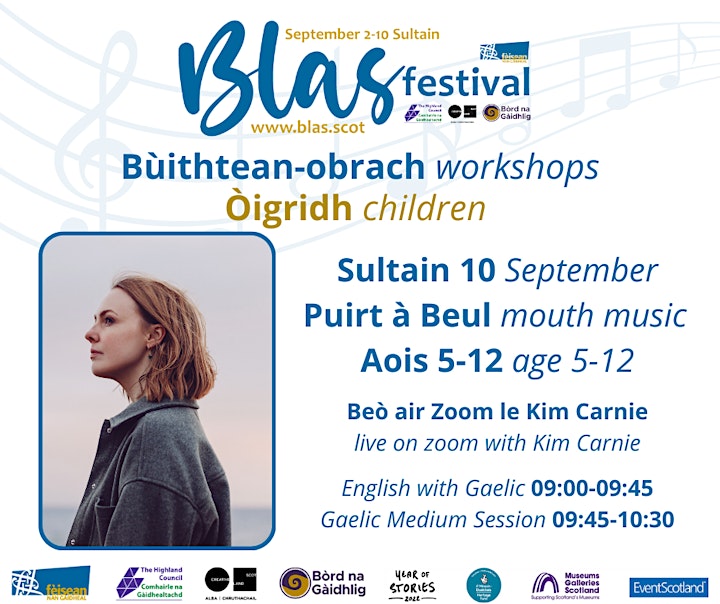 Tha sinn air ar dòigh gum bidh prògram bùithtean-obrach air-loidhne againn am bliadhna.
Tha am buth-obrach seo anns a' Bheurla agus airson òigridh aois 5-12 agus bidh e a' tachairt beò air Zoom le Kam Carnie.
-----------------------------------------------------------------------------------------------
Blas is delighted to be delivering a series of online workshops this year.
This workshop is delivered in English and for children ages 5-12 and will be live on Zoom by Kim Carnie.
Please ensure that the participant is:
• online and ready in good time before the class
• signed into Zoom under their own name so that they can be identified by the tutor
Before the first class:
• please load the Zoom page in plenty of time to avoid missing the start of the class
• You will be sent a link to a dropbox folder, please check this ahead of classes to see if any tuition materials have been sent out
• ensure that the participant is in a quiet space where they will not be disturbed
By signing up to the online Blas Workshops you are accepting our policy for using Zoom which can be found here. Please read this before the start of the class.
Please email fal@feisean.scot if you have any questions.