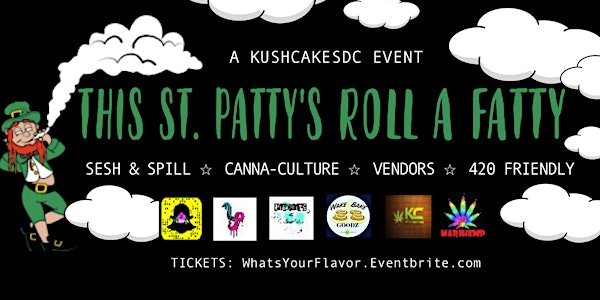 Puff Puff Pass- St. Fatty's Day Theme
When and where
Location
Location Released To Ticket Holders Washington, DC
Refund Policy
Contact the organizer to request a refund.
Description
This St. Patty's Day Come Roll a Fatty with DC's HOTTEST SundayFunday PopUp Event!
Brought to you by KushcakesDC in an effort to bring together the canna-community!!
Join us as we create an unforgettable experience that goes beyond our guests' expectations.
Vibe out with a variety of premium canna-products including
RSVP TO EVENT VIA FREE WILL CALL TICKET
- Guests will receive email with private event location
- Guests will be able to pick up $25 General Admission Tickets using cash/credit
- Photo ID and Email address used to reserve tickets are required
- Guests will receive 1 free sample voucher PER PERSON
These vouchers will be redeemable at any of the participating
infused vendor booths.
- Guests will receive 1 free sample voucher PER PERSON
These vouchers will be redeemable at any of the participating
- GoodieBags- with participating vendor samples/merchandise
INCLUDING Edible Samples & Pre-Rolls
- Guests will receive 1 free sample voucher PER PERSON
These vouchers will be redeemable at any of the participating
- Guests will receive 1 free sample voucher PER PERSON
These vouchers will be redeemable at any of the participating
- GoodiePerks- with participating vendor samples/merchandise
INCLUDING Edible Samples & Pre-Rolls
21+ with ID REQUIRED AT DOOR
NON- REFUNDABLE EVENT