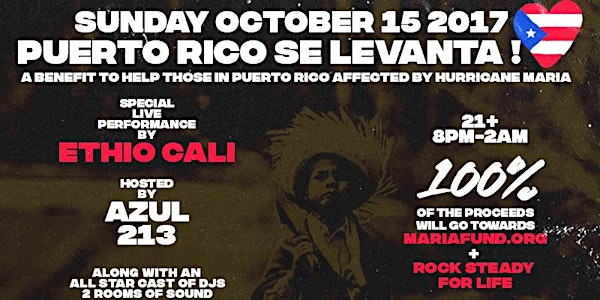 Puerto Rico Se Levanta, With Love from Los Angeles
Description
Come together for a benefit to show love to our brothers and sisters in Puerto Rico who have been affected by Hurricane Irma and Hurricane María. The purpose of this event is to provide aid and support with 100% of the proceeds going to Rock Steady for Life and Unidos por Puerto Rico.
The compounded effects of Hurricanes Irma and Maria have devastated the island territory of Puerto Rico, Hurricane Maria being the most powerful storm to hit Puerto Rico in over 80 years. The entire island has been left without electricity; the effort to rebuild the electrical grid will take six months to rebuild, possibly a year. Currently, 60 percent of the population still lack access to clean drinking and running water, 85 percent without electricity. Hurricane Maria has destroyed crops, homes, roads, tourist sites, and all possible avenues for Puerto Rican reconstruction. Essentially, American Citizens are without basic human necessities on the island. To date, Puerto Rico has not been provided adequate disaster relief from the United States government while simultaneously being prevented from receiving aid from other countries due to the Jones Act, a colonial maritime law.
We want the people of Puerto Rico to know that the west coast stands with them during the journey of reconstruction. Angelenos, let us stand in solidarity with our fellow American citizens by taking action along with our thoughts and prayers. Borinkén will rise better and stronger than ever.
PUERTO RICO SE LEVANTA, WITH LOVE FROM LOS ANGELES
Sunday, October 15th 2017
Suggested donation: $10+ or as much as you can donate!
We will have a special live performance by ETHIO CALI, hosted by AZUL 213 and an all-star cast of DJs in 2 rooms of sound: World Stage and Electronic Stage.
• Ethio Cali sponsored by Azul 213
- new addition: HOUSESHOES!
All proceeds will be going to:
• Rock Steady For Life: Richard "Crazy Legs" Colón of the legendary Rock Steady Crew's fundraiser - https://www.gofundme.com/rscforlife
• MariaFund.Org guarantees that the aid will be distributed directly to non-profit organizations directly working with the hardest hit areas and most marginalized communities throughout the entire island. This fund ensures that the money will be used by the people, for the people - https://connect.clickandpledge.com/w/Form/cb4a3c78-5694-4324-bead-42c8ad94c1bf
If you can't make the event and would to donate, please go to "Se Levanta Puerto Rico, With Love from LA": withlovefromla.eventbrite.com.
Please help us by attending the event, donating, and spreading the word in your networks!
BIG THANK YOU to Courtney Tompkins for featuring us in the Long Beach Press-Telegram: http://www.presstelegram.com/2017/10/10/long-beach-woman-la-dj-to-host-puerto-rico-benefit-show/
Organizer of Puerto Rico Se Levanta, With Love from Los Angeles
After spending some time throwing one off parties and doing guest DJ sets at various clubs around the country, Sean soon found himself the co-host and producer of Soundwaves Radio, which airs 2-4am early Saturday mornings on 90.7FM KPFK Los Angeles.
His other radio show, The Treehouse, can be heard every third Monday of the month from 4-6pm (PST) on dublab.com.
He is the co-producer for the monthly soul showcase Devil's Pie at Lock and Key and can also be seen each and every Friday night at The Shortstop in Echo Park for DOIT as well as Saturday night at The Perch in downtown Los Angeles.
You can find him @DJSEANO and at seanosborn.com
Leslie Shim is a Long Beach native and a public servant in the City of Angeles. She graduated from UCLA, USC, and has deep love for the Los Angeles community. Leslie is passionate about policy change through social justice activism and focuses on sustainable development and community engagement in her work.