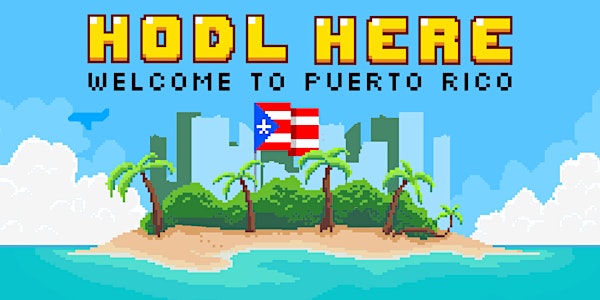 Puerto Rico: HODL HERE
"Puerto Rico: HODL Here" is a local conference in San Juan created to illustrate why this island has become the place to move to.
When and where
Location
Vivo Beach Club 7000 Carr. 187 RR2 San Juan, Puerto Rico 00979 Puerto Rico
Refund Policy
Contact the organizer to request a refund.
About this event
The Blockchain Trade Association presents "Puerto Rico: HODL Here" as an opportunity for individuals and businesses to meet governmental agencies, mingle with Puerto Ricans, and network with companies that have already made the move. This event is part of Puerto Rico Blockchain Week.
Topics of the event: "Why Puerto Rico?," Act 20/22/60 tax incentives & local banking, and advocacy efforts at the state and federal level.
200 people and 75 businesses, on average, relocate to Puerto Rico every month. "Puerto Rico: HODL Here" is a local conference in San Juan created to illustrate why this island has become the place to move.
8:00-8:30am: Breakfast
8:30-8:35am: Welcome Remarks
8:35-8:45am: The Honorable Rafael Hernández Montañez, Speaker of the House
8:47-9:20am: Why Puerto Rico?
• Moderator: Alana Mediavilla, Filmkik
• Panelist: Erika Medina-Vecchini Endeavor PR
• Panelist: Ella Woger Nieves, Invest PR
• Panelist: David Johnston, DLTx
9:22-9:35am : Department of Economic Development and Commerce (DDEC), "Puerto Rico's Path Towards Competitiveness"
• Humberto Mercader, Assistant Secretary for Strategy and Policy
• Carlos Fontan, Director of the Office of Incentives9:40-10:10am: Let's Talk Tax
Purpose: Explaining Act 20/22/60 and how it works
• Moderator: Giovanni Mendez, GEO Tax • Panelist: Juan Carlos Stolberg, Stolberg Law• Panelist: Martin Pirillo, Pirillo Law • Panelist: Jeanelle Alemar, Jae Law
10:15-10:30: COFFEE BREAK
10:35-10:45am: ARCO & Puerto Rico Manufacturers Association "The Future of Blockchain on the Island"
10:50-11:20am: Creating Community Through Blockchain
• Moderator: Scott Walker, Co-Chair PR Blockchain Trade Association• Panelist: Medha Parlikar, CasperLabs• Panelist: Tim Lewis, DEVxDAO • Panelist Max Howell, Tea, inc.
11:25-11:50am Becoming CryptoCurious
Purpose: Crypto's impact on the everyday lives of Puerto Ricans• Moderator: Juan Carlos Pedreira, SBH Digital• Panelist: Luis Pomales, Vanderbilt Hotel• Panelist: Shirley McPhaul-Castro, PR Science, Technology and Research Trust• Panelist: Giomar Alvera, Uber
11:55pm-12:05pm Ben DiScipio, BLOOM
12:05-12:55pm: BLOOM Sponsored Lunch
1:00-1:20pm Andrew Keys, DARMA "The Future of the Internet & Global Economy"
1:25-1:55pm Social Media & Blockchain with Frances Haugen
• Hosted by Michael Terpin, Transform Group
2:00:-2:10pm: Cleve Meisdor, Blockchain Association, "Fostering Financial Inclusion in Blockchain"
2:35-3:30pm Keynote Fireside with Hester Pierce
• Hosted by James Haft, DLTx
3:30-5:30pm Networking Pig Roast hosted by DEVxDAO
*Please note that we will follow any Puerto Rico COVID guidelines and all attendees are expected to as well.
The Puerto Rico Blockchain Trade Association (the Association) was established to build an inclusive crypto-community and propel Puerto Rico to the forefront of blockchain innovation. Be you a day trader or just crypto-curious, native or newly arrived, start-up or established corporation, this association is for you. www.prblockchain.org