About this Event
Scholarships:
We will be providing two scholarships for the London tour at this audition in Puerto Rico. The students who will receive scholarships will be selected from the audition.
Scholarships include:
flight to London and back home
luggage fee
housing
scholarship to the International Dance Tour experience
tour of London package
Scholarships do not include:
Personal Expenses (such as food and toiletries)
We are seeking 25 of the world's most talented pre-professional & young professional dancers between the ages 16 and 22 to participate in the two week dance company experience workshop from July 10th to July 26th, 2020 in London, UK.
In order to seek the highest calibre of young talent, dancers will be selected via a worldwide audition tour of Los Angeles, New York, Philadelphia, Puerto Rico, and London.
Selected dancers will train every weekday in Ballet, Modern, and Contemporary dance. They will then rehearse for the creation of an original contemporary ballet version of the classic tale "Black Beauty" to premiere in the city of London with 2 spectacular performances.
This is a 'company experience.' Students will gain knowledge of how a production is created, be an integral part of the creative process, and work with the fiercest talent of the dance world. A unique opportunity for any dancer, and a fantastic addition to their resume.
Dancers will also have the opportunity to participate in stunning sightseeing tours throughout the city of London.
Master instruction and choreography will be lead by Michael Nickerson-Rossi, Andrea Kramer, and Anna Morgan.
Learn more about the program: Click Here
_______
Registering to Audition
To participate in the audition/workshop you must submit the following items to info@nickersonrossidance.com:
Headshot
Full body dance shot
Resume
Location you plan on attending audition
***A video submission option is available for those who cannot attend audition.
To submit a video audition, please email: info@nickersonrossidance.com the following items:
Headshot
Full body dance shot
Resume
Town, State/Region, and Country you are representing
Minimum of 1.5 minutes of ballet choreography
Minimum of 1.5 minutes of contemporary choreography
​PROGRAM REGISTRATION & FEES
The cost per student is $1975 to participate in the International Dance Tour.
This includes:
London Sightseeing Package
20 hours of training
35 hours of choreography and rehearsals
2 performances
​This does not include:
Airfare
Hotel
Food Stipends
​ANNOUNCING THE SELECTION
Dancers will be informed a week after their audition date if the NRD panel is or is not interested in them. If you are submitting a video submission, you will be notified by February 7th, 2020.
The 25 selected dancers will be revealed March 15th, 2020 via social media @InternationalDanceTour.
PAYMENT DUE
50% of payment for the tour is due no later than March 1st, 2020.
The other 50% of payment is due no later than May 1st, 2020.
​PASSPORT
Selected students must present a valid passport by May 1st, 2020.
Have any questions?
Email: info@nickersonrossidance.com
Call: 951-970-2906
Learn more about the program: Click Here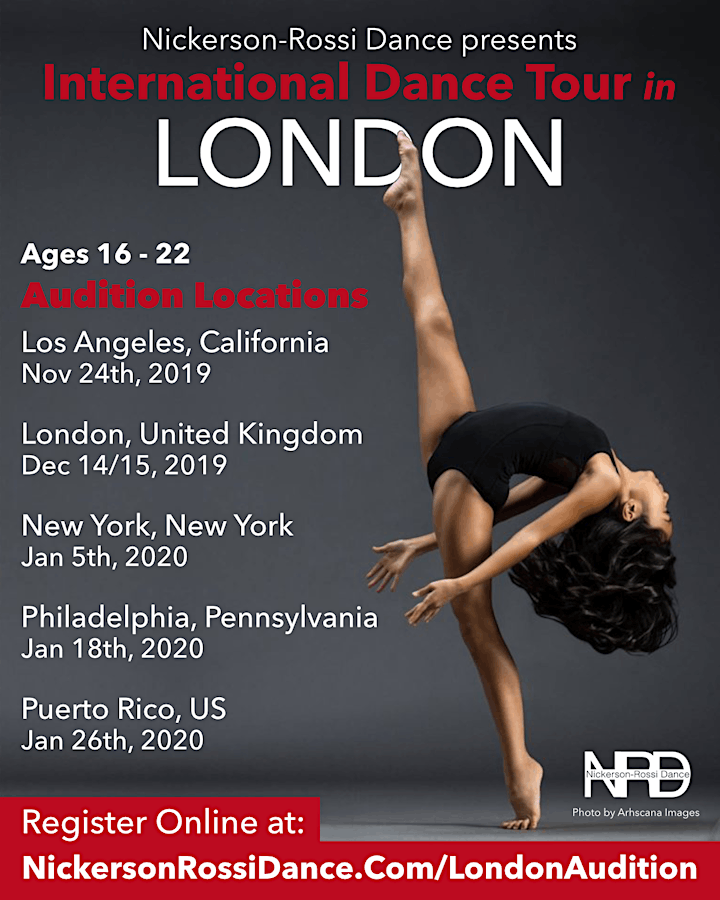 OTHER AUDITION LOCATIONS:
Los Angeles, California | November 24th, 2019
London, UK | December 14/15, 2019
New York, New York | January 5th, 2020
Philadelphia, PA | January 18th, 2020
Video Submissions Close | February 1st, 2020