Puerto Rico BloggerCon 2016

Friday, September 30, 2016 at 3:00 PM

-

Saturday, October 1, 2016 at 6:00 PM (AST)
Event Details
Itinerario Puerto Rico BloggerCon 2016
El Puerto Rico BloggerCon es un evento único en su clase en la Isla, que reúne a blogueros, vlogueros, influyentes digitales, comunicadores, amantes e interesados de la tecnología y medios sociales, entre otros, bajo un solo techo para discutir, mediante presentaciones, paneles y talleres, distintos aspectos de estas plataformas informativa.
El tema para nuestra edición será "Digital Influence" (Influencia digital), destacando el papel de los creadores de contenido como empresarios en una economía que más y más se enfatiza en las estas nuevas tecnologías.

Este año llevaremos a cabo el PRBC Social Influencer Summit el viernes 30 de septiembre, una serie de charlas con invitados especiales, para que aprendas a utilizar la influencia digital en tus negocios y proyectos en línea, de manos de sus protagonistas, y culminando en networking donde tendrás acceso directo a nuestros panelistas, conocerlos y hacerles todas las preguntas que quieras. 

Aquí un adelanto de las charlas y paneles de este año (sujeto a cambios): 
Viernes 30 de septiembre de 2016
PRBC Social Influencer Summit *

3:00 p.m. – 4:00 p.m. Registro

4:00 p.m. – 5:00 p.m. Workshop: "Tu acceso a las marcas, crea tu media kit: herramientas para desarrollarlo" (Presentado por Go Print Puerto Rico)
¿Sabes cómo preparar un "Press Kit" para enviar propuestas? Aprende a diseñar uno y qué es lo que las agencias esperan recibir de ti?
Edith Tapia de Cuponeandopr.net (http://www.cuponeandopr.net) y Roxana Ronda de Real People Agency (http://www.realpeoplepr.com)

5:00 p.m. – 6:00 p.m. Cómo trabajar con los "Influencers"
No todos los influyentes digitales fueron creados iguales. Y ante esta realidad, las marcas deben aprender distintas maneras de que hablen de tus productos y que tengas ganancias. ¿Cómo trabajan en Estados Unidos y en Puerto Rico los agentes que los representan?
José Resendez, supervisor de cuentas en FleishmanHillard Miami
Jairo Alexandro Orozco y Bryan Leo Rojo, The MexicanGueys
Dianny Betancourt, President / Owner at De La Vega Productions

6:00 p.m. – 6:30 p.m. Break

6:30 p.m. – 7:00 p.m. Toma acción masiva trabajando con pasión y positivismo
La estratega Cynthia Martínez del vlog My Barely Famous Life nos aconseja cómo afrontar las adversidades que muchas veces nos encontramos cuando queremos ser creadores de contenido exitosos.
7:00 p.m. – 8:00 p.m. Keynote: Snapchat for Business: How-to Grow, Scale, and Convert
El estratega de medios sociales Carlos Gil nos mostrará cómo empezar a trabajar en Snapchat para negocios, incluyendo estrategias para aumentar el número de seguidores, ejemplos de importantes marcas que utilizan la plataforma, el por qué utilizar contenidos de Snapchat en otras plataformas es importante y pasos para la creación de microcontenido para formar una historia.
**(Este keynote es en inglés)
8:00 p.m. – 9:00 p.m. "Influencers Takeover" (Live Music & Networking)

Sábado 1 de octubre de 2016

Puerto Rico BloggerCon *
8:00 a.m. – 9:00 a.m. Registro
9:00 a.m. 10:00 a.m.  Mide tu éxito en lo digital
¿Sabes cómo medir correctamente si tu medio está teniendo el resultado que esperas? Conoce sobre herramientas y consejos para saber si vas por el camino correcto.
José A. Arroyo, Network Analyst, VP de Obsidis Consortia (http://www.obsidisconsortia.org)

10:00 a.m. – 11:00 a.m.  Consejos para brindar valor de comunidad / audiencia y emprendimiento digital
Cómo monetizar tu plataforma digital y mantenerte viable, maneras en que puedes empezar a generar ganancias con tu medio digital con ejemplos de grupos en América Latina y herramientas que te puedes ayudar. 
Patricia Torres-Burd, VP & COO de UBC International Consulting & Advisory Board Member of SembraMedia.org (http://www.sembramedia.org)
11:00 a.m. – 12:00 p.m. Panel: Entretenimiento: secretos de creadores de contenido digital en Puerto Rico (Presentado por T-Mobile Puerto Rico)
¿Conoces a los principales medios digitales locales especializados en videojuegos y entretenimiento? Descubre qué están haciendo que han captado la atención de las marcas.
Ricardo Carrión, Productor ejecutivo del Puerto Rico ComicCon
Heriberto Tirado, Editor Info-Gamers (www.info-gamers.com)
Mark Nieves,  Editor PR-Gamer (http://pr-gamer.com)
Gabriel Maldonado, Editor de Media Drunks (http://www.mediadrunks.com)
Modera: Finees Almenas, Productor asociado Puerto Rico ComicCon
12:00 p.m. - 1:30 p.m. Almuerzo / Networking 
1:30 p.m. – 3:00 p.m. Foro con candidatos a la Gobernación de Puerto Rico
Varios de los candidatos a la Gobernación del País, llegan al Puerto Rico BloggerCon para discutir sobre el uso estratégico de las redes sociales y plataformas digitales como herramienta de campaña y futuro uso de resultar electos.
David Bernier, candidato por el Partido Popular Democrático (PPD)
María de Lourdes Santiago, candidata por el Partido Independentista Puertorriqueño (PIP)
Rafael Bernabe, candidato por el Partido Puertorriqueño de Trabajadores (PPT)
Alexandra Lúgaro, candidata independiente a la gobernación
Manuel Cidre, candidato independiente a la gobernación
Modera: Maribel Meléndez Fontán, periodista de NBC Telemundo
3:00 p.m. – 4:00 p.m. Panel: Recursos económicos para creadores de medios digitales
Si eres dueño de un medio digital en Puerto Rico, ¿puedes recibir ayudas económicas? ¿Puedes hacer un préstamo? Representantes del sector económico del País contestan tus preguntas. 
Lcda. Giovanna Piovanetti, CPA, Presidenta Ejecutiva COFECC
Hiram Díaz Belardo, Director Programa de Desarrollo de la Juventud
Karla Sustache, Directora Fuerza PyME
Modera: Perla Sofía Curbelo, educadora, fundadora y directora general de Agrochic.com (http://www.agrochic.com)
4:00 p.m – 6:00 p.m. Anuncios, premiaciones y cóctel
*Itinerarios, charlas y paneles sujetos a cambios
*Precio especial para el estacionamiento regular y valet parking
Verdanza Hotel te ofrece esta tremenda oferta para los asistentes de #PRBC16.
Llama ahora y reserva con tiempo. Aprendes y disfrutas en BloggerCon.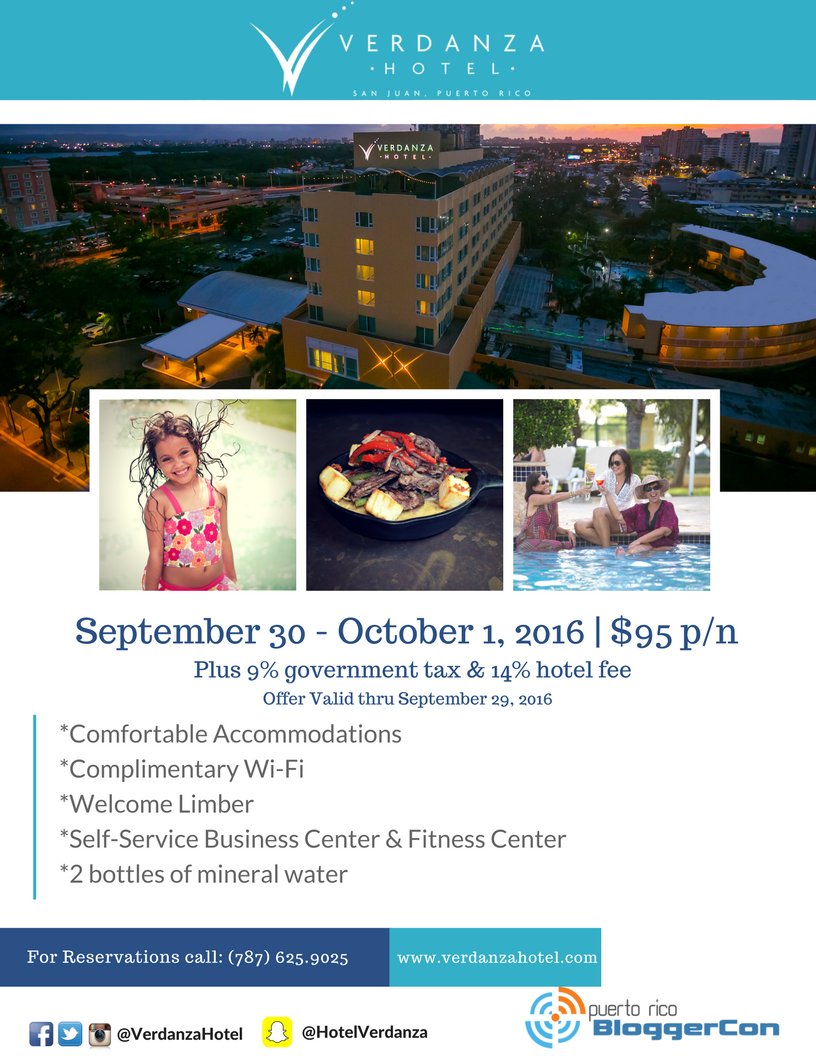 José Resendez, supervisor de cuentas en FleishmanHillard Miami
Jairo Alexandro Orozco y Bryan Leo Rojo, The Mexican Gueys
When & Where

Verdanza Hotel
8020 Tartak Street
Isla Verde Carolina, PR 00979
Puerto Rico

Friday, September 30, 2016 at 3:00 PM

-

Saturday, October 1, 2016 at 6:00 PM (AST)
Add to my calendar
Organizer
Puerto Rico BloggerCon es la primera convención local sobre medios digitales independientes, creación de contenido digital y medios sociales, y su influencia en la comunicación, negocios, gobierno y educación. Desde su primera edición, en 2009, Puerto Rico BloggerCon provee una plataforma para la discusión e intercambio de ideas para el crecimiento y profesionalismo de los medios digitales independientes y facilitar sus relaciones con empresas, marcas, productos o servicios, y consumidores.