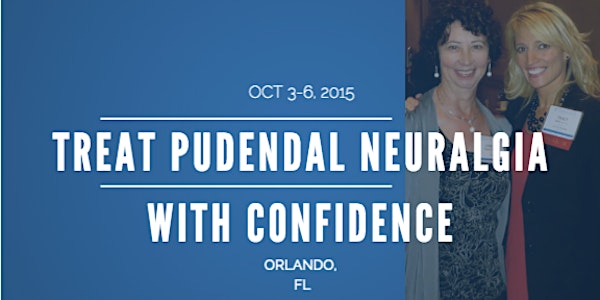 Pudendal Palooza! 2 Unique Pudendal Courses for Pelvic PTs! Orlando Locatio...
Event Information
Location
Orlando, FL: Herzing University (Course 1), Maitland Park - Main Building (Course 2)
1865 SR 436
Winter Park, FL 32792
Description
The first 2 course series, back-to-back!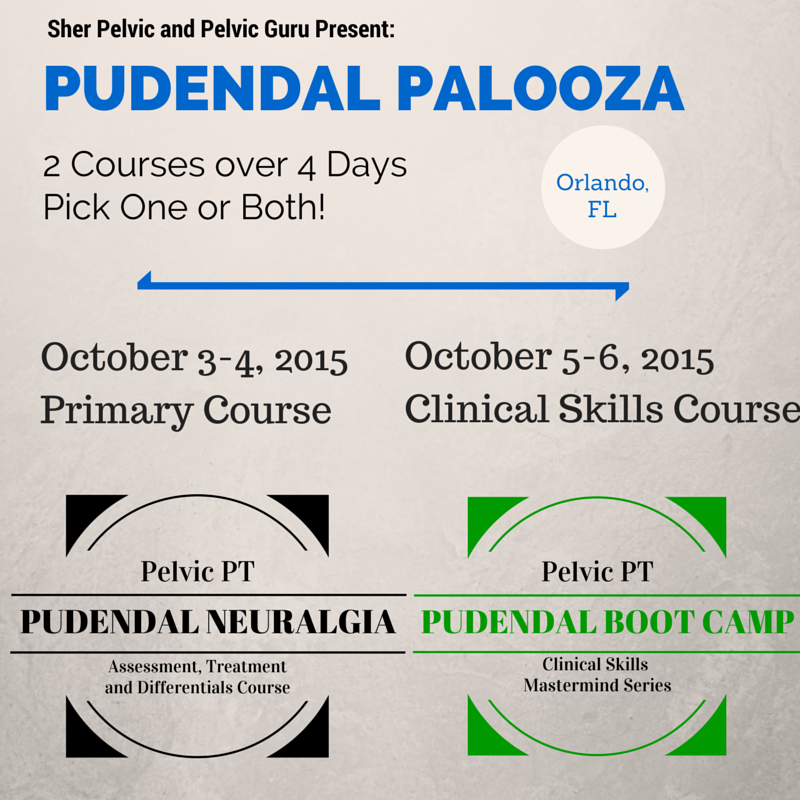 We are bringing back the popular Pudendal Neuralgia Pelvic PT course AND adding even more to it!
Here's how it works. Two different courses. *You can sign up for one or both. Prices discounted until September 1st!
1. Pudendal Neuralgia Course, Saturday/Sunday, Oct. 3-4, 2015: ** Prerequisites: Must have taken at least PF1 and have some experience with internal vaginal/rectal assessment/treatment. Florida CEUs available for Physical Therapists for this course!
This is the traditional Pudendal Course that Tracy Sher and Loretta J. Robertson teach internationally (This has been offered through H & W in the past). It is a 2 day course with both lectures and some lab time. (More detailed information below).

2. Pudendal Boot Camp, Clinical Skills Mastery, Monday/Tuesday, Oct. 5-6, 2015: ** Prerequisites for this course: Must have taken at least a Pudendal Neuralgia course (as above or PHRC one) or 1-2 Pelvic Pain Courses and some internal therapy experience. This does not replace the original Pudendal Neuralgia Course - it is a supplement. No CEUs available at this time for this particular course, but this may change. You will still receive a certificate.
This is a totally new concept, but one that has been requested for years. This is a more advanced, clinical skills course to help you with practical tips and clinical pearls. It has extended lab times and case studies. You can also bring any cases you want to discuss.
Who should take this course?
* You have already taken a CEU course on the topic of pudendal neuralgia or advanced pelvic pain courses, but have questions now that you are back in the clinic treating patients. You want to improve your clinical skill knowledge, critical thinking, and ask questions about cases.
* You feel comfortable treating pelvic pain patients in general, but just feel that you may be missing ways to manage some of the complex cases, particularly regarding pudendal neuralgia differentials.
Here's more about each course:
1. Pudendal Neuralgia Course, Saturday/Sunday, Oct. 3-4, 2015:We are so excited to host our popular international Physical Therapy CEU course in Orlando, Florida for the first time! It's a course that combines evidence-based information on: 1. Dispelling myths about Pudendal Neuralgia and expert information about how to assess and treat 2. Differential diagnoses that are associated with or mistaken for Pudendal Neuralgia 3. Latest pain research and how it relates to pelvic pain 4. Hands-on manual skill instruction that is unique and not specifically taught in any other course. 5. Case studies and examples of how to assess and treat tough cases.
This class will have limited seats available.
Recent testimonials:
"I've taken a lot of courses and this is the best one so far."

"Why didn't we learn these manual techniques in other classes? I felt like I learned something new that I can apply right away."

"Speakers were dynamic and engaging, and work well off each other. Their passion is evident and their expertis challenges and motivates me to learn more. Lectures were the perfect combination of fact, research, experience, and humor."

"I expected a great course and definitely got that and more. This is a course best geared towards intermediate practitioners and both Loretta and Tracy do an excellent job sharing clinical expertise, answering questions, and guiding attendees through clinical/critical thinking. I can see this course continuing to evolve as more research becomes available."
About the Course:
Pudendal neuralgia is a painful, neuropathic condition which is often unrecognized and misdiagnosed by many medical practitioners. At present there is scarcity of both medical providers and physical therapists who treat patients who have pudendal neuralgia. Consequently, there is a need for health care providers to learn about this condition and the differential diagnostic process involved in order to provide appropriate treatment options. This two-day course will provide the clinician with a clear understanding of discerning pudendal neuralgia from other chronic pelvic pain conditions. The focus will be on current diagnosis, evaluation and treatment techniques both from a physician perspective and from a pelvic rehabilitation provider perspective.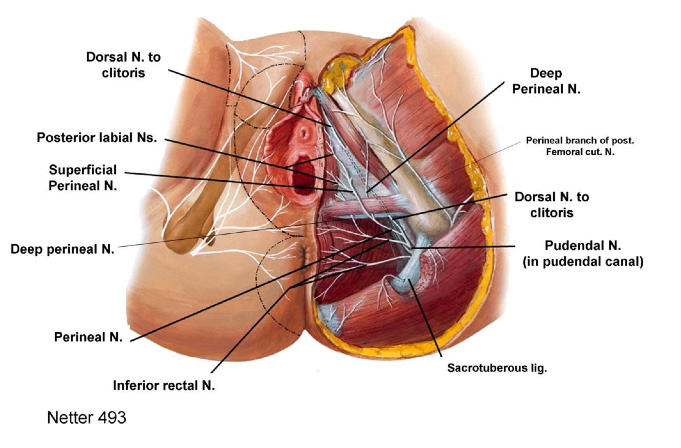 This course will cover a great deal of clinical information and will address common misconceptions and misinformation. One very important distinction that is often missed is the difference is between Pudendal Neuralgia (PN) and Pudendal Nerve Entrapment (PNE). This course also covers medical diagnostic tests, surgeries (including pre- and post-operative management), and other interventions for pudendal neuralgia. The labs focus on refining palpation and treatment skills with regard to the pudendal nerve and surrounding structures that may be contributing to symptoms, including direct and indirect manual techniques such as myofascial release, connective tissue manipulation, and positional release.

Upon completion of the course, the therapist will be able to identify interventions such as exercise and manual therapy techniques that are based on the most recent research. The participant will not only be able to describe the role that pelvic physiotherapists play in the treatment of pudendal neuralgia, but in all chronic pelvic pain conditions from the perspective of the latest brain and pain research; this is a crucial component to effective therapeutic management of this condition. This course highlights various patient complaints and symptoms and provides knowledge and tools for treating patients along the continuum of care. The participant will be prepared to manage pudendal neuralgia with a multimodal, multi-disciplinary approach from surgery prevention to post-operative cases and protocols.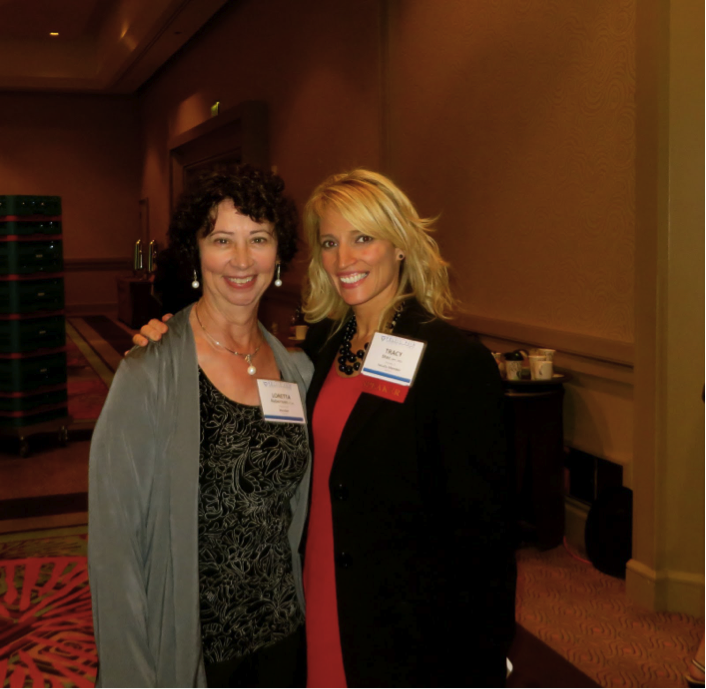 FAQs
Who is eligible to take this course:
CEU credits currently only will be available for PTs/PTAs. (Still awaiting final approval)
The following practioners are eligible to take this advanced pelvic floor course if they have taken an internal pelvic floor course before or currently see patients and perform internal assessments and/or treatments.
1. Licensed Physical Therapists or Licensed PTAs, Student Physical Therapists or Occupational Therapists (must have taken at least PF1). The course is geared for this group - with a heavy focus on musculoskeletal assessment and treatment.
2. ARNPs, Nurses, Midwives
3. Physicians or Physician Assistants
4. If you would like to take this course, but do not meet the above requirement, you can contact us for further inquiry at info@sherpelvic.com
Who are the instructors:
Tracy Sher, MPT, CSCS (more info coming soon)
Loretta J. Robertson, MS, PT (more info coming soon)

What's the course schedule?
Day One:
7:30 Registration
8:00 Welcome/Introduction and Course Concept
8: 45 Pudendal Anatomy
10:00 Pain/Brain
12:00 Lunch
1:00 Physical Therapy History, Evaluation, Evaluation lab
5:00 Review and Questions
5:30 Adjourn
Day 2
8:00 Review and Questions from Day 1
8:30 Physician Diagnosis and Testing
9:00 Physical Therapy Treatment, Case Studies, Treatment Lab
12:30 Lunch
1:30 Medical/Surgical Interventions
2:30 Post-op Guidelines and Progression, Case Studies
4:00 Questions and review
4:30 Adjourn
2. Pudendal Boot Camp, Clinical Skills Mastery, Monday/Tuesday, Oct. 5-6, 2015
Imagine a course that is geared towards improving your hands-on clinical skills and critical thinking skills. The focus of this course is mastering the skills related to treating complex pelvic pain, with a particular focus on pudendal neuralgia and differentials.
Course Objectives:
Objectives Participant will have the opportunity to:
• Learn (and/or improve current level of) the latest hands-on clinical skills (and how it relates to research) for treating pudendal neuralgia and complex pelvic pain conditions for men and women
• Have any individual questions answered that will enhance clinical skill level
• Review and discuss current patients or case studies for learning opportunities and improved patient care immediately.
• Have a low faculty to student ratio of no greater than 5:1
• Experience small group discussions and demonstrations facilitated by faculty members
This clincal skills mastery course is for you if:
• You have taken at least a pudendal neuralgia course or 1-2 pelvic pain courses and have clinical experience with pelvic pain ...and have not had a chance to treat a lot of patients yet AND/OR you realize you want and need more direct mentoring in a learning environment.
• You want an option for male and female models on site in addition to option of traditional clinical lab experience.
* MUST be a pelvic health PT or OT. Will consider other professionals after further review.
*Due to the nature of this "beta test course" - no CEUs will be provided.
Mentor/Faculty Highlights:



Tracy Sher, MPT, CSCS
* 15 years of clinical practice in women's health and orthopedics (outpatient hospital and private practice). Owner and Clinical Director of Sher Pelvic Health and Healing, LLC.
*Faculty for Herman and Wallace Pelvic Health Rehabilitation Institute for 4 years, teaching PF1 nationally.
* International instructor and creator of Pudendal Neuralgia and Pelvic Pain Course
* Speaker on wide range of women's health and men's health topics
* Successfully started 2 large hospital-based women's health programs and a private practice
* Founder of Pelvic Guru blog and social media resource
* Sees complex patients from local area and from all over the world who seek out her expertise, critical thinking and hands-on skills.
Co-instructor Loretta J. Robertson:
Loretta, owner of Women's Choice Physical Therapy, has long been regarded by patients and colleagues as a leading clinician in her field. She has more than 23 years of experience as a Physical Therapist specializing in Orthopedic and pelvic girdle dysfunction. In 1999, Loretta was recognized as a Board Certified Clinical Specialist in Orthopedics by the American Physical Therapy Association. For the past 10 years, her practice has been devoted exclusively to Pelvic Dysfunction in both women and men. In addition to her clinical practice, Loretta is devoting more time to research. Along with Dr. Michael Hibner, she has co-authored a paper on pudendal neuralgia and plans to continue this research collaboration in the coming years. She will also be expanding her practice to work part time with Dr. Hibner in his office.
Loretta also has extensive experience as a teacher and lifelong learner. She was a part time instructor in New York at Columbia University's graduate P.T. program for 7 years. Both students and the public have enjoyed her informative and spirited lectures. With over 1000 hours of continuing education training, Loretta continues to challenge herself to find the most effective and efficient treatments to improve the quality of life for her patients.
Other faculty information to be added soon!
FAQs
What is the refund policy?
A participant may cancel registration 30 days prior to course, less a $75 administrative fee.
If a participant cancels 30 days or less before the course, or does not show up for the course: they can use the credit of this course toward another course (when offered through Sher Pelvic/Pelvic Guru) or can get a credit back in the amount of 50% less the charged amount. Participant must contact Sher Pelvic prior to the course start to receive credit back.
** In the event of severe inclement weather or severe circumstances in which the primary instructor is able to teach any or all of the course, the following 2 measures will be taken 1. If the course venue is safe for teaching and at least 25% of the course participants attend with instructor present, the course will continue (and we will handle those not able to attend on a case-by-case basis with regard to refund policy) 2. If the primary instructor has circumstances that prevent him/or her from teaching, we will make an effort to bring in an alternate instructor or instructors and the course will continue. If alternate instructors for the specialty content are not available and the course must be cancelled, Sher Pelvic Health will offer rescheduling of the course, credit for another course, or a refund (minus admin fees). We don't anticipate these extreme circumstances, but with live courses, these types of situations can arise.
What are the course hours?
** This is subject to change based on final arrangements and agreements of the course venue. This is the current plan and will likely remain this way
Primary Course:
Saturday - Registration at 7:30. Course hours: 8 am - 5:30 pm (There will be a 1 hour lunch).
Sunday: Regular course hours 8:00 am -4:30.
Clinical Mastermind Course:
Monday: Registration 8:30, Course hours 9-6:30pm (There will be a 1 hour lunch)
Tuesday Regular course hours 8 - 3:30 - option to stay longer until 5:30.
Will I get CEUs or a certficate?
There are CEUs available for the first Pudendal Course for Oct. 3-4, approved for Florida Board for Physical Therapists.
The second course on Oct. 5-6 is considered a "beta" test course and the first of its kind. At this time, we are offering top-notch hands-on experience, but not CEUs. We will share more information if this changes.
We will still provide a certificate of completion for this course. This will confirm that you have completed a course in hands on pelvic health care and can proudly share this as part of your credentials. Also, this will likely be transferrable as part of a larger pelvic health clinical skills certification course in the future! Cool, right!?
What do you recommend for lodging and travel?
Maitland is a suburb of greater Orlando. You would fly in to Orlando International Airport (MCO) and it is about 25-30 minutes away from the airport. We will provide more info about potential discounted rates on hotels if this becomes available. Please view the list at the botton of this website page.
http://www.sherpelvic.com/patient-faqs.html
What should I wear and how will labs run?
Wear comfortable course attire. You have the option to participate in labs as a model for partners. We still suggest this so that others have a chance to see many different pelvic floors. However, I wanted to provide an environment where this was not mandatory. We may have models on site for the clinical skills course. (one male and one female)
Date and time
Location
Orlando, FL: Herzing University (Course 1), Maitland Park - Main Building (Course 2)
1865 SR 436
Winter Park, FL 32792