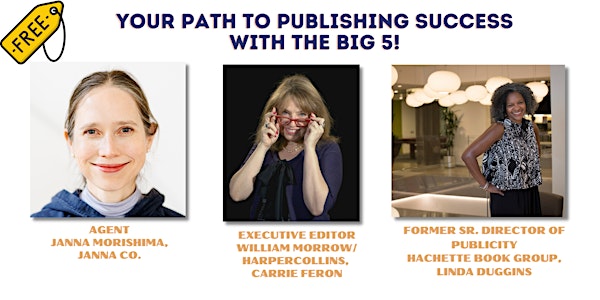 Publishing with the Big 5!
Executive Editor, Carrie Feron (HarperCollins), VP/Strategic Partnerships, Linda Duggins (Edelweiss), and Agent, Janna Morishima
About this event
The Bluffton Book Festival is proud to offer this special session on Publishing Success with the Big 5! What does that mean? Well, if you are a writer and you are wondering where to begin with the process of traditional publishing, i.e. working with New York Publishers, then this is the session for you. And, it is FREE!
We are excited to feature this stellar panel with, Agent, Janna Morishima; Executive Editor at William Morrow/HarperCollins, Carrie Feron; and former Director of Publicity at Hachette Book Group (now SVP Partnerships/Edelweiss), Linda Duggins.
You don't want to miss this opportunity to learn from the professionals on what it takes to get published by the pros!