Description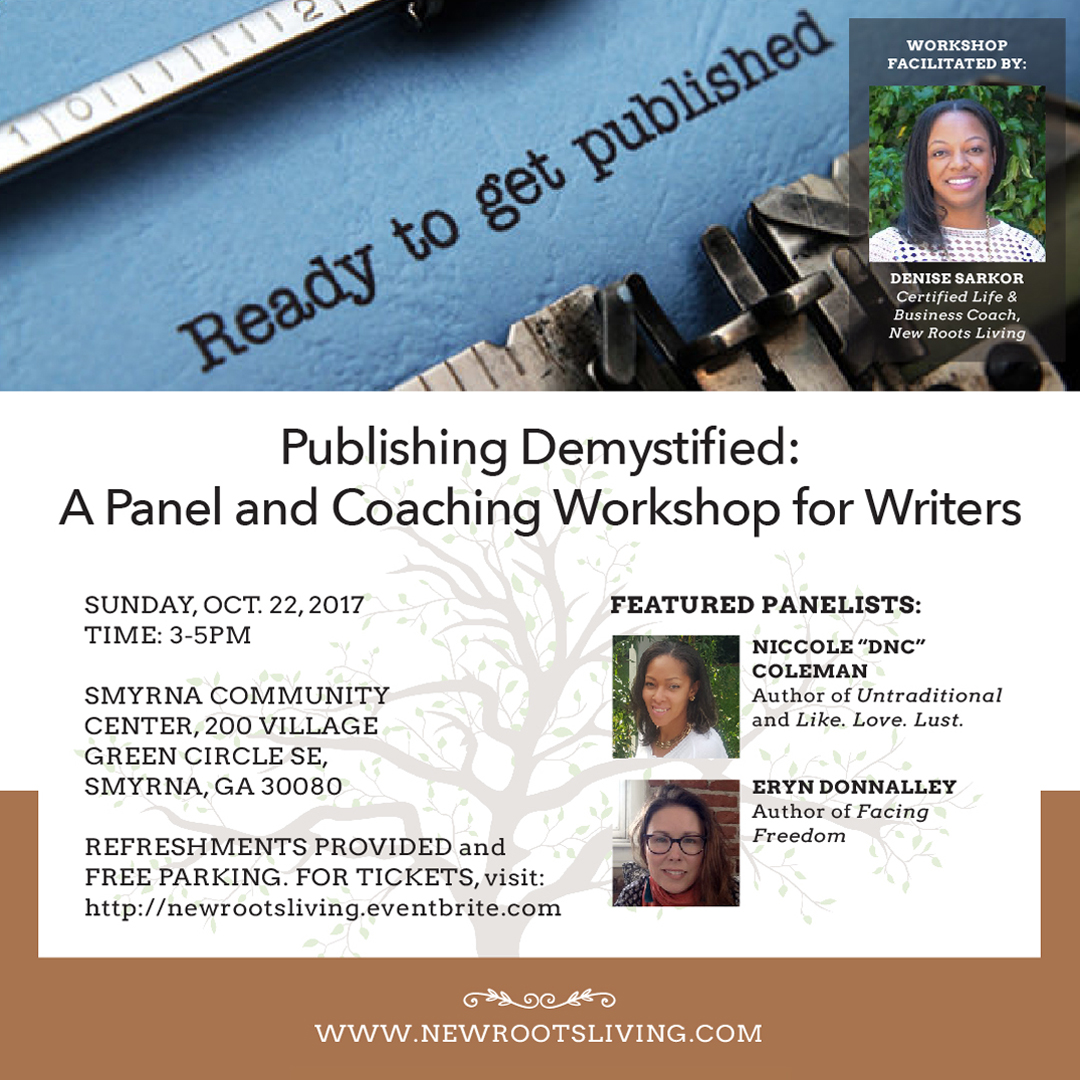 Have an idea for a book you'd like to publish? Overwhelmed by the publishing process? Unclear of whether to self-publish or pursue the traditional publishing route?
We've designed a same-day, author panel and coaching workshop for writers that will help you understand what it takes to actually publish and successfully market a book no matter which path you choose, offering support as you plan to achieve your vision of becoming a published author.
Register today to enjoy the panel discussion, featuring Amazon bestselling, self-published author Niccole "DNC" Coleman, and Hay House selected author Eryn Donnalley, as they give you the inside scoop. Following the panel, ICF certified life and business coach Denise Sarkor will facilitate a coaching process to improve clarity around your goal and provide tools to support you in publishing your manuscript and creating a new stream of income for yourself or your business.
Using proven approaches for greater awareness and goal achievement, participants report experiencing a number of benefits from this coaching workshop:
Clarity around aspirations
Discovery of new possibilities
Improved overall writing discipline and manuscript quality
Start and completion of book projects
Growth and profitability in their personal income or existing companies
Additional information:
Doors open at 2:45pm.
Parking is free in Smyrna Library Parking area.
Refreshments provided by sponsor Corner Bakery Cafe of Smyrna, GA.
You will be provided a Workbook; it is recommended that you bring a notepad or tablet.
Must be 18 or older.
Organizer of Publishing Demystified: A Panel and Coaching Workshop for Writers
International life and business coach, author and speaker, Denise Sarkor was born in Monrovia, Liberia and raised in northern New Jersey. Denise is the Lead Business & Life Coach at New Roots Development, LLC—a professional training and coaching company, supporting like-minded Change Agents. In 2016, she completed an ICF accredited training program that has been equipping life coaches since the 1980s; she has earned the CLC credential through this process. Denise served as Managing Editor of Columbia University's Journal of International Affairs from 2012 to 2013, and previously worked as an international banker and development consultant at institutions such as Goldman Sachs, Citigroup and the World Bank. She also holds a Bachelor of Science in Economics from the Wharton School at the University of Pennsylvania and a Masters in International Finance and Economic Policy from Columbia University. A lover of the arts, global citizen and humanitarian, Denise supports the causes of economic empowerment, education, and human rights. She is author of The Clean Poetry Series—healing poetry for women experiencing separation and divorce, and her work has also appeared in The Huffington Post. 
For more information and events visit www.NewRootsLiving.com.